Ethereal columns of gauzy curtains hang from the ceiling of Shanley Pavilion as the sound of sword fighting echoes throughout the tiny space. Even though the cast of Lovers & Madmen's Macbeth totals only 13 people, the ensemble's presence here is powerful.
Lovers & Madmen aim to produce "classical as well as classically inspired works each year," and their production of Shakespeare's tragedy Macbeth fulfills that by telling the story through a heavily ensemble-focused production. The ensemble typically includes the whole cast, and this means that each cast member has relatively equal importance.
"You get this sense of an 'actor's company,' like we're really putting on a show as an ensemble," said Communication junior Katy Murphy, who plays Duncan. "It's definitely this hyper-ensemble of actors."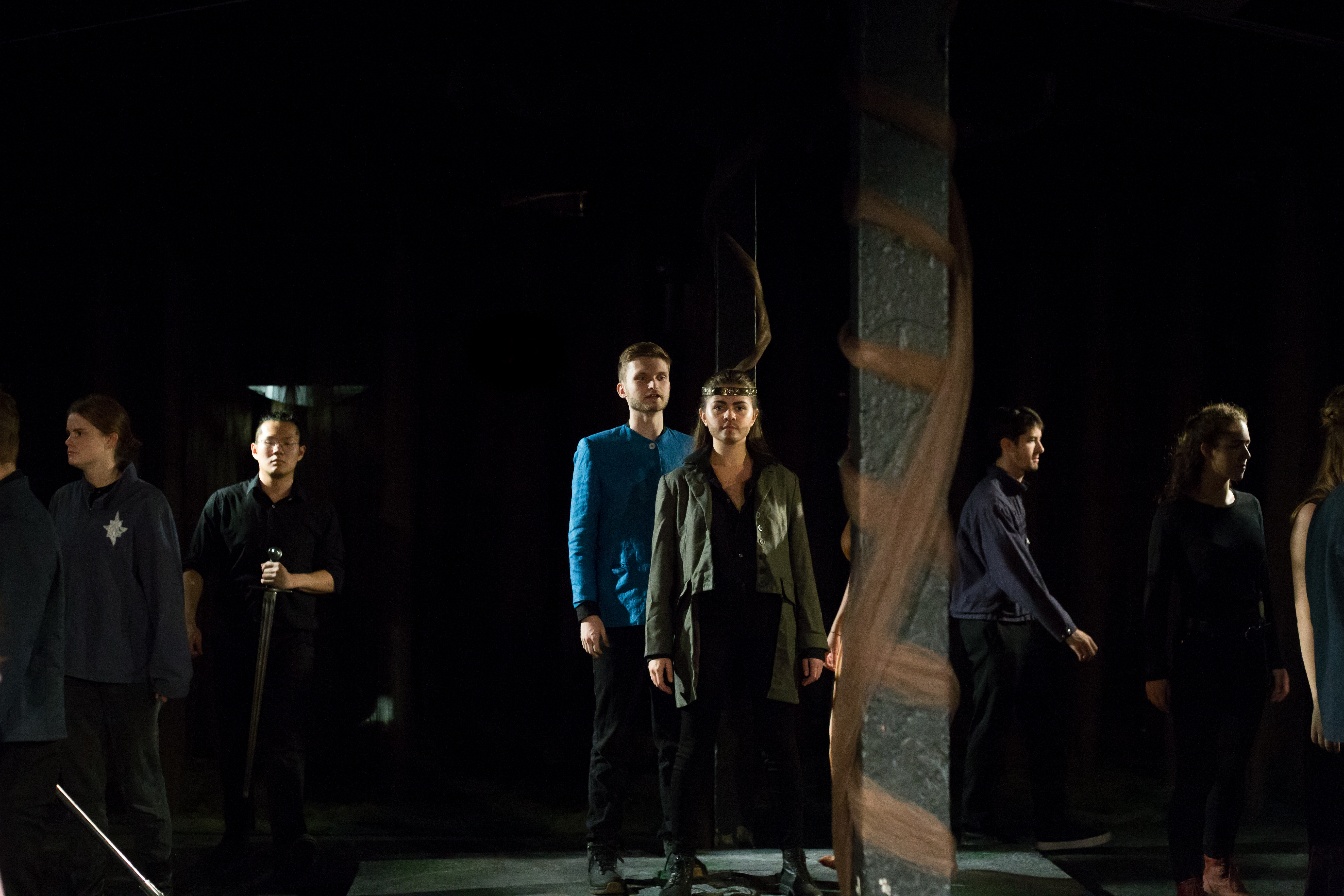 Although there are about 30 roles in Macbeth, there are only 13 actors in the group, with three playing Macbeth (Freddy Mauricio, Tatiana Dalton and Chris Pow).
"We have three different people playing Macbeth over the course of his journey. So we have Macbeth before, Macbeth after and Macbeth beyond," said producer Isadora Porte. "What that means is that there is no lead in the show. Everyone is kind of on this beautiful equal footing, and everyone is jumping in and out of these big-name characters but also playing unnamed soldiers or messengers."
The set that the characters inhabit is minimal, with a backdrop of curtains to represent trees and a large, wooden flat bearing a cross to represent an altar. It merges both the production and the space of Shanley together. Additionally, the cross-gender acting and rotation of the cast in different roles attempts to truly bring focus to the story rather than other elements of the play.
"I'm playing ... a very male character as a man in scene one, and then I come on as a witch, and then I come on as a mother," Murphy said. "So everybody gets the opportunity to explore this array of different roles."
Lovers & Madmen treats the act of performing Macbeth, a play with an extensive, complicated history and countless reproductions, as a ritual, while at the same time exploring the rituals within the play itself, according to Porte.
"Even though it [the production] is different each time … the words are almost all the same, the plot is the same, the idea behind it is all the same," Porte, a Communication senior, said. "So it has turned into this theatrical ritual of putting on Macbeth."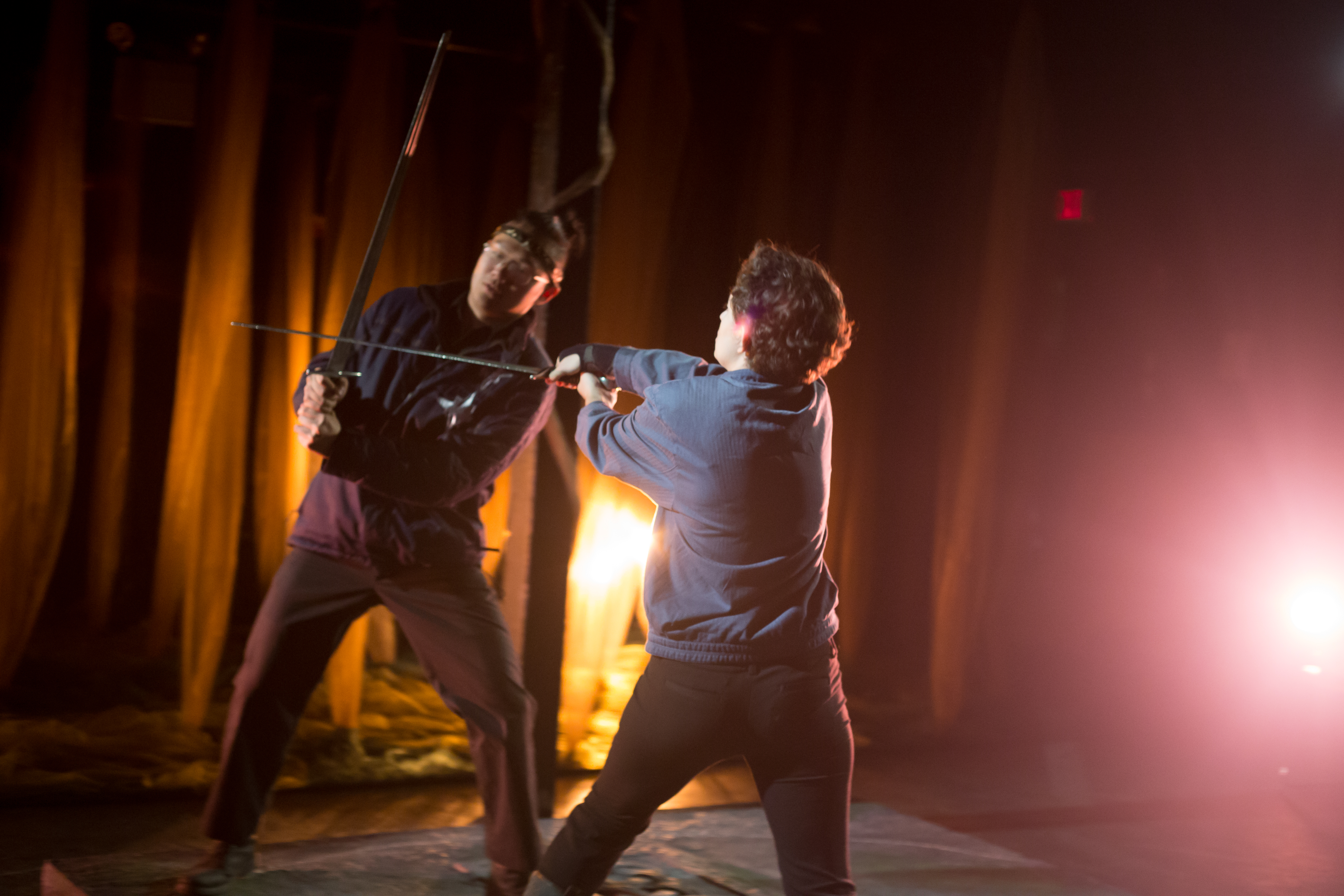 Among actors, one of the best-known traditions of Macbeth is its curse: to utter the play's name in a theater is seen as bad luck, and actors instead refer to it as the Scottish play. However, rather than shy away from it, Lovers & Madmen's production took the curse head on.
According to Porte, during the first rehearsal, the cast and crew protected Shanley from the curse of Macbeth with a special ceremony: spinning around three times and spitting over their left shoulders.
The space in Shanley may be small, and the ensemble even smaller, but the show creates a personal, communal feel for this production of the Scottish play. In Porte's own words, in addition to top-notch stage fighting, acting and design, "you can see the collaboration that happened when you look at the show."
Lovers & Madmen's Macbeth runs Oct. 6 at 7 p.m. and 10 p.m. and Oct. 7 at 4 p.m. and 8 p.m. Tickets are $5 for students.