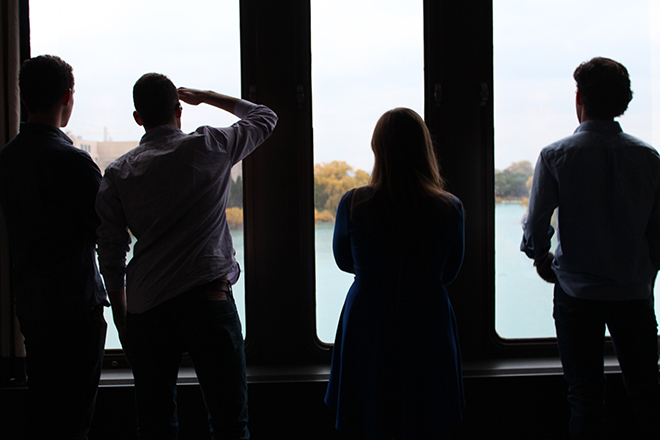 MONDAY, MAY 27, 2013
11:42 A.M.
Jeremy Shpizner is halfway to tipsy before noon on Memorial Day. Outside, the temperature climbs to around 60 degrees, there's no class and work can wait until tomorrow.
The senior performance studies major is the co-chair for Mayfest, the student-run organization that plans and produces Dillo Day, Northwestern's annual music festival. With Dillo Day only five days away, Shpizner is about to start the busiest week of his school year. But for now, in his girlfriend's apartment on the last day of his last long weekend in college, he sips margaritas with friends.
The tequila intake and small talk stop when his phone buzzes. An email pops on the screen at 11:42 a.m. from the manager of Dillo Day's nighttime headliner. Holding his margarita in one hand and phone in the other, Shpizner reads that the nighttime headliner no longer plans to come to Dillo Day. They committed to perform weeks ago, but the artist has decided against signing the actual contract.
Five days before Dillo Day, Mayfest does not have a headliner.
FORMED in 1974, Mayfest comprises seven standing committees. The heads of each committee and two co-chairs—Shpizner and senior economics major Wil Heintz—make up the group's executive board. Dillo Day is a yearlong effort that takes up the majority of this roughly 70-person organization's time and budget.
In order to bring artists like Lupe Fiasco, Steve Aoki and Nelly to Northwestern, Mayfest regularly works with some of the music industry's largest agencies. "I am well aware of Dillo Day as one of the premier college events, even back from when I was in school," explained Peter Schwartz of The Agency Group in an email several months after Dillo Day. He represents artists like Big Boi and Macklemore.
During interviews with current and former members of Mayfest, the organization asked to keep the original headliner and details of artist contracts off the record because of the included confidentiality clauses.
Mayfest never announces an artist to the student body before both Northwestern and the artist have signed a final contract. At any point before a signature legally binds the two parties, the artist can cancel. Last winter, Macklemore canceled a show at Williams College in Massachusetts before the contract was completed—but after an announcement was made to the student body. In the apartment on this holiday, the nighttime headliner's cancelation is a prime example of why Mayfest maintains this policy.
Shpizner doesn't want to spread panic throughout the organization. Mayfest members who don't deal directly with booking or contracts usually don't find out an artist is coming until the contract is signed. Shpizner wants members of Mayfest to focus on their specific jobs for the week instead of worrying about booking and planning for a new artist. He decides to tell only the members of the organization who absolutely need to know.
To read the rest of this story, pick up a copy of North by Northwestern magazine on Friday, Nov. 22, anywhere on campus.