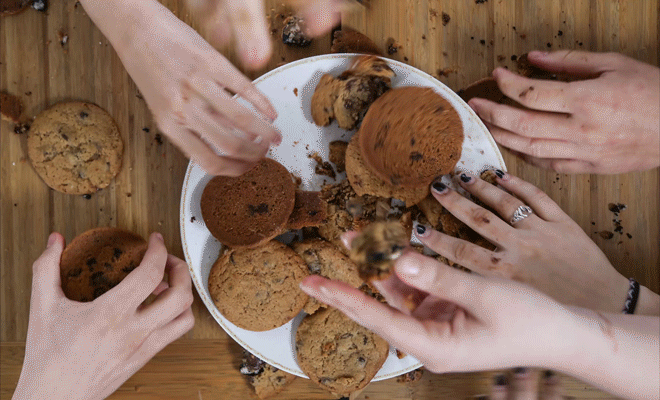 Hands clawing. Bodies piled on top of each other. Voices shrieking.
No, these aren't animals in the jungle. These are Northwestern students the Sunday before Finals Week, fighting their way to free cookies delivered by Project Cookie.
From Norbucks to the ground floor stairs, students crawled under tables and climbed over each other to secure one of the highly coveted cookies—some stole them out of other people's hands.
"As soon as I put [the cookies] on the table, I couldn't leave," says Priya Kumar, Weinberg sophomore and Project Cookie co-CEO. "It felt like survival of the fittest. Literally, people turned into animals."
Norris has done orders with Project Cookie in the past to help students deal with the stress of finals—orders that usually go pretty smoothly. But the clamor that this free delivery created would forever be known as Northwestern's first cookie riot.
Project Cookie may seem like a Northwestern staple now, but it wasn't always so well-known—let alone, riot-inducing. When the business launched in 2011, it didn't operate every night and ran into problems such as selling out of cookies far before the end of their shifts.
Since then, executive members have revamped marketing strategies and operational models to make Project Cookie a Northwestern trademark. According to former CEO Will Ginsberg, a Weinberg junior, Project Cookie went from selling 30 cookies a night to between 80 and 90 per night last quarter.
"It was great having the opportunity to make changes to the company and and see tangible results," he says.
Starting from scratch
Project Cookie is a business housed under Northwestern Student Holdings, a parent company that oversees several student-run businesses such as AirHop and BoxCo. While an NSH executive board and an additional faculty board oversee the companies, students are responsible for running the businesses themselves.
"As a CEO role of a company, you submit a very different leadership experience," Kumar says. "That's an experience that I feel so honored to have."
Kumar, former Chief Financial Officer of Project Cookie, now leads the team with SESP sophomore Connor Regan, former Chief Operating Officer and current CEO. The two say having a clear vision to move the company forward both for the quarter and the full year is one of their top priorities.
"It's all about constantly thinking, 'How can we serve our customers better?'" Regan says.
The business model of Project Cookie is fairly simple: Employees start their shifts at the Pi Kappa Alpha fraternity house, where they bake the cookies. Afterwards, they head to Lisa's Café for the first shift of sales and then move south to University Library. Employees usually hit each location one more time before selling out, ending by midnight at the latest. On top of these nightly operations, Project Cookie also does catering orders and deliveries.
But for the executive team, it's all about seeing the big picture and giving Project Cookie a wider presence both on campus and to prospective students. Regan he overheard a tour guide talk about Project Cookie's signature Inception cookies – chocolate chip cookies with another item such as an Oreo or Reese's inside – as he walked through Norris.
"From our perspective, that's really exciting – that Project Cookie can be a unique part about Northwestern," Regan says. "Most schools don't have something like this."
Why Project Cookie works
Since its inception, Project Cookie has consistently stayed profitable. Part of the reason is because of the staff is passionate about the mission, according to Ginsberg. From the employees – called "cookie enthusiasts" – to the executive team, everyone tries to emulate the spirit of Project Cookie in whatever role they have in the company.
"A lot of what we pride ourselves on is a fun brand image," Ginsberg says. "We kind of try to target our customers through that, the fun, goofy, spirit of the company and the brand."
While the Cookie Monster hats that employees are required to wear may draw in more customers, sales also increased due to a new employee payment structure. Last year's executive team – made up of Ginsberg, Kumar and Regan – designed a new payment structure that incentivizes employees by giving a bonus for each additional five cookies sold after the 30 cookie minimum.
"We want them to love Project Cookie as much as we do, and to have as much of a vested interest," Regan says. "That's been a big thing for us – how do we make them love Project Cooke to the point where they want to go above and beyond what's asked of them to get us to the next level?"
Aside from incentivizing employees, the team also looked to revamp its marketing strategies. For example, the website now features a Project Cookie live tracking tool, and employees use the Twitter account to update location as well. With the increased marketing push, Kumar and Regan hope to specifically attract freshmen and incoming students to Project Cookie.
"As soon as people get to Northwestern, we want people to know what Project Cookie is, because that way we can keep them as customers for the whole four years," Kumar says.
Moving the company forward
Soon after being inducted as the new co-CEOs of the company, Kumar and Regan started Spring Quarter with a big marketing push by holding a Golden Ticket challenge. Students who could locate the 15 tickets hidden across campus would get free access to Project Cookies latest initiative: Sunday night deliveries of cookies and specialty coffees.
"Before this quarter, we just did nightly ops on campus," Kumar says. "The big thing we're really trying to push this quarter is deliveries."
Instead of just sticking to cookie deliveries, Project Cookie has now widened its scope to include coffee as well. This decision came after long meeting and discussion, but Regan says ultimately the choice "seemed like a no-brainer."
"We want to be there when students want dessert," Regan says. "What else can we do that students are interested in with a cookie?"
The two CEOs also hope to increase Project Cookie's presence on campus by expanding partnerships with groups such as Dance Marathon, and by doing more to get every student on campus invested in Project Cookie. Regan says "conversations have already started" for new partnerships and developments within the brand.
"It's all about constantly thinking, 'how we can do this better?'" Regan says.