You woke up, you drank your shower beer, you hotboxed your bathroom and you went to more frat parties in one morning than you did all school year.
And then things went wrong.
After multiple delays due to the weather, Mayfest officially closed Dillo Day at 3:45 p.m. on Saturday.
We're sad to announce that Dillo Day has been shut down and will be closed for the day. There will be no show on the Lakefill.

— Dillo Day (@DilloDay) May 30, 2015
On Sunday afternoon, Mayfest released a statement on the homepage of their website explaining the decision to close Dillo Day due to sustained winds of more than 30 miles per hour that exceeded the wind tolerence for both stages.
The statement reads, "Mayfest was forced to close Dillo Day due to severe winds which made it unsafe for artists and crew on both the main and WNUR stage. The decision to close the festival was made by the Evanston Police Department, the Evanston Fire Department, the Northwestern Police Department and stage production vendors."
Students took to social media to express their feelings.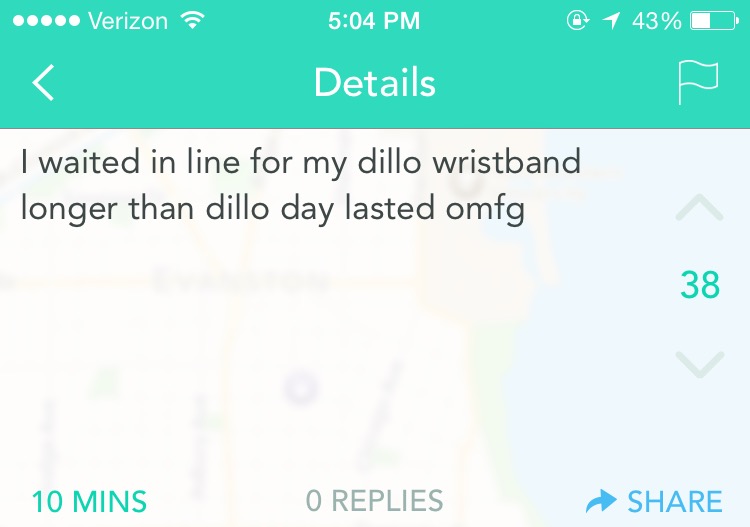 Although Charli XCX has already moved on to her next show without acknowledging her heartbroken NU fans...
So excited to play @sweetlifefest today !! come and dance with me at 4.30pm <3

— CHARLI XCX (@charli_xcx) May 31, 2015
...other Dillo artists tweeted responding to the news.
ODESZA tweeted at followers...
Dillo day, we are sad to say that the festival was cancelled due to weather. Come to the Concord tonight and hang with us at @sibonobo !

— ODESZA (@odesza) May 30, 2015
Saint Motel held a free show at 4 p.m on Sunday at JBTV studios.
For those who we didnt get to see today at #DilloDay Fest…tmrw!!in chicago…w/ JBTV! RSVP for an intimate show :) https://t.co/8zMR4PNvrh

— SAINT MOTEL (@SaintMotel) May 30, 2015
And nighttime headliner Miguel tweeted...
...bummed we couldn't play NW university today, trying to find a small venue to pop and play for the fans here... … pic.twitter.com/LudNGuIDuP

— Miguel (@Miguel) May 31, 2015
Hours later, Miguel, A$AP Ferg and Dillo 2014 performer Chance the Rapper came together for a pop up show at Joe's on Weed St. at 1:30 a.m.
— FERG (@ASAPferg) May 31, 2015
If you didn't make this epic show because you were passed out surrounded by pizza boxes with an episode of Parks and Recreation playing in the background (raises hand), take 54 seconds to enjoy this Dillo Day 2015 recap video to relive those glorious 6 or so hours.