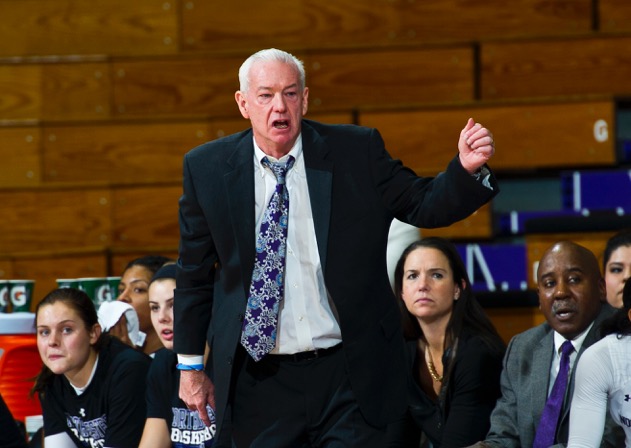 His season begins in less than a week and Joe McKeown still has time to talk.
Our interview is over and he no longer has to answer questions about lineups and player development from someone who wasn't even born when he coached his first college basketball game. But he keeps talking because that's Joe McKeown.
He talks about coaching USA Basketball in South Korea over the summer, where he met U.S. Navy Rear Admiral and Medill graduate Lisa Franchetti. Then he finds out that I'm in Medill, which leads to a conversation about several of McKeown's players who are also journalism majors.
If not for the spacious corner office that he occupies inside Welsh-Ryan Arena, it would be easy to forget that Joe McKeown is in his eighth season as head coach of Northwestern's women's basketball team.
And there's that other thing – right behind McKeown's desk is a framed poster, announcing Northwestern's selection to the 2015 NCAA Women's Basketball Tournament.
"It was great to be part of it and the energy that comes with it," he said. "To put Northwestern in the NCAA tournament, our team was really proud of that."
After spending almost two decades at George Washington, where he led the Colonials to the NCAA tournament 15 times, McKeown was looking to secure better healthcare and educational services for his son Joey, who is living with autism, when he came to Evanston in 2008.
But the Wildcats weren't exactly a dynasty waiting to happen.
Northwestern hadn't enjoyed a winning season since 1997, facing plenty of stiff competition in the B1G. During McKeown's first season at the helm, the 'Cats won just eight games.
But slowly, the coach began to build a winner. He took Northwestern to the WNIT in 2009, 2010 and 2013. However, it was last season that Northwestern finally turned the corner.
The Wildcats won 23 games and finally punched their ticket to the NCAA tournament. But the way their season ended was something of a nightmare.
The 'Cats were up big on Arkansas in their first round game in Waco, Texas. After Ashley Deary nailed a three-pointer to put Northwestern up 51-39 midway through the second half, the Razorbacks closed the game on an 18-4 run. With the 'Cats down two points and their season on the line, Nia Coffey had a chance to force overtime, but her driving layup came up just short.
After six months of borderline-elite basketball, Northwestern's season had ended in just 20 minutes.
"There's a process," McKeown said. "When I was at GW and we got beat in the first round, we talked about advancing past that. When we got to the Sweet Sixteen, we talked about advancing to the [Elite] Eight. Your goal is to just keep going up and you've got to go through the process."
But at Northwestern, where success on the basketball court is still something of a rarity, McKeown's process is the kind of thing other coaches have learned from.
Chris Collins is in his third season at the helm of the Northwestern men's basketball team. The two coaches are separated by 18 years and 590 wins, but McKeown said he's excited by the potential of the men's team.
"We talked a lot when he got here about Northwestern and the challenges of the Big Ten," McKeown said. "But he's an old, young coach. He came in with tremendous experiences and a great feel for what's necessary to compete in this league."
McKeown said he's excited by the growth of Collins' team, which has begun attracting recruits that Northwestern simply couldn't compete for in previous seasons.
For his part, Collins has praised McKeown for his success as coach of the women's team.
"Joe and I are really good friends," Collins said. "They practice in the morning so I always pop my head in and see how they're doing and what he's got going with his team. He'll pop in the office and we'll talk basketball, we'll talk philosophy and all those things."
McKeown is a Philadelphia guy at heart, so he's also familiar with the work of Collins' dad, Doug, who played with the Philadelphia 76ers in the 1970's and later enjoyed a 25-year career as an NBA coach.
"He came in to talk to our team about his experiences going back to things like the 1972 Olympics and [coaching] the Michael Jordans of the world," McKeown said. "The Collins family has been great. They're pure basketball people."
Coming into the 2015-2016 season, the Wildcats are ranked No. 19 in the country and have been picked by many to finish near the top of the B1G. Northwestern only lost one starter from a season ago (center Alex Cohen, who graduated), meaning expectations are high for McKeown's team.
"We have four players who started for us last year, so you want to get them going and make sure they're playing at a really high level," he said. "Their energy kind of runs through the rest of the team."
Those players include senior Maggie Lyon and juniors Deary, Coffey and Christen Inman. They also represent Northwestern's top four scorers from the 2014-2015 season.
Along with that group, the 'Cats will welcome three new freshmen to the roster this season.
"They're learning on the fly. One thing about college basketball is there's no shortcuts, so the biggest thing is they've just got to get out there and play," he said. "The next step for them is really getting on the court and playing in games where coaches can't stop it if something goes wrong."
With a manageable non-conference schedule before B1G play begins in the winter, the 'Cats have a real chance to secure a top seed in the NCAA tournament this year. And while Northwestern will say goodbye to starters Maggie Lyon and Christen Johnson next year, they'll still retain three of their top four scoring threats.
Whether or not most Northwestern students realize it, this team has real chance to bring some college basketball glory to Welsh-Ryan Arena. And they'll do it with a legendary coach at the helm.
Just ask Chris Collins.
"He's won 600 plus games," Collins said. "Basketball is basketball, so I try and pick his brain as much as I can. He's been through it all and seen it all."