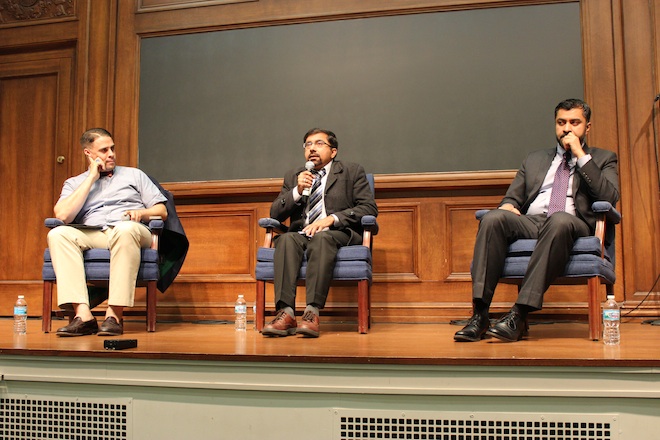 The Muslim Cultural Students Association hosted a discussion Thursday evening on how Islam relates to power structures. Three distinguished speakers lectured a crowd of more than 100 people on what they thought the role of Islam and the Quran are in terms of political engagement.
Dr. Hamid Mavani, author of "Religious Authority and Political Thought in Twelver Shi'ism: From Ali to Post-Khomeini," was the first speaker to address the attendees. Mavani argued Islam should not be intermingled with politics, especially because of the risks involved. Mavani critiqued governments that use Islam as a tool to legitimize their power. Mavani went on to say the true meaning of Islam and its religious texts are often misconstrued due to the lack of contextualization.
"Islam does not provide us with a template for power," Mavani said. "The Quran wants to cultivate virtuous human beings."
The separation of religion from the state has been an issue for many Muslims in academia. Some believe engaging in secular politics limits Islamic religious freedom. But Dr. Haroon Ullah, a policy planner in the State Department, said religion in politics should not be a big issue. According to Ullah, there are several myths surrounding the issue of state neutrality. These myths include the ideas that state neutrality limits faith-based engagement and individual religiosity.
Usama Canon, a spiritual leader who embraced Islam in 1996, said he encouraged the youth to engage with their own community through action. Canon said he believes it is important for Muslims to be critical and to speak out on social justice issues that affect them.
"We've got to talk seriously about thinking globally and acting locally," Canon said.
And McSA co-president Baber Malik said he hopes Thursday's discussion served as a local call to action.
"A lot of questions are being raised right now about political Islam. You know, having an Islamic state versus a secular state," Malik said. "It's important to have a conversation like this, looking deeper at what Islam actually says about the state."
Malik hopes attendees understand that there are different paths to achieving the ideal, Islamic state – which is a reason why it was important to have the varying opinions of a professor, political activist and spiritual leader at the event.
Attendees consisted of Northwestern students and Evanston residents, but there were plenty of students from other colleges as well. Aliya Tahsin, a rising junior at Harper College, said she learned a lot from the discussion.
"It's easy for us to not talk about this issue, but it's an important one," Tahsin said. "And it's one that we need to discuss more."
The speakers and McSA organizers do want the conversation to continue, and hope Thursday's event was a helpful springboard into the discussion.