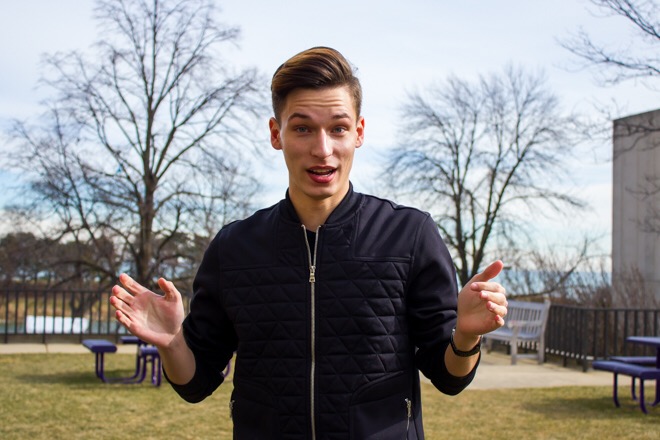 Makeup tutorials on Instagram and YouTube have recently been blowing up on social media, but most of these artists focus on applying makeup on themselves – not real clients. Andrew Gordon, a School of Communications freshman, however has worked as a professional makeup artist for over a year, and continues to juggle the demanding Northwestern curriculum with freelance jobs. Gordon, originally from Nashville, first became interested in makeup during his freshman year of high school, and has gone above and beyond to pursue his passion. After teaching himself the basics of makeup application in his room, he ventured out to the local MAC store to learn more. The budding artist then spent countless hours hanging out with the people who worked there, cleaning their brushes, learning the sanitation policies and just playing around with the products. Soon enough, he landed himself a freelance on call position for MAC. He continues to work freelance jobs in Chicago. NBN got the inside scoop on the story of an 18-year-old boy who had the confidence to pursue a career in a field that many only dream about. The interview has been edited for length and clarity.
NBN: What originally got you into makeup?
Gordon: I think initially it was drag performance in general, and I really fell into that like freshman year of high school. I was thinking that parents and people around me are not going to be supportive of this, so what part of it can, I work on on my own. Makeup was something I could go initially to the drug store and pick up and then play with on myself and learn techniques and shapes and all that sort of thing and work with that and start to build a face that I like.
NBN: What are your favorite products to use?
Gordon:MAC Studio Waterweight Foundation is definitely one of my favorite products of all time. The finish is the most natural skin like thing I have ever experienced. The color range is very large, the feeling is very lightweight, and it is very hydrating so it is useful all throughout the year. In terms of men's grooming MAC Face and Body Foundation is also very good because it is very watery and very sheer. It is best used actually with your hands which makes it a great product for the men.
NBN: If you could collaborate with a company and make any type of makeup who would you collaborate with and what would you make?
Gordon: MAC probably. It would be an eye shadow palette, just because eyes have always been my favorite things to do. I love what's happened this past fall with all the burgundy red tones [in new eyeshadow palettes], but in my head I still see a palette that has not been produced. I think that would be very fun.
NBN: What is it like to be so young and male in a predominantly female field?
Gordon: My age has actually worked well for me in large part simply because when I'm at work people tend to think I'm older than I am, so it always comes as sort of a pleasant shock to a lot of my customers when they realize "oh, you are just out of high school." Sometimes you run the risk of being tokenized as the "young gay kid," but I let the artistry and salesmen speak for themselves, and I let the customers speak for themselves. In an industry that's predominately female it's surprising how many male makeup artists there are at the top.
NBN: Do you think social media represents the LGBTQ community and men wearing makeup positively?
Gordon: Overall it does because it's showcasing a fearlessness and a decision not to give in to hatred or a different of opinion. Nine times out of ten, I would love it to be a lot more natural, but that comes into my own makeup artist tendencies and not their own, at the end of the day it is still their choice and if they feel happy in something so dramatic and full coverage is their style, that's up to them. I support them in that choice.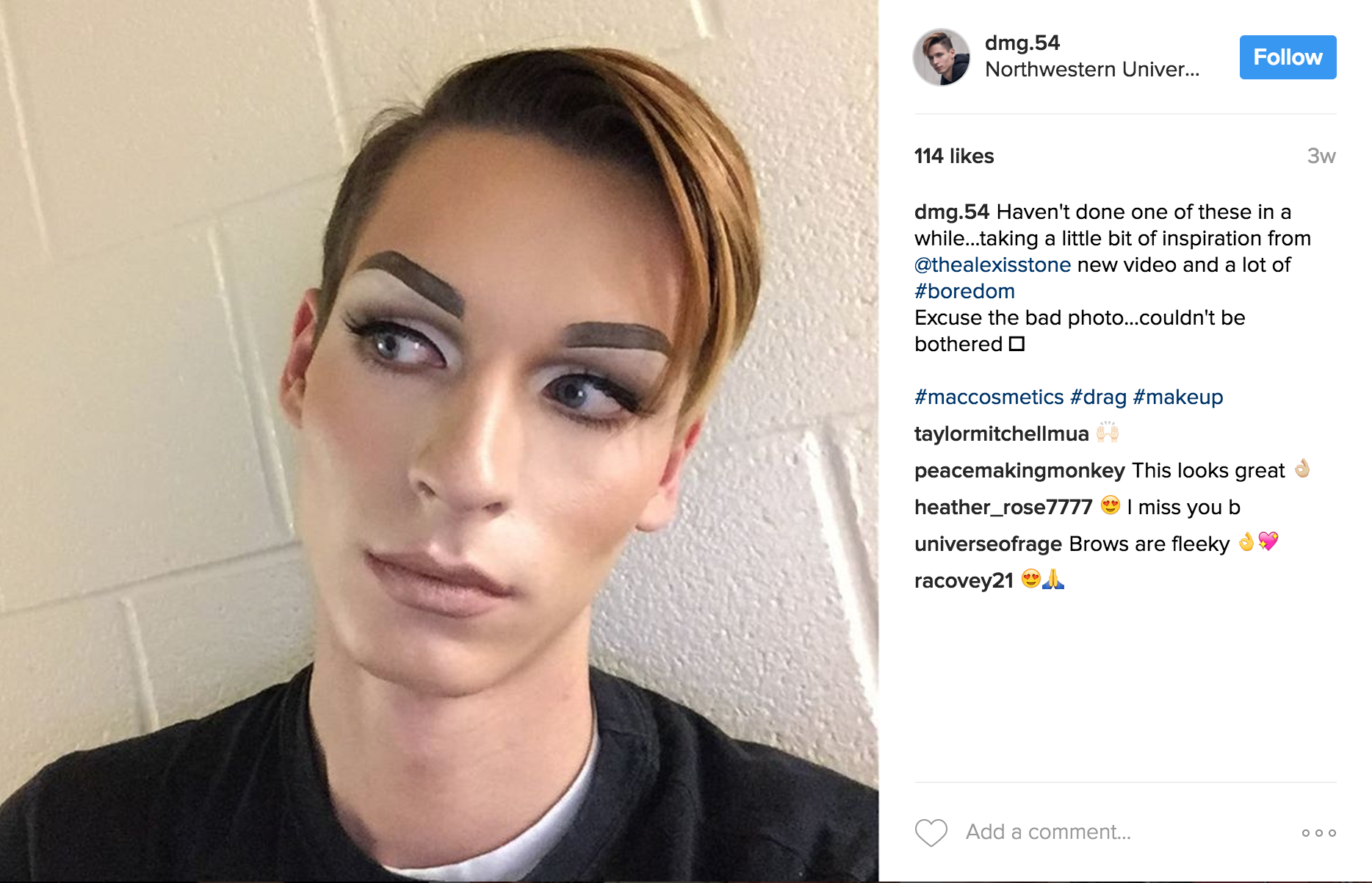 NBN: What are some go-to products for men that you recommend?
Gordon: For a very clean, easy, "truly no makeup" look, MAC Face and Body Foundation is by far the best option for [making] just a slight little correction. Put a drop or two on your fingers and just massage it in all over your face and you are good to go. It's incredible for what it does. I also like the Tom Ford Concealer, which is specifically designed for men's rough skin. For some people the shades (because there are only three) are not necessarily the best. There are plenty of other concealers on the market though, and it's really about finding the ones that work for what kind of needs that you have. Bronzing powders are always a good option if you want to do something a little more lightweight and natural. Hourglass, a brand which Sephora carries, makes some very very nice natural luminescent powders both for highlighting and bronzing. For contouring, MAC this past summer did a collection with the Brant Brothers, it was a unisex collection. They have a sculpting creme duo, which is perfect. Its emollient and you can use it with your fingers. It was a limited edition item, but it's still online.
NBN: Tell me a story of one of your favorite experiences from your work.
Gordon: I had a customer come in who had never bought a MAC lipstick before, and I helped her choose a shade she didn't think she was going to like, but she ended up loving it. It was the perfect color for her. It was just a wonderful customer experience where even if they walk out with just a very small item, I am able to give that kind of experience to a customer and see them light up.