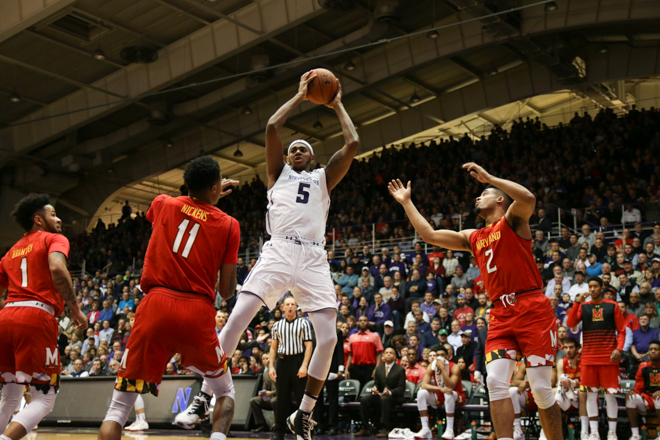 Another cold shooting night from Northwestern (19-7, 8-5 B1G) at home resulted in a 74-64 home loss to Maryland (22-4, 10-3 B1G).
To say Northwestern struggled from the field in the first half would be the understatement of the century. The team scored a season-low 22 points in the opening frame on just 32 percent shooting. Without Scottie Lindsey for the fourth straight game (illness), Vic Law and Bryant McIntosh combined for just four points on 2-of-13 shooting in the first half.
Maryland, on the other hand, found its range from three in the first half, to the tune of 44 percent from beyond the arc. Noted Northwestern killer Melo Trimble got off to a red hot start. He was 5-for-7 in the opening period, scoring 13 points and adding two assists as well. He finished the game with 32 points on 12-of-16 shooting and 4-of-5 from three.
McIntosh found himself in foul trouble early, committing two fouls in the game's first three minutes. Collins went with Isiah Brown early, whose erratic play had its highs (eight points in the first half) and its lows (two first half turnovers). Despite its all around poor performance, NU found itself down just 10 points at the intermission.
The second half was better for Northwestern. The team finished the game shooting 39 percent and after getting down by as many as 20 points in the second half, fought all the way back to get within eight late in the game.
In the end, it wasn't enough. The shooting of Trimble and the shooting woes of Northwestern combined for a tough loss at a packed Welsh-Ryan Arena.
While the loss was demoralizing, the night was not without a silver lining; in fact, there were four.
First, Northwestern actually won the turnover battle in this game, and their defense showed flashes of what it was in their upset victory over Wisconsin.
Second, the game gave some meaningful playing time to freshmen Isiah Brown and Barret Benson. Brown had a tremendous second half. He finished the game with a career-high 19 points, the most of anybody in a Northwestern jersey.
Third, the game was graced by the presence of two heroes: bowl-flipping unicyclist and national treasure Red Panda performed a stunning halftime show, and a heckler in the Northwestern student section wearing a Speedo swimsuit, known to the public only as Speedo Guy, was removed from Welsh-Ryan Arena after successfully rattling Melo Trimble at the free throw line. It is the courage of these heroes that makes our world a better place.
Fourth, and most importantly, Northwestern's next game is against Rutgers (Feb. 18, 5 p.m.), and Scottie Lindsey should be coming back any game now. If you listen closely, you can already hear birds chirping.