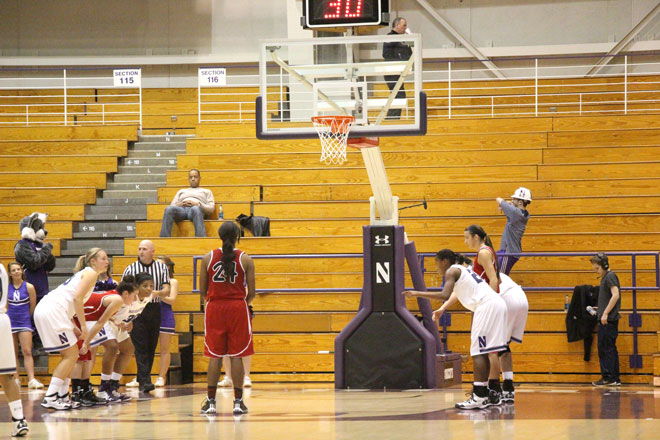 Northwestern basketball hit the court Wednesday at Welsh-Ryan for season-opening exhibition matches against Lewis University. Here's how they fared.
Women: Northwestern 98, Lewis 57
The Wildcats got hot from the outside en route to a convincing win. Apparently, the new hand-checking rules didn't have a major impact, because the Wildcats shot just nine free throws on the night.
Bright Spots
Three-point efficiency. Senior guard Meghan McKeown, who went 3-for-3 from range in the first half, propelled the 'Cats as they poured on 44 points by halftime. They were shooting 55.6 percent from range at halftime, giving them a 20-point cushion and a victory in their first exhibition game. McKeown went 4-for-4 from downtown, and the team finished 11-for-22 from three.
Freshman fun. Three freshmen were in the starting lineup, and all made a significant impact, combining for 40 points. One of them, Christen Inman, finished with a team-high 21 points. Nia Coffey, a 6-foot-1 freshman out of Minneapolis, also had an impact on defense, finishing with two blocks and a steal. Overall, freshmen scored 45 percent of the teams 98 total points.
Room for improvement
Free Throws. The 'Cats shot 25 percent from the line, going 1-for-4 in the first half and 5-for-9 for the game. Though four points didn't really make a huge difference in this first game, it could come back to bite them when it matters most. They'll need to be more efficient during the regular season if they want to hang with the other Big Ten opponents.
Fouls. The 'Cats sent Lewis to the line 17 times, and the Flyers converted on 12 of those. Again, in a close game, this would matter more. In this game, even if they sent Lewis to the line twice as much, it wouldn't have mattered. But during in-conference play, those mistakes won't go unpunished.
Men: Northwestern 57, Lewis 46
Chris Collins's tenure opened with a win, but it wasn't easy. The 'Cats shot just 35.6 percent from the field and struggled to pull away from the Flyers. Drew Crawford led the way with 15 points.
Bright Spots
Defense. The 'Cats held Lewis to only 18 points, forcing them into 20.7 percent shooting in the first half. They finished the game shooting 31.3 percent and were 0-for-7 from three-point range. NU held Lewis, who had scored 79 and 82 points in their first two exhibition games respectively, to only 46 points. Nearly all their shots were contested, and the 'Cats finished the game with four blocks.
Nikola Cerina and Nate Taphorn. Cerina, the 6-foot-9 redshirt senior, was a force on the boards, nabbing a team-high nine rebounds, along with a block. The Wildcats will need that kind of tenacity once conference play begins if they plan on hanging with Big Ten teams. True freshman Taphorn also had a solid debut, showing a lot of grit in his 23 minutes on the court. He finished with ten points, a block and a steal.
Room for Improvement
Attendance. If you thought fans would come out to support new head coach Chris Collins in his first game with Northwestern, you were wrong. Even though it was just an exhibition game, it would have been nice to give Collins a true Wildcat welcome. But, at least you could hear the band better than at football games, so that's a plus. Hopefully, the first regular season game this Saturday will draw more fans.
The Competition. The Lewis Flyers are no Michigan State Spartans. Even so, it took everything Northwestern had to hold them off and grab the victory. The 'Cats might be able to get away with a win like this – one where they turned the ball over 12 times – against Lewis, but once real games start, that won't be the case. As shown by the football team, conference play is a whole other ballgame, one where wins aren't as easy to come by like this one.