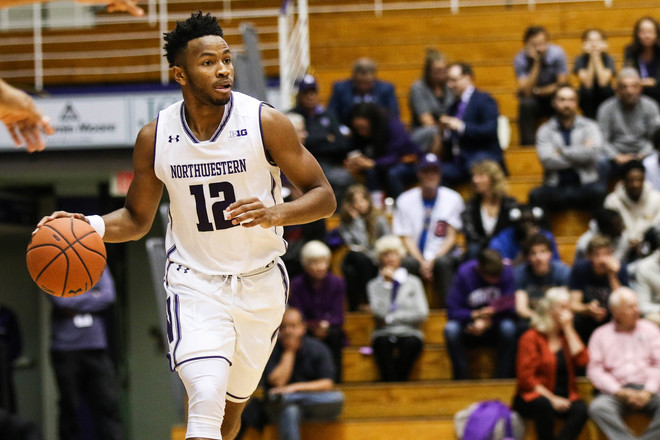 In what was our first look at the 2016-17 Northwestern men's basketball team, the Wildcats played an exhibiton game against the University of Illinois Springfield, blowing out the Prairie Stars 89-52. While the contest doesn't mean much, there were still some notable takeaways, both positive and negative.
Reasons for optimism:
The biggest positive takeaway on Friday was the debut and performance of freshman guard Isiah Brown. Brown was summoned off the bench early and often, seeing 23 minutes of action in his first collegiate contest, second only to Bryant McIntosh, who played 28. After about two minutes on the floor, Brown drove and pulled up for a midrange jumper, draining it with ease. From that point on, the freshman would never look back, going on to drop a game-high 19 points on a stellar 7-of-11 shooting night. From the three-point line all the way down to dribble drive finishes at the rim, Brown looked smooth, comfortable and mature, seamlessly sliding his way into head coach Chris Collins' offensive scheme with ease.
After the game, Collins praised Brown's play, along with his preparation, poise and prowess on and off the court.
"He's going to be a huge weapon for us [this year]" he said, "Isiah's ability to score the ball is going to be huge for this team … he's just got a knack for putting the ball in the basket."
Friday's exhibition also marked the long anticipated return of Vic Law, who was sidelined all of last season with a torn labrum in his left shoulder. There's no denying that there was rust – Law was charged with two personal fouls within his first two minutes on the floor and was forced to sit early on, looking like his excitement to be back on the floor got a hold of his discipline on defense.
But in the second half, Law found his stride and was involved in seemingly every play, a presence and impact that NU fans hadn't witnessed since the 2014-2015 season. The redshirt sophomore finished with 11 points on four buckets including two three pointers coming late in the second half. Collins and NU fans alike should be encouraged by Law's performance – if he can regain his confidence and continue to improve, Law will be an immediate x-factor for this team moving forward.
Beyond the performances of Law and Brown, NU's returners picked up right where they left off last season, led by co-captains Bryant McIntosh and Sanjay Lumpkin. McIntosh may have only dropped 11 points, slightly lower than his average of 13.8 from a season ago, but he led the team in both rebounds (six) and assists (five), solidifying his role as the most integral player to his team's success.
Lumpkin, entering his fifth and final season as a Wildcat, also had a solid all around performance. Throughout the contest, Lumpkin was constantly making plays and leading by example – whether it was yelling at his teammates from the bench, taking the lead in the huddle or making countless hustle plays on the floor. The forward guard hybrid may have only tacked on three points, on 1-of-1 shooting, but he recorded three rebounds and two dimes along with two drawn charges.
Plenty of highlights from tonight's exhibition win over Illinois Springfield.

Basketball is back. #B1GCatshttps://t.co/P1rEjJuOoH

— NU Men's Basketball (@NUMensBball) November 5, 2016
This was Illinois Springfield, and the 'Cats have a ways to go:
Let's not get too far ahead of ourselves here – this game was far from perfect for the Wildcats. NU had 14 turnovers against a Division II defensive unit. Yes, NU did score 89 points, but with more discipline on both ends of the floor, the margin of victory in a game like Friday's can be even wider for this talented group.
Further, Northwestern had an inexcusable 24 personal fouls over the course of the game. UIS also had foul trouble, recording 20 fouls, and the pace of the game reflected this as almost every other play was brought to a halt by a whistle. If the Wildcats want to compete and win against the best teams in the Big Ten that will undoubtedly capitalize on each and every opportunity, the 'Cats have got to improve on defense and avoid getting into foul trouble as early and often as they did Friday.
Overall:
NU's depth and versatility showed on Friday, and its offense looks to be improved. Last year the 'Cats struggled royally from the three-point line at times, but the Wildcats were respectable from deep on Friday, shooting 9-of-22 from beyond the arc (that's a mark of .409, a solid improvement from last season's average of .358). NU's bench tore it up, outscoring the Prairie Stars 39 to 20. A strong and deep bench will do wonders for this team moving forward, and role players like Gavin Skelly and Aaron Falzon will have a large impact.
NU will kick off the regular season on Friday, Nov. 11 when it hosts Mississippi Valley State in its home opener.