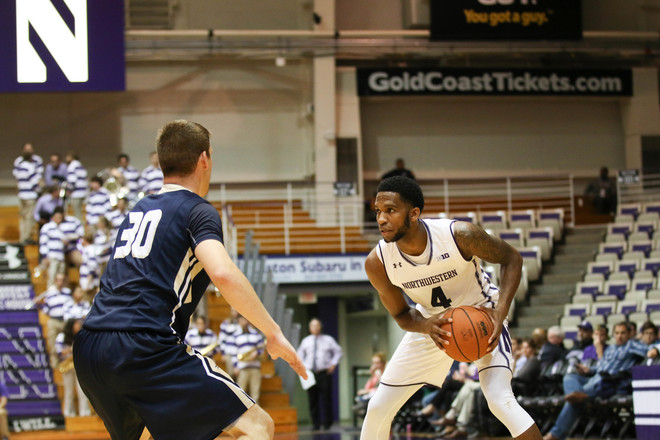 Northwestern returned to Welsh-Ryan Arena Friday for its regular season opener with a triumphant victory against Mississippi Valley State, blowing out the Delta Devils 94-63.
From the opening tip to the final buzzer, beyond a few stretches of sloppy play here and there, NU impressed, playing shutdown defense, pushing the rock forward on fast breaks and moving the ball crisply on offense.
"The first game of the season is very difficult from an emotional standpoint ... there's nerves," Collins said. "For us to come out and play the way we did early, I was very impressed."
For the 'Cats, there was never any doubt. After three minutes, down 6-5, fifth-year senior Sanjay Lumpkin barreled down the lane, drawing the foul and finishing for the and-one in acrobatic fashion. NU would go up again on a Scottie Lindsey jumper two possessions later and never looked back, leading for the remainder of the contest.
Friday's game was a promising, comprehensive look at each and every aspect of what head coach Chris Collins and the Wildcats will be working with this season.
For one, NU looked much improved from behind the three-point line. After averaging a clip of 35.8 percent from deep in 2015-16, the 'Cats finished Friday with a mark of 42.3 percent on 11-of-26 shooting. Lindsey and redshirt sophomore Vic Law led the way, both knocking down three three-pointers each.
But the hot shooting didn't stop there. NU shot it well from the free throw line early and often, starting a perfect 11-for-11, and finishing with 19 total makes, higher than its average of 11 per game last season.
Law led all scorers with a career-high 18 points in his return from shoulder surgery, which forced him to miss all of last season. Lindsey had 17 points while guards Bryant McIntosh and Isiah Brown added 11 points and four assists each. Lumpkin finished with 11 points and eight rebounds, and Gavin Skelly filled up the stat sheet with seven points, five rebounds and four blocks. With 21 assists, NU shared the ball well on offense, spreading the points around.
"We have to share the ball to be good," Collins said. "We have to be a function of cutting and movement and sharing the ball ... We're at our best when we're moving the ball."
In addition to a big game offensively, NU's defense and rebounding was nothing short of stellar. NU out-rebounded the Delta Devils by a huge margin, 50-32, where sophomore center Dererk Pardon excelled, hauling in seven boards.
On defense, the 'Cats were nearly impenetrable, forcing 12 turnovers and emphatically rejecting seven Mississippi Valley State shots. The biggest takeaway from this one, however, was the all-around quality of the team win. Each and every player that saw minutes contributed, whether it was freshman Barret Benson getting to the rack as well as defending in garbage time, or sophomore guard Jordan Ash knocking down two late threes.
Friday's action saw a respectable showing from Mississippi Valley State, but Wildcat fans should take this win with a grain of salt. Collins and the 'Cats performed well in their season opener, but they will be tested by an increasingly difficult non-conference schedule. After another home game against Eastern Washington on Monday, NU will travel to Butler, where it will face its first true test of the season.