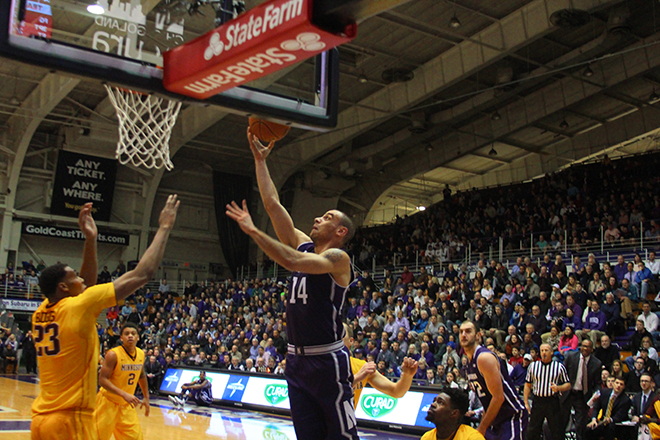 Northwestern (16-8, 4-7 Big Ten) broke out of their recent struggles with authority on Thursday, dominating the Minnesota Golden Gophers (6-17, 0-11 B1G) 82-58 at Welsh-Ryan Arena.
"I'm really proud of the guys," Northwestern head coach Chris Collins said. "This was a big game for us. That's not rocket science when you go through the gauntlet we just went through. We knew they [Minnesota] were playing much better, and we knew they were going to be really hungry, especially playing us, who had lost five in a row. So I'm really proud of the guys."
The Wildcats hit four of their first five three-point attempts. They finished the night shooting 54 percent from the field and 44 percent from beyond the arc, both their best since their last matchup with Minnesota on Jan. 9.
Tre Demps was great all game long, connecting on 61.5 percent of his shot to record a game-high 23 points, as well as eight assists, four rebounds, and two steals.
"I'm starting to feel more confident, but I've got to give a lot of credit to our coaching staff and the guys," the senior said. "They've continued to believe in me, and when you have that kind of support, you don't quit."
He started cold, but Bryant McIntosh caught down the stretch, tallying 20 points, six rebounds and three assists, while setting the Northwestern single-season assists record in the process.
"He's a special guard. I love him," said Collins. "And he's just in his sophomore year, and there are going to be many, many more awards that he's going to be recognized for in a Northwestern uniform."
McIntosh said basketball is simply more fun when he and Demps are both playing well.
"It's nice when we're both clicking together," he said. "Unfortunately, I think throughout this year, either I've been going and he's not played as well as he could, or it's the other way around. It was nice finally having one night where we were both clicking on all cylinders. We played really well off each other, and I think it's really fun basketball when you can see that."
Collins called the play of his two guards "fantastic".
Aaron Falzon added 10 points for the Wildcats, while freshman Dererk Pardon tallied four points and four boards in his first career start.
Collins said his main goal defensively was stopping Minnesota's stars, and not letting their "two kids have a big game."
And stop them they did. Nate Mason and Joey King combined for 13 points and only a 26.7 shooting percentage. They normally average 13.7 and 11.7 points per game, respectively. Jordan Murphy turned in a solid game for the Gophers with 14 points and five boards, but his team struggled mightily all game long.
"We couldn't make shots tonight," said Minnesota head coach Richard Pitino. "It's hard to win like that. We had looks, and we couldn't make them. It was just one of those nights, and we let it deflate us in the defensive end. I thought we had some chances to get some momentum-changing baskets and we didn't do it."
Minnesota shot just 33.3 percent from the floor and only 4-of-18 from beyond the arc.
The Wildcats clearly learned a lot from their five-game losing streak, which pitted them against four top-20 teams in a row.
"I think the one thing we can take from this is we responded," McIntosh said. "We came out from the get-go and we played the way we wanted to. We played with a lot of energy. We could've been beaten down and been 'mental midgets' as Coach Collins says, and we weren't. We just came out and played the way we were capable of and we played together, and it was a fun game to play."
"We haven't quit as a team," said Demps. "We're going to keep fighting. This is a stepping-stone to a great end of the year."
Snapping the slump was a great first step, but Northwestern still has an immense amount of work to do if they hope to have any shot of making a playoff run late in the season. That push begins in force Monday night against Ohio State.
All their remaining opponents are beatable. All the Wildcats have to do is win.