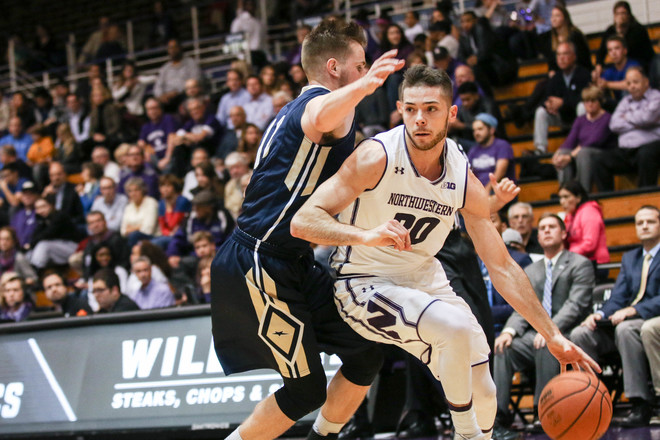 Northwestern (5-2) picked up its fifth win Monday in a nail-biter against Wake Forest (5-2) in the Big Ten-ACC Challenge.
Bryant McIntosh finally had a breakout game, finishing with 23 points on 10-of-16 shooting. He looked in this game to be the leading man that head coach Chris Collins and Co. envisioned all offseason. The first half was back-and-forth, but it was the Demon Deacons who held a slim lead at the break, 31-30. Both teams struggled to find their rhythm on offense in the opening period; each shot below a 36 percent clip.
Gavin Skelly was a bright spot for Northwestern, disrupting Wake Forest's offense with deflections, and he drew a charge that sent Wake Forest's leading scorer, John Collins, to the bench for most of the first half with foul trouble. Skelly was able to find his groove in the offense as well, scoring 11 points and adding six rebounds, four assists, and two of each steals and blocks.
Northwestern turned to McIntosh in the second half. The junior went on a personal 6-0 run midway through the second half that gave NU a 44-42 lead. He brought life to Welsh-Ryan Arena, and it did not go away. NU had a tangible home court advantage in this contest that surely helped the team down the stretch. Even Wake Forest coach Danny Manning said that the environment "felt like an early conference game for both teams."
"It's great what a student section can do. It gives us momentum. The atmosphere was unbelievable," said McIntosh, the spark that ignited the crowd in this game.
Still perfect at Welsh-Ryan Arena.

Highlights from the #B1GCats win over Wake Forest in the #ACCB1G Challenge. https://t.co/fNfb7Vlzvl

— NU Men's Basketball (@NUMensBball) November 29, 2016
With Vic Law (3-of-11 FG) and Scottie Lindsey (5-of-14 FG) struggling down the stretch and Dererk Pardon out of the game with a hand injury, the 'Cats continued to rely on McIntosh. He was penetrating the defense with ease and finishing his shots at the rim. McIntosh scored 19 of Northwestern's 35 second half points, providing a steady presence for a team that needed it more than ever.
Skelly and Sanjay Lumpkin both stuffed the stat sheet for the Wildcats. Asked to guard John Collins in the second half because of Pardon's injury, Lumpkin's maturity really showed. He created havoc on the defensive end (one block, three steals), rebounded well (seven rebounds) and was incredibly effective passing and screening in the high post.
Northwestern continues to prove that it is for real. Despite shooting 23 percent (6-of-26) from three, NU kept faith in its offense and created good shots all game. Northwestern teams of old have lived and died by their shot-making, but the Wildcats were able to overcome their poor shooting in this game to squeak out a victory.
Chris Collins's squad looked like a well-oiled machine with replaceable parts against the Demon Deacons. The veterans on this Northwestern team are showing the value of continuity.
"The older guys are the ones driving it," Collins said. "The guys on the team are the ones with that message; it's not just me ... They try to do everything I ask them to do, and when you have a group like that, they're fun to coach."