Northwestern's 2015-16 campaign ended with 20 wins, though it felt a bit empty because of the pedestrian non-conference slate. That will not be the case in 2016-17, as a respectable non-conference schedule will give NU real challenges early in the year. The Big Ten, arguably the second best conference in college basketball last year, may have gotten even better. This season's schedule will teach us a lot about the possible outcomes for the 2016-17 Wildcats, so let's take a closer look.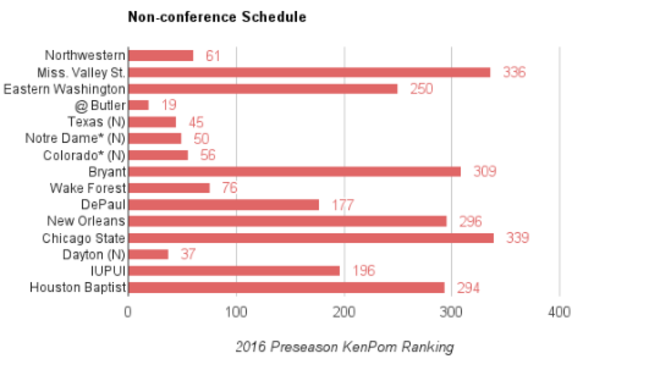 The above chart shows NU's non-conference slate chronologically, with each opponent's KenPom ranking on the horizontal axis. The lower the ranking, the better the team (Texas is projected to be better than Mississippi Valley State). The "valleys" on the graph show stretches of games against good competition, where the "plateaus" and "peaks" show where the 'Cats will face easier opponents. NU's KenPom ranking of 61 is shown as a baseline at the top of the graph.
NU starts its season against two non-power-five teams in Mississippi Valley State and Eastern Washington before hitting its first difficult test: Butler. This will be NU's only true road game of non-conference play, and it will come against its highest-ranked non-conference opponent. One thing to watch in this game is how head coach Chris Collins will deal with Kelan Martin, a 6-foot-7 junior who is the team's leading returner in both points and rebounds. Butler will fit the mold of the talented mid-major looking to get a quality win against power-five competition before entering its softer conference schedule, and will almost certainly be NU's toughest matchup until Big Ten play.
This "valley" in NU's schedule continues when they go to Brooklyn to face Texas and the winner of the Colorado vs. Notre Dame matchup in the Legends Classic. The 'Cats then come home for a favorable matchup against Bryant before facing Wake Forest in the Big Ten/ACC Challenge. If NU wants to make the NCAA Tournament, they'll certainly want to exit this four-game stretch with no more than one loss, knocking off either Texas, Notre Dame or Colorado.
The Wildcats' final test of the preseason will come against Dayton, whom Kenpom ranks 37th. This neutral-site game will be played at the United Center in Chicago, perceivably giving the 'Cats the feel of home-court advantage. Last year's non-conference cakewalk left NU seemingly unprepared for Big Ten play and underqualified for even an NIT birth. This season, Chris Collins and friends will face four top-60 teams, which will prove to be valuable résumé-builders come March.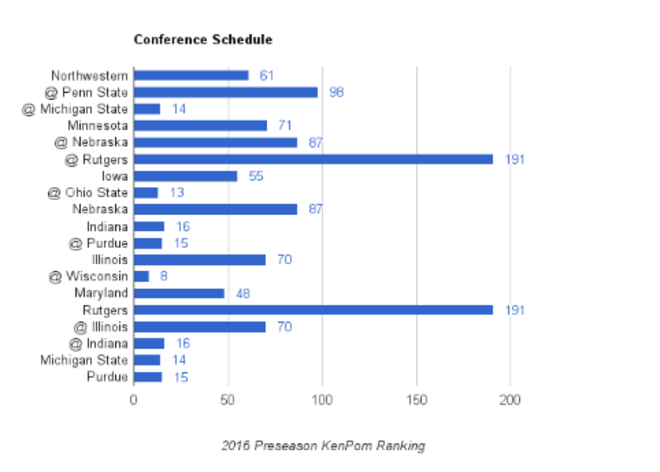 The above graph shows NU's Big Ten schedule chronologically, again with KenPom rankings on the horizontal axis.
If the Wildcats can finish non-conference play strong, they will have a legitimate shot to start 5-1 in the Big Ten. While Michigan State on the road will surely be a challenge, the Spartans have a bunch of new faces and could be vulnerable, especially early in their conference schedule. However, Michigan State has freshman forward Miles Bridges on their side, a name all basketball fans should get to know. He recently posted 33 points (5-of-5 on three-pointers) and nine rebounds in his first preseason game for Tom Izzo. Iowa is the only other team in this stretch ranked higher than NU, but that game will come at Welsh-Ryan and after a tune-up against Rutgers, KenPom's lowest ranked power-five team.
The relatively easy start is followed by a brutal seven-game stretch which features four games against top-16 teams (Ohio State, Indiana, Purdue, Wisconsin), three of which are on the road. The 'Cats cap this seven-game stretch with a home game against Maryland, who is only 48th in the KenPom poll, but was just ranked 25th in the preseason AP poll. NU will be lucky to escape these seven games with even three wins. Any more than that will certainly (and justifiably) raise some eyebrows.
NU will need somewhere in the range of 4-6 quality wins (against equal or better teams) to be seriously considered for an at-large bid to the NCAA Tournament. Even if the team is short of that late in the year, it will have three opportunities to close the season. The Wildcats travel to Indiana to face the Hoosiers before returning home for Michigan State and Purdue to close the year. Knocking off even one off these teams could have serious implications on Northwestern's postseason fate.
Unlike last year, NU has a schedule that will give it a chance to make serious noise early and validate it as time goes on. The first two games should allow the 'Cats to build a rhythm before they face three straight games where they will be underdogs. The Wildcats could easily start the season 2-3, but they could just as easily open up 4-1 or even 5-0. For a potential bubble team, these early games will surely matter down the stretch in February and March.
Conference play will be a similar story. If the 'Cats can come out of the gates hot and start 5-1 in the Big Ten, it wil build some momentum for the tougher stretches ahead. However, if they are unable to set the tone early, this young team could spend all season in the "figuring it out" stage. Even if that is the case, all hope is not lost, as the team will have three chances to prove itself late in the year. For a team with only two seniors (Sanjay Lumpkin and Nathan Taphorn), momentum at the end of the season is especially valuable and could easily carry over into next year.