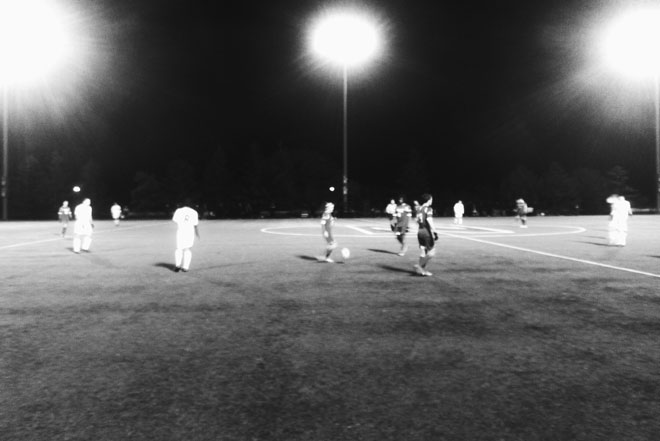 Missing five of their regular starters, the Northwestern men's soccer team was looking for a Senior Night victory when they took on the University of Indiana on Friday night.
The defending national champion Hoosiers (6-11-1, 2-4-0 Big Ten) stomped out those hopes with a 3-0 win over the Wildcats (9-6-3, 1-4-1) at Lakeside Field.
Indiana kept the 'Cats on the defensive for most of the first half, only allowing Northwestern a few brief forays into Hoosier territory. When the Wildcats did get the ball across the midfield line, a staunch and tight-guarding Indiana defense minimized any great scoring attempts. Northwestern's leading scorer, sophomore Joey Calistri, was limited to a single shot on goal.
"We weren't expecting an easy game," Calistri said. "We knew we didn't have all of our players. I mean, that's not an excuse. You know, we knew it was going to be a tough game. We knew they were a good team. They have a lot of talent going for them."
Indiana's first goal came in the 33rd minute from junior Dylan Mares, who bounced the ball in over Northwestern's sophomore goalkeeper Zak Allen after it was deflected off IU sophomore Femi Hollinger-Janzen's shin. From then on, Indiana played with confidence and poise.
The Hoosiers scored twice in the second half, once in the 66th minute when senior Nikita Kotlov shot in the cross from senior A.J. Corrado, and again 10 minutes later when midfielder Kyle Sparks headed the ball into the goal after it was chipped by two other IU players.
Northwestern's own second half was plagued by close misses, including a shot by junior Cole Missimo that bounced off the crossbar, and several of the Wildcat's 16 corner kicks being recovered by Indiana.
NU senior midfielder Lepe Seetane played 87 minutes and had several drives that punched through the IU defense, but was similarly unsuccessful in scoring. Despite losing his last home game, Seetane is already looking toward the Big Ten Tournament next week.
"Definitely it's tough, but we understand where [head coach Tim Lenehan] is coming from, we understand that we have a bigger game next week," Seetane said. "So we're just preparing for next week. It was, you know, one of those games that we could win or lose. Just kind of a preparation game."
Lenahan is the one that guided Lepe – and the rest of the team – to accept the loss, view the game as preparation, and focus on the game next week.
"The message [to the team] was, we knew tonight that we weren't going throw all the energy and emotion into this game," Lenahan said. "We don't have the horses right now to do it. Wednesday, there's no tomorrow, alright. If we don't win Wednesday, the season's probably over, so we have to throw everything into that."