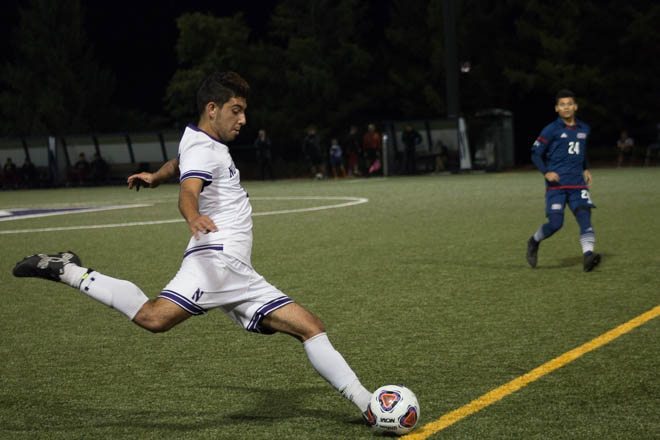 Northwestern (2-9-1, 1-3-1 B1G) contuined to struggle on Monday, dropping its ninth match of the season, this time falling to University of Illinois-Chicago (5-5-3) by the score of 2-0, the Wildcats' third consecutive shutout loss.
There's no way to sugarcoat this one for NU men's soccer fans. From start to finish, the 'Cats were simply outplayed by the Flames on both sides of the ball.
Offensive opportunities were few and far between for NU. In the first half alone, the 'Cats put up fewer shots and corners than UIC (13-3 and 5-2, respectively) and they lost the possession battle by a huge margin. It took the Wildcats over 20 minutes to even reach their offensive third of the pitch as UIC was able to keep ownership of the ball for the majority of the first 45 minutes.
After a salvo of shots on goal for the first 26 minutes by UIC, a streaking header by Oscar Rivero on a beautiful set piece corner from Max Todd put the Flames on the board, 1-0.
The only chance of the first half for the 'Cats came on a free kick opportunity from just outside the penalty box. Senior Brandon Medina drew a gasp from the crowd as his strike just nearly sailed inches over the top bar.
In the second half, the 'Cats improved slightly and did have glimpses of good-looking chances, but could never get the bounce they needed to score. In the 56th minute, NU rattled off three consecutive shots from inside the box, only to have a point blank header from Elo Ozumba saved at full extension by UIC's Andrew Putna to end the threat.
But back to UIC's Oscar Rivero, the man of the match. In the 62nd minute, the senior midfielder from Acapulco, Mexico, unselfishly found teammate Nestor Garcia on a break for a one-touch strike that found the back of the net from the top of the box to put the Flames in front by two.
Despite the final score, NU's redshirt freshman goalie Braden Thuraisingham, making his first career start, did a tremendous job filling in for Francisco Tomasino, who sat after a red card in Wednesday's loss against Central Florida. Thuraisingham got more composed and aggressive as the game progressed, which gives fans and head coach Tim Lenahan reason to be optimistic moving forward.
But the frustration for the 'Cats was evident by the end of the match. Fouls for Northwestern increased dramatically as Wildcat players got increasingly chippy and after the final whistle, players were visibly drained after yet another demoralizing loss.
Northwestern will look to right the ship and get back into the win column in its next game against a winless Rutgers team in Piscataway, New Jersey, on Friday.