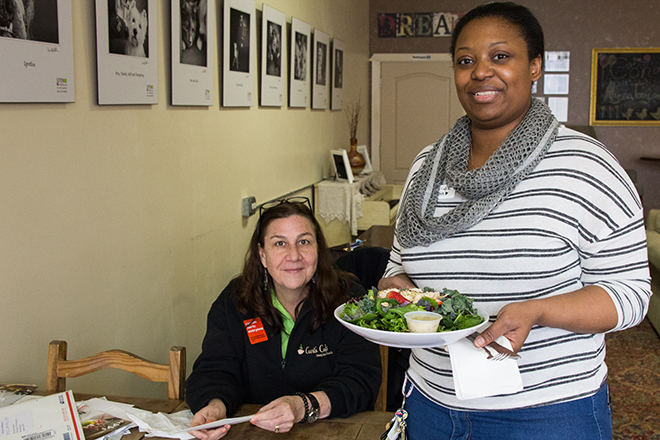 At first glance, Curt's Café on Central Street may seem like nothing more than a trendy eatery. It is lively and cozy, and the food and coffee are top-notch. To an unfamiliar customer, it's simply another un-commercialized Starbucks, a neighborhood spot, a quirky hideaway.
But it's more than that. Even the title, which some might assume is named after an owner, has a hidden meaning. It's an acronym, standing for Cultivating Unique Restaurant Training.
Of Curt's Café's 36 employees, only six work as paid staff members. The rest are 15- to 24-year-olds who have either spent time in jail or faced some type of legal trouble. Some have committed serious crimes, others are homeless and many have lost friends and family to gang violence. Almost all of them have been tossed aside by the judicial system, with little hope of finding permanent employment. The mission of Curt's Café is to take in these young people and provide them with the training they need to find jobs.
"When we incarcerate young people, we make them stop learning," says Susan Trieschmann, owner and founder of Curt's Café. "So when they come out four years later, they don't know how to learn. They have a 14-year-old mentality when they're 18. It makes them look dumb, but it has nothing to do with dumb or smart."
The students, as they are referred to, go through a gradual training process that begins at the dish sink and moves toward the front of the café.
Once comfortable with the working environment, they start making sandwiches and salads, eventually graduating to the counter where they interact with customers and make drinks. At the end of their tenure at Curt's, usually around around three months, students graduate with a wealth of new skills and the experience they need for a full-time job. Since the café's opening in 2012, more than 80 graduated students have gone to school or found jobs at a variety of businesses, randing from Edzo's Burgers to T.J. Maxx to right here at Northwestern.
Anna Martinez, 19, a student from Evanston, started at Curt's in mid-February and is now one of the first faces many customers see at the counter. Although she was skeptical at first, she quickly grew to love her fellow Curt's employees, who welcomed her with open arms and have taken a liking to her young son.
"They love him," Martinez says. "It's wonderful."
Martinez also says she wants to be a barista once she graduates and recently got a callback to work at Starbucks.
Trieschmann keeps close contact with her students after they graduate, making herself available in any way if they run into trouble. While some students may fall back into old habits, most won't. And for Trieschmann, that's all that matters.
"Our unwritten goal is to have them stay out of prison," she says. "That what we really want."