With the postseason rapidly approaching for many fall sports, NBN Sports takes a look at the most important games remaining for Northwestern's non-revenue teams in the playoff hunt.
Women's Cross Country
Meredith Ellison
October 9 at NCAA Midwest Regionals - Peoria, IL
The NCAA Midwest Regionals will determine whether the Northwestern women's cross country team qualifies for nationals or ends its season. The 'Cats will toe the line against thirty six teams in Peoria, Illinois, on Nov. 9. Among them are nationally ranked teams Iowa State (No. 17) and Minnesota (No. 21). Finishing in the top two as a team would automatically qualify them for nationals in Madison, Wisconsin. A third or fourth place finish could also result in a national qualification through an at-large selection. Last year the 'Cats entered the race ranked fifth in the region and finished a disappointing ninth.
No. 1 runner Aubrey Roberts, who finished fourth in the race, qualified for nationals individually because the top four finishers not on a qualifying team also advance. Roberts has put herself in a great position to qualify again – the question is whether her team will join her. At last year's meet, the team started strong but fell off in the second half of the race. Runners three through seven will likely determine the team's place at regionals, and whether the 'Cats can punch their ticket to Madison.
Women's Soccer
Jono Zarrilli
October 21 at Iowa - Iowa City, IA
Northwestern women's soccer (10-4-3, 4-4-2 B1G) has regressed after finishing second in the Big Ten and advancing to the conference championship game in 2017, but the team still finds itself in a position to make the conference tournament. The Wildcats are currently eighth in the conference, and the top 8 teams advance to the conference tournament. Naturally, then, their final regular season game on Sunday at Iowa is absolutely crucial. The matchup could not be more compelling: The Hawkeyes (8-7-2, 4-5-1 B1G) are just below Northwestern in the standings. Brenna Lovera, the team leader with eight goals, will likely lead the 'Cats to victory in a de facto playoff game. The possible outcomes of the game are outlined below:
Confused?
Curious about seeding?

Look at our pretty chart!

(All of these matches are scheduled for Saturday, except NEB-MSU, which is scheduled for Tuesday) pic.twitter.com/X4Gz0jIUsj

— WNUR Sports (@WNURSports) October 19, 2018
Men's Soccer
Isaac Sultan
October 24 vs. Wisconsin - 7 p.m., Martin Stadium
In their final regular season Big Ten matchup, the Wildcats (4-7-4, 0-4-2 B1G) will host a strong Wisconsin squad (6-5-2, 3-2-0 B1G) under the lights at Martin Stadium. With the Big Ten Tournament on the horizon, a win on Tuesday night would give all the momentum Northwestern needs to make a Cinderella run in the conference tourney. It will be a special occasion for senior star Camden Buescher and the other members of the class of 2019 as they get their last taste of Big Ten soccer at Martin Stadium.
Volleyball
Navpreet Sekhon
October 28 vs. Ohio State - 1 p.m., Evanston Township High School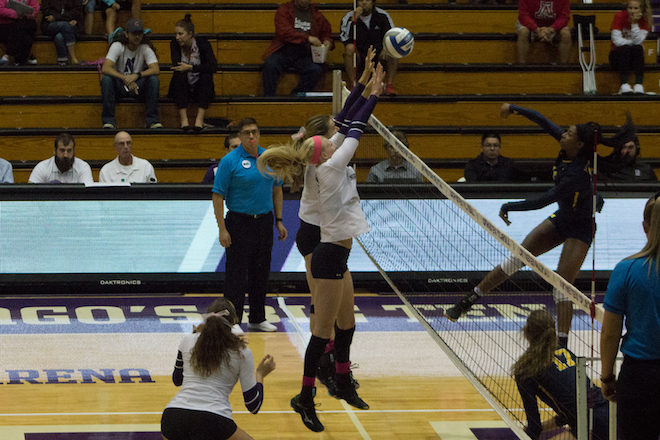 November 4 at Ohio State - 12 p.m., Columbus, OH
Northwestern Volleyball (11-10, 1-8 B1G) is fresh off its first Big Ten win after an upset win vs. Michigan State in Evanston on Friday. However, there are two things preventing this team from participating in any sort of postseason: One, Northwestern is in 13th out of 14 Big Ten teams, and two, the Big Ten does not sponsor a conference volleyball tournament. Regardless, the biggest remaining games are the two against Ohio State, who is currently two games ahead of Northwestern in the standings. Two wins would give Northwestern great momentum going into next season.