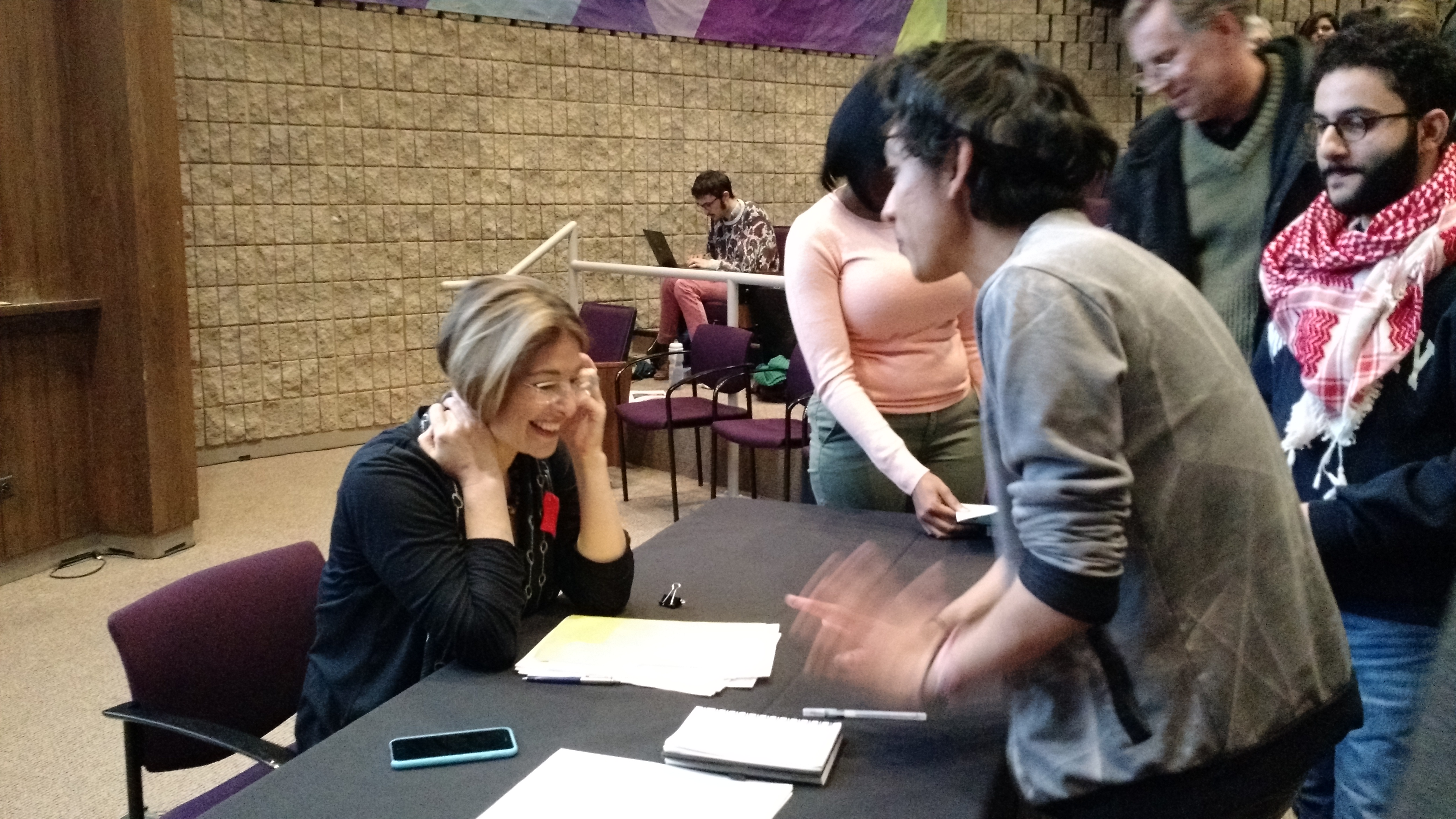 For Northwestern students concerned about the state of climate change, the presence of activist and writer Naomi Klein Wednesday night was a necessary reminder of the work ahead, particularly on our own campus. Her talk, "Capitalism vs. The Climate," was an intersectional approach to the ways in which capitalist structures have worsened the climate crisis, and the overpowering need for social movements to mobilize coalitions that recognize climate change and its relationship to other social issues.
"When you have a culture that allows people to be shot by police when they're walking home, or you have Syrian refugees disappear beneath the waves, it makes it easier to somehow rationalize allowing poor people's countries to disappear," Klein said.
Klein, whose previous books No Logo and The Shock Doctrine focused primarily on the impacts of neoliberal capitalism, said she was blind to these intersections until Hurricane Katrina. She used that event to describe her concept of the shock doctrine, where groups used disasters to implement neoliberal reforms, such as a former Louisiana representative who praised the storm for removing public housing in New Orleans. It was this disaster, and the increasing number of shocks introduced by climate-related incidents, that opened her eyes to the increasing danger of climate change.
"Unless something dramatic changes about how the system works, then each one of these shocks that is going to hit us will be used to push us further apart, leaving the country more privatized and corporatized," she said.
During her speech, sponsored by the Buffett Institute and the Institute for Sustainability and the Environment at Northwestern, Klein took time to address the efforts of Fossil Free NU (FFNU), one of three divestment campaigns launched at Northwestern in the past few years. Their efforts are targeted at Northwestern's investment in coal companies, a total of approximately $17 million. While representing only one percent of the school's $10 billion investment profile, Klein told students to continue pressuring the administration to accept student's views, citing an ASG poll that found that 74 percent of the student body supported coal divestment. Her intersectional approach also resonated at the same time that students voted on private prison divestment in ASG, a movement led by Unshackle NU that's in talks with FFNU to bring both divestment demands, along with NU Divest, to the Board of Trustees.
"Don't take no for an answer," Klein said.
On Feb. 15, students from FFNU posted a statement to their Facebook page describing the Board of Trustee's recent decision to not meet with the group. FFNU asserted that the rejection came "despite four years of campaigning and four previous meetings with Trustees." Members of the group believe that administration does not trust students to have sound judgement regarding investment decisions, leading to them being shut out by the Board.
"I think with any administration or high up decision makers in universities across the nation, there's hesitancy to listen to students because we're obviously not as well versed in investment matters as they are," said SESP junior and member of FFNU Christina Cilento. "There is a concern among board members that we don't have a place to tell them how to invest their money."
But the refusal of institutions like Northwestern is only one way in which capitalism impacts climate change, according to Klein. In her wide-ranging address, Klein touched on numerous troubling facts about the state of climate politics and the inadequacy of our efforts to address these issues. Klein left the audience in stunned silence on several occasions, like telling the story of the 4,000 Californian prison inmates that earn $1 an hour to fight the wildfires that have destroyed much of the state in the past few years. While courts have ordered California to reduce its prison population by releasing nonviolent offenders, the state has argued that doing so would reduce their ability to fight fires.
She also discussed the existence of petroleum coke on Chicago's South Side, a oil refining byproduct that can cause respiratory issues for nearby residents, which has been identified by FFNU during previous marches. On the topic of American politics, she expressed strong support for Bernie Sanders' presidential campaign, saying he is the only candidate to think in the intersectional manner necessary to combat these challenges.
Klein also took a moment to criticize the investment practices of Warren Buffett, who recently sent a letter to investors in his company Berkshire Hathaway, stating that clean energy could "erode the economics" of existing electrical companies. The statement was notable given Buffett's direct ties to sister his Roberta Buffett, whose gift sustains the institute that hosted Klein's address.
While the topic of the talk lent itself to a gloomy attitude throughout the address, Klein raised several areas of hope going forward. She discussed her work on the Leap Manifesto, an intersectional approach to climate degradation in Canada. Measures include ensuring that indigenous peoples are the first to receive aid as a form of "climate reparations," and that jobs such as teaching or childcare are acknowledged as low-carbon work because of their caring nature. By tying together these disparate political movements, Klein hopes that people will be more motivated to challenge political leaders to take bigger strides towards justice, rather than aiming for limited goals that will fail to improve the situation.
"We live in a time with multiple overlapping crises, and we hear all the time that we're supposed to be satisfied with a step in the right direction," she said. "But when you're faced with a chasm between where you are and where you need to be in a few years, we are not going to get to where we need to with baby steps."
Of course, all those in the audience were well aware of the need for great reinvention in our climate change policies. The question of preaching to the choir versus making actionable change happen hung in the air throughout the address, particularly as Klein noted Northwestern's ongoing refusal to accept FFNU's pleas for further talks.
"Clearly one of the things Naomi argues in her book is social work and civic activism to affect change in this world, and completely consistent with her argument is the type of action being taken by Fossil Free NU," said Brian Hanson, Director of Programs at the Buffett Institute. "For me, what's important is that people are talking about it, debating it and that is causing an impact [on campus]."
But students on the frontlines of climate activism hope that the large turnout for the event can translate into greater success in terms of their work going forward. FFNU's recent press release declared that "The time has come for escalation," and students who attended Klein's speech hoped to see the interest in her speech translate into more involvement from fellow students.
"I learned stuff tonight, so I don't want to say it was preaching to the choir," said Weinberg junior Alex Kirschner, member of FFNU. "But it's about more than coming to one event and speaking in the same circles."
What is the next step for those concerned about the climate and intersectional politics? Above anything else, Klein argued that the act of defying political inaction and putting one's body on the line to combat polluters is necessary to effect change. She praised the work of "kayactivists" and people who hung from bridges in Seattle and Portland to disrupt the movement of oil drills headed for the Arctic. Such direct action, she argued, is the best way for these movements to have an impact on the world, and shows that all hope is not lost for those seeking to save the planet.
"For social movements, our currency is our bodies, having people in the street," she said. "Our politicians have admitted openly that what needs to happen can't happen politically, so we need to change the political dynamics so they have to act."
Amal Ahmed contributed to this report.