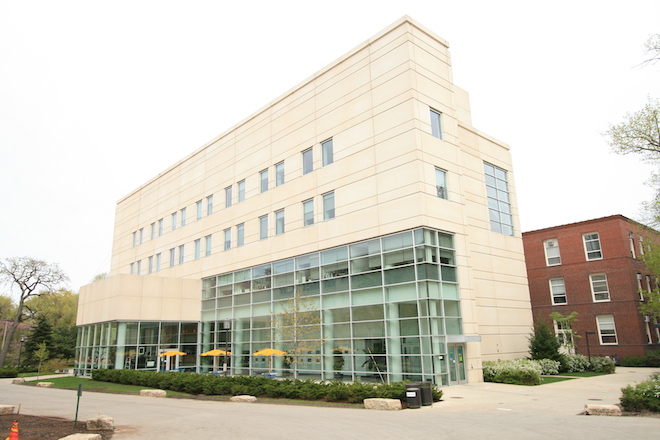 College is a time to try out new things: finally figure out how to take a proper picture, actually learn how to use photoshop and maybe experiment with some virtual reality material just to see what the future looks like. Did you know that at Northwestern you can do all of the above and more? All you have to do is learn where to look. Whether you're new to campus and want to take advantage of the technologies offered by Northwestern, or you're just getting around to actually expanding your horizons outside of reading textbooks, this technology access cheat sheet holds all the answers.
Main Library:
The main library is located at 1970 Campus Drive, Evanston, IL 60208. You can contact the library at library@northwestern.edu and (847) 491-7658, or the circulation desk directly at either (847) 491-7633 or circulation@northwestern.edu.
The library is the motherboard of all technology rentals. It's a great place to start your exploration. The full list of equipments that can be checked out from the main library desk with their complete set of accessories is available here. The equipment is able to be loaned for free to NU students, faculty and staff with a valid WildCard. The loan period is three days, and you can extend your loan if there's no one waiting for the equipment.
DSLR Cameras: Nikon D40 Digital SLR Camera, Canon EOS 60 Digital SLR Camera
Audio recorders: Zoom H4N Audio Recorder, Sennheiser EW100 Wireless Audio Recorder
Video cameras: Canon VIXIA HF G40 Camcorder, Canon VIXIA HF G30 Camcorder
Portable computer projection equipment
The IT Department also provides some materials for students to loan such as microphone with mounts and tripods. In addition to material equipment, the library also provides online media resources as well as tutorials for many programs like Final Cut Pro.
Delving into computers. Where are computers and computer labs available throughout the library and what kind of programs do they offer? The main library lists all the types of computers available throughout the libraries and has a page which will display the status of availability. Additionally, the library provides a comprehensive list of standard programs available on the computers there (such as Adobe Creative Suite), as well as a list of specialized software for individuals with disabilities.
School of Communication:
The School of Communication's RTVF department allows only RTVF students to check-out equipment from the equipment cage. The cage is located in Louis Hall. If you have a friend who is taking an RTVF class or if you're looking into doing so, then gaining access is fairly easy.
Medill:
The Medill School of Journalism, Media, and Integrated Marketing Communications , located at Fisk Hall and McCormick Foundation Center, lends equipment to students enrolled in Medill production classes. Medill provides students with audio-visual equipments such as dslr cameras, mics, recorders, video camcorders and more. To check your equipment borrowing eligibility as well as the equipment available, visit the Medill Digital Depot here.
Knight Lab:
The Knight Lab is the tech-savvy brainchild of Medill and McCormick. Located as Fisk Hall and spanning rooms 109 and 111, the lab is both a place for learning and development, as well as exploration. The Device Lab is an innovative hub where students can reserve a time to try out state-of-the-art new media forms. The lab is open every weekday from 11 a.m. – 4 p.m. So what's available at the device lab?
Virtual and augmented reality collection: Google Cardboard, Google Daydream, Google Glass, GoPro Omni, HTC Vive, Lenovo Phab 2, Microsoft Hololens, Oculus Rift, Samsung Gear 360, Samsung Gear VR
Cameras and audio production equipment: Flir thermal imaging camera, GoPro Omni, Samsung Gear 360, Structure scanner, Vuze
Physical prototyping equipment for building harwards and physical objects: Arduino kits, Cricut, Cube 3D Printer, Raspberry pi kits
Living room devices: Amazon Echo, Amazon Fire TV, Amazon Tap, Android TV, Apple TV, Chromecast Ultra, Google Home, Microsoft Cortana, XBOX One, Sony PlayStation 4
Mobile devices: Amazon Fire HD6, iPad Pro, Apple iPhone 5, Apple iPhone 6S Plus, Apple iPhone 6s, Apple iPhone 7 Plus, Google Pixel, Lenovo Phab 2, Microsoft Surface Pro, Nexus 6, Nexus 9, Samsung Galaxy S6, Samsung Galaxy S7, Samsung Galaxy Tab S, Song Ericson Experia XZ
Norris:
While the rental is not free, Norris can provide technical necessities such as microphones, megaphones, speakers and various cables. The equipment available is usually catered towards larger events. See the full list of materials and costs here.
McCormick School of Engineering (Ford Center):
Some of the McCormick facilities are open to non-engineering majors. However, for most of them, you may be required to attend training sessions. Some of the equipments and facilities available include 3D printing equipment (an Objet Connex Polyjet, Forus FDM machines and others), an additive manufacturing/rapid prototyping lab, a mechatronics lab, a CAD/CAM lab, five CNC mills and one CNC lathe, a laser cutter, a welding lab, fabrication and assembly tools, and a paint booth. Check their website for lab/facility hours and eligibility.