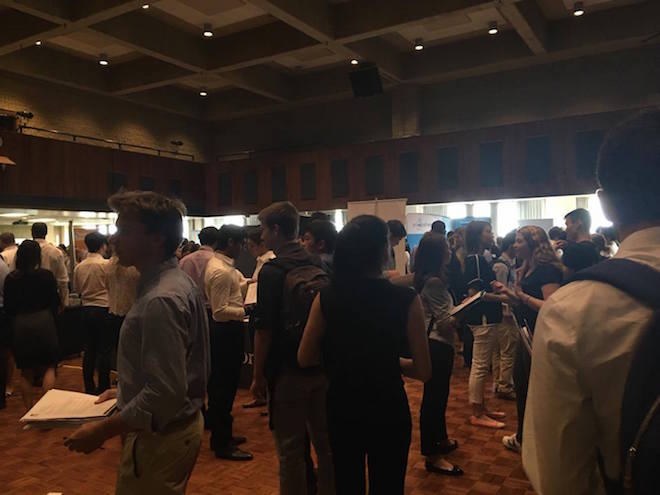 Northwestern Fall 2017 Internship & Job Fair
Photo by Rachel Oh
There's no need to run back home in between classes to change into business suits anymore. Northwestern Career Advancement adopted a business casual dress code for on-campus employer events since the onset of Fall Quarter, with the exception of employer interviews.
NCA began to act on the idea since last Spring Quarter. As a first step, NCA created a page on its website explaining what a business casual dress code looks like. NCA also sent emails to different student groups and campus partners, created television advertisements across campus, distributed flyers, and included dress code disclaimers for automatic career event reminder emails.
"A lot of students were telling us that they were self-selecting out of events because they didn't feel like they had the appropriate attire," said Geni Harclerode, NCA's director of employer recruitment and engagement. "It concerned us a lot to think that any student wouldn't want to participate in an event like this, which we think is a really wonderful opportunity to engage with literally hundreds of employers."
Traditionally career fairs, as well as many information sessions, required business professional attire for students. NCA received feedback from students that they were overwhelmed by constantly having to change from casual attire for classes to suits for employer events. According to Harclerode, some students had to purchase "something they couldn't afford" and "[tuck] in their tags and have it returned."
"The other thing that was convincing to us is that, one, we really looked at how casual most of the American workforce is these days," Harclerode said. "[A] majority of companies do casual Fridays, if not having entirely casual dress code. We looked at how employers were dressed for career fairs, which, if you look around, a lot of them are in jeans and a company polo."
In addition, the office took measures to ensure that students understand what business casual meant by collaborating with Student Affairs Marketing, which created infographics that gave a "visual identity" to the change. The office also launched an Instagram campaign, in which staff members took photos of themselves dressed in business casual attire and uploaded them on Instagram as demonstrations.
"There was also pretty heavy employer facing side of [the campaign]," said Kelli Adams, assistant director of marketing. NCA asked employers beforehand what they thought was the appropriate attire for the career fair.
Most of them said they were comfortable with students dressing in business casual attire, according to Liz Abello, assistant director of employer strategy.
"They were definitely excited about the change," Abello said. "They were also especially excited about the prospect of students who might not have seen the opportunities before being able to now come to the career fair and learn more about the organizations."
Over 2,000 people in total came out during the two days of fall career fair last week. This is a huge leap from the turnout for the previous fall career fair, which amounted to a total of 1600.
"We're thrilled to see the turnout this year," Adams said. "It did show that students did get the message and they took it to heart."