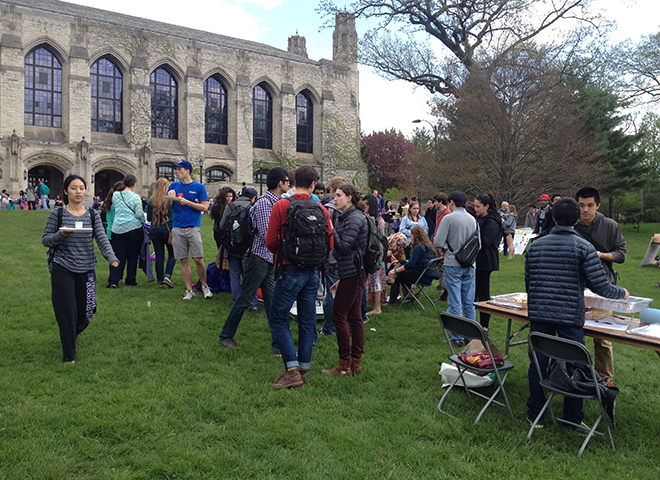 University celebrates diverse interests at Global Village
Deering Days and AISEC hosted Global Village, a campus fair that displayed over 25 student groups and provided free food and musical performances on Saturday. Members of various student groups such as Hawaii Club and Typhoon Dance Ensemble performed on stage on Deering Meadow while cultural student groups showcased music and artifacts from their respective countries and backgrounds.
Evanston celebrates new gelato shop
Along with Andy's Frozen Custard and Forever Yogurt, Evanston brings you another frozen treats shop called Frio Gelato. Mayor Elizabeth Tisdahl and Evanston residents celebrated the grand opening of the shop on Simpson Street on Thursday. The business provides naturally flavored gluten-free gelato that is produced in a nut-free facility. The owners devote a proportion of their profits to countries such as Argentina, the inspiration behind their style of gelato.
Northwestern alumnus elected as mayor
Only 26 years old, Matt Bogusz (Weinberg '09) was elected into office as the mayor of Des Plaines, Ill. Before running for mayor, Bogusz began working as the alderman of the 3rd Ward in Des Plaines at the age of 22. Besides spending a large chunk of his time on improving the city's financial situation, Bogusz works for a media agency. At Northwestern, Bogusz exposed himself early on to a political atmosphere as the executive vice president of ASG.
Interfaith Advocates will host Wildcat Interfaith Week
Northwestern Interfaith Advocates will present a plethora of events to celebrate Wildcat Interfaith Week that will span from May 19 to May 24. Some events include Big Picture NU, a vigil for the kidnapped schoolgirls of Nigeria and Living Library.