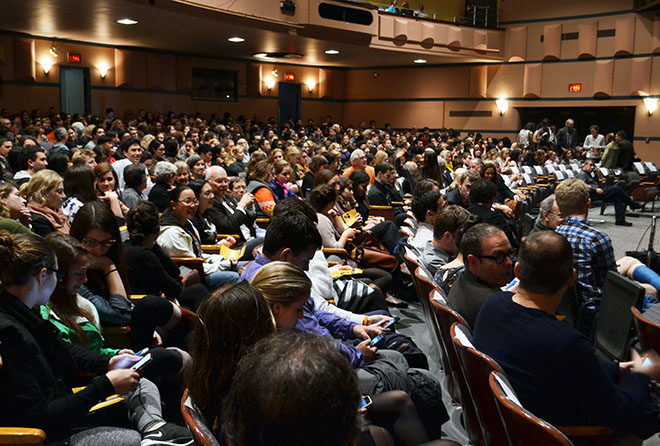 Nicholas Kristof, a journalist for the New York Times and an international political activist, gave an address called "Why Students Should Care About the World & Change It" in Cahn Auditorium Monday night. Hosted by Northwestern's Medill School of Journalism, the two-time Pulitzer Prize-winning reporter spoke in front of a full audience of students and faculty members about his own experiences as a thinker, traveler and human rights advocate, and he urged students to commit to global engagement.
"A crucial part of an education is stepping outside the classroom," Kristof said, in reference to studying abroad and embracing cultural opportunities.
As someone who has lived on four continents, and reported on six of them, he spoke anecdotally of his own international activism, demonstrating how a little ambition in contributing to a valid cause can go a very long way.
"Helping people is harder than it looks," Kristof said. "[We] can change people not by pointing fingers but by offering a helping hand."
Furthermore, Kristof brought up the present inequality in the United States, explaining that simply growing up in poverty can have a negative impact on intellectual development. Unfortunately, many children lag behind to a point of not being able to compete with children in higher classes, Kristof said, leading their parents to believe that there is nothing that they can do to change such a course.
"A child of professionals hears 30 million more words by the age of four than a child on welfare," he said.
However, Kristof said that we rely on the misconception that we cannot make an impact on such children. Loving parents and supportive community members have been shown to save a child's future, even when growing up in poverty.
He encouraged the audience to give service to the society around them, citing a research study indicating that giving increases "longevity" of life as well as "feelings of pleasure in the brain." But it's not just about the generous person, Kristof said. Microscopic actions, such as taking steps to better the life of a single child, can also have a macroscopic impact, especially when a vast amount of people participate.
Kristof closed with some encouragement for the students in the audience.
"I hope that you will do what you can ... to try to keep some of these issues alive, because without that, they just won't get addressed," he said.
In a round of questions at the end of his speech, Kristof also offered some insight into the recent crises in the Middle East and the way we view Muslims in areas of conflict.
"We must be careful about the nature of drawing generalizations about groups that we are not a part of," Kristof said. "It seems to me that the fundamental divide is not between Islam and other faiths but between bigots, who are ignorant of any faith."
Students generally enjoyed Kristof's talk.
"I was very drawn to the speech," Weinberg freshman Lauren Sonnenberg said. "College students need to care about issues other than themselves. It's important to recognize things beyond your own experience."