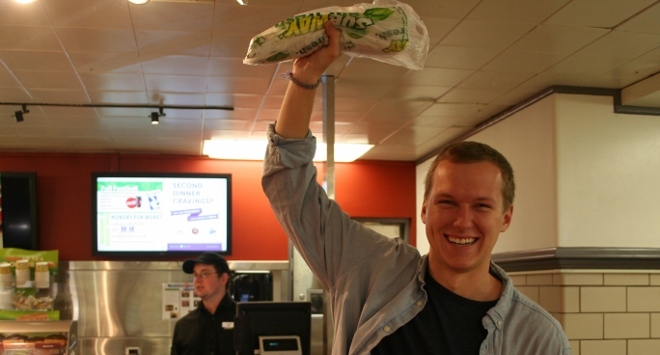 The Norris Subway opened Thursday for the first time, less than two months after the University announced the fast-food chain would be coming to campus. The restaurant occupies the space formerly held by Big Ten Café, Windy City Deli and nuSushi.
"This is just the soft opening," Jason Sophian, Sodexo marketing manager for Northwestern said. "We want to make sure we had our staff up to speed and make sure everything opened smoothly and we are planning a larger grand-scale opening."
According to Sophian, Subway will be operated by Sodexo employees. Sodexo found new jobs on-campus for all employees from the old stations.
"We have had Subway [representatives] on-site over the past month training them every single day on how to properly make sandwiches up to the Subway brand standards," Sophian said.
The Norris Subway will offer the chain's typical selection of sandwiches, salads, soups and cookies. It will be open daily from 11 a.m. to 9 p.m. and is the only Subway to accept WildCards.
"We're just starting out with their basic program and making sure we can deliver on the basics before adding any more crazy stuff," Sophian said.
After Norris's Twitter account announced that the sandwich chain would be open for lunch, Medill sophomore Lucas Matney rushed to Willie's Food Court to be Subway's first customer. He ordered a chicken teriyaki foot-long and chocolate chip cookies.
Sodexo has yet to announce a date for the grand opening. It is unclear if Subway spokesman Jared Fogle will be in attendance.
Editor's note: Lucas Matney is a North by Northwestern contributor.