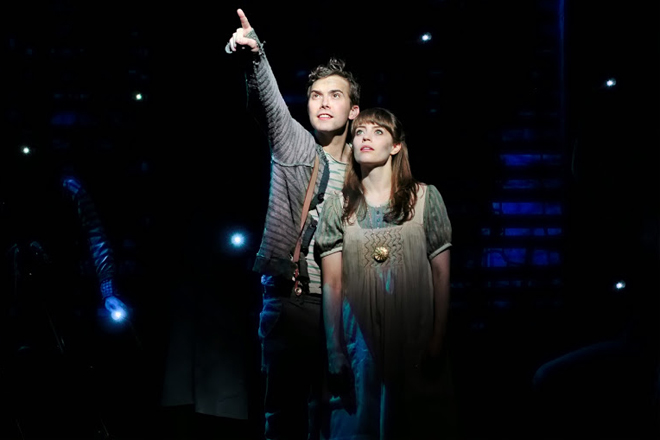 Joey deBettencourt (Comm '09) hails from Chicago and has participated in various student theater groups during his time at Northwestern, such as the Dolphin Show, Lovers & Madmen, Purple Crayon Players and JTE.
In his acting career, he has acted in South of Settling at the Steppenwolf Theatre, Flare Path at the Griffin Theatre, Cherrywood at Mary-Arrchie and the film At Any Price. Also, he has received the Jeff Award for Punk Rock.
Currently, he stars as the role of Boy, a lead in the Tony Award winning play Peter and the Starcatcher. The production is on national tour, performing in cities including Denver, San Francisco, Los Angeles, Washington, D.C. and now, Chicago. The show runs in Chicago from April 2 to April 13 at the Bank of America Theatre.
How is this show going so far?
It's going great. I mean we've been on the road since we opened in August in Denver, and so we've been kind of all over the place, in Texas, a bunch of places in California and the West Coast, so yeah, it's been really good. The crowds have been really into it, and it's been fun finding places. You know, it's not a show that's super well known just because it's a play, so it doesn't have quite the reach of a musical or something that people will sit at home and listen to the soundtrack of. That being said, wherever we take it, there are people who are like, wow, I didn't know anything about the show, and it's really amazing. It's been really good, going across the country and taking it to some really fantastic cities.
What are your expectations for tonight in Chicago?
I think that it's a show that Chicago, people, especially since you see a lot of theater in Chicago, will really get and really enjoy because it's not some of the kind of sensibility a very ensemble show, but I think that it's a show that appeals to people who like Chicago theater, and people are going to be excited to see some guys from Chicago up there on stage. It doesn't always happen when Broadway shows are in town, so it's going to be a fun night, and I have a lot of friends and family in the audience, so that will make it fun as well.
When did you start acting?
The first show I did was in middle school when I was in 8th grade, but I started doing it in high school a little more seriously, and then I decided to apply to school for theater and ended up going to Northwestern, so yeah, so I started acting when I was little. It wasn't probably until applying to Northwestern, and you know, going through that program that I wanted to make it a career.
How was your experience at Northwestern, and what were you involved in while here?
I had a really good time at Northwestern. I picked Northwestern because it allowed me to do a bunch of different things, which not all schools do. It was the only place I came in and thought, well I'm interested in learning about this and this, but I want to be in the acting program, but I also want to do some design classes. It was one of the only schools that was like, yeah, that's great, you know, which I think that's what makes Northwestern unique, so I really enjoyed it. For the most part, I was involved in a lot of the student theater groups when I was there. I worked on a bunch of different projects with the Dolphin Show, a ton of the student groups that are still there today, so mainly that. I did P-Wild when I was a freshman, and I did Dance Marathon when I was a freshman as well, so you know, I did kind of the big Northwestern things. Now actually, I lived in CRC and so I know all the people who started North by Northwestern when I was there in school.
How has your theater experience at Northwestern contributed to this moment in your career?
I think that you know, one of the best things about the Northwestern program is that for student theater, the fact that there's so much student-run theater and student-organized theater, so I think it puts Northwestern kids in a really good position when they get out of school because they have that experience of working and making a show completely on their own, and I think what happens because of that is that they're prime to come into the Chicago community and work with some of the smaller companies, you know, and I think by working with some of the storefronts and the non-equities that are in Chicago, it helps you kind of build a reputation and get to a theme and get to an agency and things like that, which I think Northwestern kind of sets you up for because you go through a time at Northwestern where you learn a lot of how theater gets made, and so it makes you very versatile as a person.
How about other experiences at NU?
I kind of believe that everything you learn as a person adds up to who you are as an actor and an artist. I did a lot of design work. I think it's experiences like that that help you. While I was out of school and needed money when I started in acting, I did metalwork and made money as metalsmith. It was a unique experience. I think it's important to get out of world of theater every now and then.
Was this the type of theater you wanted to go into originally?
I think that I don't have necessarily have a preference. I do really enjoy physical theater. It's very physical and very complicated. I like that the show is hard and very demanding, and it's very physical in nature.
What is your favorite part about being in this production and being on national tour?
I think the best thing about having done this tour is going to different cities and the different people we met. I don't always get to meet people in New York. We get to take this show to people and put on an amazing show that people care about and are devoted to. We get to travel around country and see the U.S.
What are you most excited about for this show?
I'm definitely excited for the Chicago run. I have all my friends and family to see here. I will see friends and all of those people, and this isn't the end yet. I'm just excited to keep doing this show.
What were some of your challenges in your acting career?
The big thing is figuring out how to make a living all the time. When you get right out of school, it's not like some professions that have a very set path. It can take a lot of work to get to a point where you have a career and make a living in work. It can be tough working a day job in morning and then working on a show at night. I think the hardest thing is carving a living. It can be busy, trying to figure out where your next show is. It's not always clear where your next project will be. It's always a constantly changing thing on what you're working with.
Do you have tips for students who want to pursue acting?
The best thing I can say is just to take advantage of being in college, not just working on shows and plays. Your whole experience in the world makes you a good artist or actor. In college, do things I always wish I could have done, like study abroad. Take advantage of these opportunities.
Anything else you'd like to add?
I just think that it's a show that's really unique and creative, so it's not a thing people are going to see everyday. I think it's something worth checking out. Also for Northwestern crowd, there are rush tickets. They can head down to city and get tickets two hours before. I would definitely encourage them to check out this show.