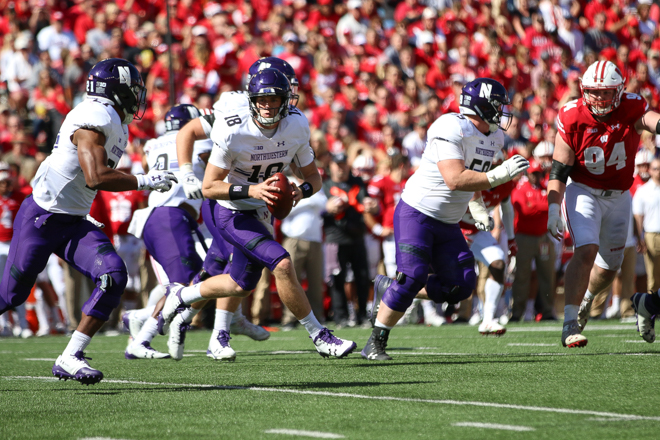 Tale of two halves. Ran out of gas. Turned back into a pumpkin.
Go ahead and pick whatever sports cliché makes you feel better about the Wildcats' (2-2, 0-1 B1G) 33-24 loss to No. 10 Wisconsin (4-0, 1-0 B1G). It doesn't matter. What matters is that a Northwestern team many fans picked as a Big Ten West contender lost to a team that's been there, done that and looks well on their way to doing that again.
Recent history would tell you Northwestern always has a shot against Wisconsin. Everything this season has suggested just the opposite.
"Ample opportunity today. We start the right way, we get the turnovers we need, we don't capitalize on it," head coach Pat Fitzgerald said. "To only have three points off turnovers in the first half is obviously the difference in the game in the first half. In the second half, we miscommunicate and give up a couple of explosive plays."
A fumble on Wisconsin's first play from scrimmage put Clayton Thorson and the offense in the red zone early, where the Wildcats were forced to settle for a Charlie Kuhbander field goal. It was 3-0 Northwestern while Badger fans were still finding their seats.
Wisconsin settled in after the early miscue and began to look more and more like the No. 10 team in the country. Punishing runs from freshman running back Jonathan Taylor wore down the 'Cats defensive line. The Badgers didn't even need to test Northwestern's banged up secondary to grab the lead back on a seven-yard rushing touchdown from Taylor. This was the part where Wisconsin's superior athletes, five-star recruits and 80,000 fans were supposed to take over.
Except Northwestern did what they always do once Big Ten play starts: The Wildcats got weird.
A defensive line which struggled against still winless Nevada kept pressure on Wisconsin QB Alex Hornibrook early and often. The 'Cats secondary – a position group with enough injuries to at least consider setting up a booth at the next student activities fair – snagged two huge first half interceptions. Clayton Thorson stood tall in the pocket and spread the ball to seven different Wildcat receivers. At halftime, Northwestern led 10-7.
And then, as Fitzgerald put it: "We just all of a sudden decided to stop executing on offense for some reason, for 16, 18 minutes.
During that span, the Badgers pulled away. Hornibrook picked on Northwestern deep and capitalized on multiple trips to the red zone. After finally halting the Wisconsin onslaught and forcing a field goal to make it 24-10, the 'Cats positioned themselves to at least try for a dramatic fourth quarter rally. But a pick-six on Northwestern's first play from scrimmage put the game seemingly out of reach.
The 'Cats found something on offense in the final ten minutes. Forcing the Badgers into defensive pass inference on 3rd and 16, the 'Cats also converted on fourth down as Thorson found Riley Lees for a 10-yard grab. After an impressive stop forced the Badgers to punt from the shadow of their own goalpost, the Wildcats marched down the field and made it a one-score game on senior superback Garrett Dickerson's first touchdown of the season.
Northwestern got the ball back on their own two-yard line with just over a minute to go, but a Wisconsin flushed Thorson out of the pocket and dropped the third-year signal caller for a safety and a 33-24 final.
The fourth quarter theatrics weren't enough to pull off the comeback, but it was something Northwestern can look to build on as the conference play continues.
Thorson ended the day with 219 yard through on 29-of-45 passing, far better than his performance in the loss at Duke, but nowhere near good enough to hang with a Wisconsin offense that seemed to pick up steam as the game wore on. Fitzgerald said the line's inability to protect Thorson forced the 'Cats into a more conservative offensive scheme, relying on check downs and a few option plays that were effective in limited use.
"You're holding the ball because nobody's open … it's a combination of us being better as coaches, we have to put him in better situations, and it's protections it's calls it's routes it's schematics, we've got to protect better and he's got to get it out of his hands," Fitzgerald said. "That's the thing about the passing game, when it's off it's really ugly. For a while today it was really ugly. For a good portion though too we had some success."
Northwestern's offensive line was one of the team's biggest questions marks heading into a season and surrendering nine sacks against the Badgers will do nothing to quiet those concerns.
"Yeah, I mean we've got to protect him. We've got to do a better job," Dickerson said. "I didn't do my part that well in protecting him. We've just got to come back ready to go because he can sling it, we've just got to give him the opportunity to."
An 0-1 start to conference play isn't necessarily surprising, and Northwestern's 2-2 record hardly prevents the team from building on last season's 7-6 campaign. But for Wildcats fans who thought this team could be one of Fitzgerald's best and dreamed of a trip to the Big Ten Championship, that window is just about shut.