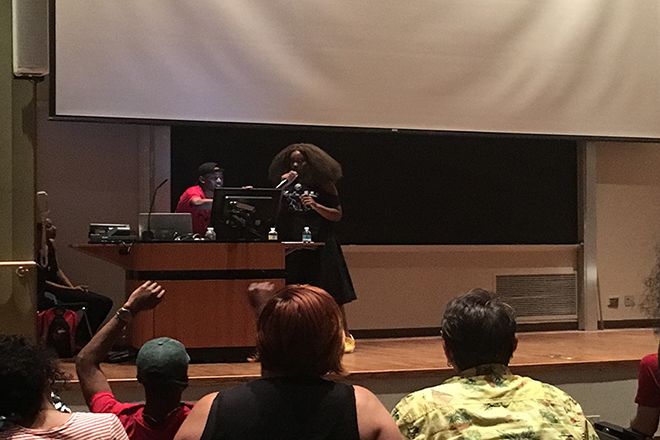 Northwestern Community Development Corps hosted an event with poet and activist Kevin Coval, spoken word poet and rapper Noname and several artists from Young Chicago Authors (YCA) at Fisk Hall.
Coval, founder of Louder than a Bomb: the Chicago Youth Poetry Festival, introduced each artist. He has been working with up-and-coming rappers, poets, and hip-hop artists in Chicago for 20 years . He believes Chicago is going through "a music and cultural renaissance."
"If you've been in Chicago for the past 20 or 30 years, you know that Chicago culture makes global culture," Coval said. "Over the years, I've seen Chicago do what Chicago does worst, which is keep working people segregated, keep us in isolation from one another so we don't form solidarities to take the city ourselves."
Coval has brought young artists together from the North, West and South Sides to collaborate in their art. Several of those artists at the event included artists Daryn Alexus and Stark the Huey, Chicago Youth Poet Laureate Emon Lauren Black, the Louder than a Bomb team from Maine East High School, comedian David Helem and organizer, teacher and abolitionist Page May. They sang, rapped and spoke about anything from police brutality to homesickness to experiences with high school kids.
May, who describes herself as an "unapologetically black queer femme middle school teacher," is a co-founder of Assata's Daughters, a Chicago-based "grassroots, intergenerational collective of radical Black women," according to their website. She spoke about the politics in fashion, from the criminalization of sagging pants to the hoodie as a justification for police shooting black boys, to short skirts as an excuse for rapes against women, femmes and trans people. She also mentioned reclaiming certain fashions for politics, specifically the costume from Beyonce's Super Bowl halftime show.
"As an organizer watching this artist, I organized a protest," May said. "We appropriated the NFL draft and shut down Lake Shore Drive. We dressed in a remixed version of Beyonce's halftime video. We had the unapologetic Blackness, the Black feminism, we had the uniform style of the Black Panther Party and we were literally chained to each other."
Noname described her own outfit of the day as a "woman whose husband just died, but I'm still a rocker." Noname performed several of her songs, some of which will be on her new EP Telefone, which will be released in July. Noname spoke about working with Chance the Rapper on his new mixtape "Coloring Book."
"He's literally been my friend since I was like 17, so it's kind of like working with a brother," Noname said. "But then again, when I say I enjoy writing with other creatives, he's definitely one of my favorite people to write with because we constantly push each other to be better and expand our ideas. He's cool."
Medill freshman MJ Butler attended the event to see Noname, one of his favorite female rappers. However, he said he was pleasantly surprised with the talent of the other artists.
"I loved the event," Butler said. "The performers were great, and obviously Noname was top notch. I plan on going to the show that they were handing out flyers for. It would be nice to say that I saw these artists before they got big. They all have the talent and the vision."