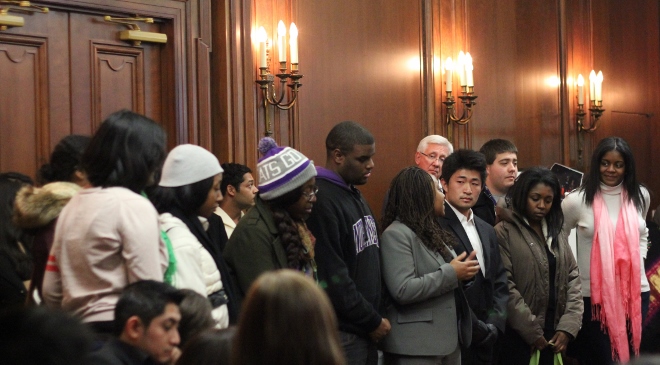 Dozens of students, faculty and community members gathered in Harris Hall on Thursday evening to share fond memories of Alexis Lasker. Lasker, 22, was found dead Saturday. Her death was later ruled a suicide. At the vigil, friends spoke about her thoughtful, caring personality and memories of time spent together.
Members from the Honors Program in Medical Education, International Studies Residential College, Summer Academic Workshop and fellow Quest Scholars honored Alexis' memory.
Before the vigil, Gina Tremmel, a Weinberg senior and one of Alexis' close friends, talked about memories of Alexis. Tremmel was one of the vigil's organizers.
"Alexis had a great, bubbly personality," Tremmel said. "She was so selfless and loved brightening people's days. She was just so fun."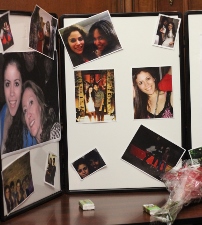 Tremmel said Alexis loved surprising her friends with little gifts and kind gestures. The two met the first day of their freshman year, while moving into ISRC. Tremmel said they had been close ever since. She said Alexis was "unbelievably smart, brilliant," adding she was always a source of obscure facts.
Tremmel expressed frustration over speculation and rumors about Alexis' death.
"Alexis was brilliant, giving and the sweetest person ever. I feel like people aren't focusing on that right now," Tremmel said. "They are focusing on this last thing, but that's not how I am going to remember her."
ASG President Ani Ajith and Vice President Alex Van Atta issued a statement Thursday, expressing their sympathies to Alexis' family and friends, as well as former student Caleb Dayton's, who took his own life Tuesday.
"On behalf of the student body, we extend our deepest condolences to the friends and families of Alexis Lasker and Caleb Dayton," they wrote in the release. "The loss of two of our peers is painful, sorrowful, and shocking."