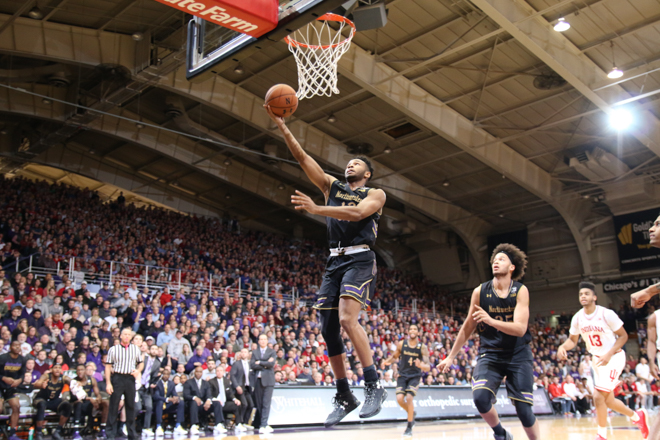 When the Northwestern men's basketball team fell into an early 10-1 deficit to Indiana, a packed-to-the-brim Welsh-Ryan arena fell quiet – but not for long.
Forward Sanjay Lumpkin made the 'Cats first field goal five minutes into the game, sparking a dominant 20-2 run that included a massive steal-to-slam by Lumpkin that sent the crowd into a frenzy. An Indiana three ended the run with the 'Cats leading 21-15, but they never looked back. Northwestern maintained a lead for the rest of the game, eventually winning 68-55 to improve to 18-4 (7-2 B1G).
Guard and Indiana native Bryant McIntosh led the 'Cats from start to finish with 21 points on 7-of-13 shooting and 8 assists. Sanjay Lumpkin added 15 points, and Vic Law scored nine in addition to an impressive 12 rebounds. McIntosh's eight assists doubled the rest of the team's four. With centers Dererk Pardon and Barret Benson each spending much of the game in foul trouble, coach Chris Collins was forced to go small with Sanjay Lumpkin at the 5 for long stretches.
"I thought he controlled the game," Collins said. "I just thought he did a great job leading us all night, and he had a terrific game."
Indiana coach Tom Crean also praised McIntosh, saying he looked more mature and improved since his weak performance against Indiana last season.
"He's getting older, he's improved," Crean said. "We should have brought the pressure and made it harder for him to get open early in the game."
Collins credited team-wide defense for the win as they held an Indiana team that has scored over 100 points four times this season to just 55.
"Defense was the story of this game. Indiana is one of the best offensive teams - we're a little fortunate a kid like Blackmon isn't playing," Collins said. "Even still, the guys they do have are good."
Northwestern dominated the turnover battle, with just seven to Indiana's 13 (including 10 in the first half), and they also were far more efficient shooting (41 percent for NU to 32 percent for IU from the field and 81 percent to 59 percent from the line).
"The story for the game for us in the first half is the turnovers," Crean said.
Indiana (14-8, 4-5 B1G), playing without leading scorer James Blackmon Jr., was led by center Thomas Bryant, who finished with 23 points and 12 rebounds in addition to two assists and two blocks. At 6-10 and 255 pounds, Bryant had a serious size advantage over Pardon and Lumpkin, who guarded Bryant whenever Benson was out. However, only one other Hoosier scored in double digits, suggesting that the 'Cats can fare well when faced with a size disadvantage, which was a major concern heading into the season.
Lumpkin brought an efficient, well-rounded performance: He poured in 15 points on 4-of-6 shooting from the field and 6-of-7 from the stripe. He also grabbed three rebounds, two steals and played his usual, solid defense. Lumpkin was responsible for the two highlight-reel plays of the day. During the 'Cats 20-2 run, Lumpkin nabbed the inbound pass, galloped by two defenders and leapt by the 6-10 Bryant to finish with a definitive one-handed slam. Halfway through the second half, Lumpkin went after Bryant again – this time, Lumpkin drove into the middle of the lane, and two head-fakes left Bryant falling to the ground as he put on an easy layup.
"At first I wasn't sure if the dunk went in or not, but then the crowd erupted," Lumpkin said of his steal-to-slam. "The students were awesome tonight – it's been an unbelievable atmosphere the last couple home games."
Sanjay Lumpkin puts Thomas Bryant on roller skates. pic.twitter.com/s9wXD9fG6B

— Big Ten Geeks (@bigtengeeks) January 30, 2017
The 'Cats also added 28 points in the paint (compared to 18 from the Hoosiers) despite Pardon not taking a single shot all game. His freshman backup Barret Benson looked solid in 13 minutes of play, scoring four points in addition to two blocks and two assists while also drawing a crowd-pleasing charge against Bryant.
The story of the night might have to be the crowd, though. Welsh-Ryan was filled just about to capacity well-before the opening whistle, and the student sections antagonized Indiana all game with chants of "Mike Pence sucks" and "Tom, get off the court!" every time Crean stepped onto the court – which was quite often. It's no surprise fans turned out more than usual – this game felt big from the moment it started. Coming off five straight wins, Northwestern took down a college basketball blue-blood in convincing fashion, making the case for the Wildcats' first ever NCAA tournament appearance.
"It was awesome," Collins said. "Walking out right before the game and seeing all the purple and seeing the student section, it felt like big time college basketball."
Collins was optimistic about the team's success but remained cautious in getting overconfident: "I know how much basketball we still need to play, and I understand the fine line between winning and losing in this conference."
Additionally, Northwestern was 28th in the most recent AP top-25 poll, so the past few wins could potentially launch NU into the top-25 for the first time 2010. A huge matchup awaits against No. 20 Purdue on Wednesday in West Lafayette. The crowd may not be able to bring the heat like they did today at home, but many will be watching the Northwestern team that is generating more Tournament noise than perhaps ever before.
"We know really well it can go as fast as it came. At the end of the day there's only two stories you guys are gonna write about us, and we know that," McIntosh said. "We'll either do something special and be different, or we'll be like every other Northwestern team."