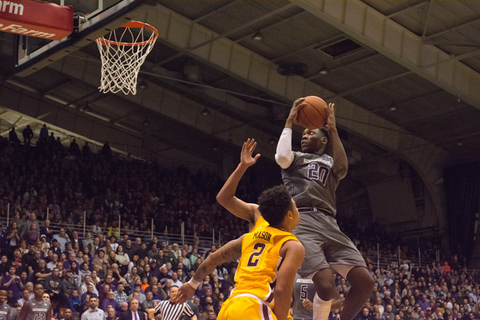 Northwestern dropped its Big Ten home opener 70-66 in tightly contested matchup against the Golden Gophers of Minnesota on Thursday.
The game was a tale of two halves for Northwestern, and probably a game Collins and co. wish they could have back.
Dererk Pardon made his long-anticipated return from a hand injury he suffered in early December. He had some rust to shake off in the early goings but was active defensively and on the glass. Pardon even knocked down a midrange jumper, perhaps something he was working on during his time off the court. He finished the game with 9 points and 7 boards in 32 minutes played.
The first half was a high-paced shootout. The teams combined to start 13-14 from the field and both finished the half above 50 percent from the field. Bryant McIntosh and Vic Law combined for 26 points in the first half, and the Wildcats held the slight edge at the break, 39-35.
The second half felt more like Big Ten conference play. Both teams cooled off from deep to start the half, and the meaningful battles were won and lost in the trenches.
However, the teams continued to go blow for blow. Northwestern jumped out to a 47-40 lead with just under 14 minutes left to play, but the Gophers answered with a 10-0 run to take the lead right back.
Scottie Lindsey, though only 4-12 from the field and 0-5 from beyond the arc, played a solid all-around game. He came up with two clutch steals in the final ten minutes, and he also dished out four assists.
The Gophers led 60-57 with three minutes left. The 'Cats got three good looks at three pointers on their next two possessions that would have tied the game, but they were unable to convert. Northwestern was forced to foul, but the Golden Gophers missed free throws and let the 'Cats hang in the game.
Bryant McIntosh hit a three-pointer to bring Northwestern within two with 12 seconds to play, but Minnesota's Nate Mason subsequently knocked down two free throws to ice the game.
The downfall of Northwestern was a combination of poor spacing and poor shooting. The team shot just 11-38 (29%) in the second half. Forced to play a two-big lineup for most of the game due to foul trouble from Sanjay Lumpkin, the Wildcats troubled to find space in the half court. When they did, the looks were often coming from Gavin Skelly and Lindsey, who combined to shoot 0-11 from behind the arc.
With the loss, Northwestern moves to 12-4 overall and 1-2 in conference. The 'Cats' next foe is Nebraska, whom they will face in Lincoln on January 8th at 1:15 p.m.