In a marathon, roller coaster, defensive battle turned triple overtime thriller, Northwestern fans stormed the field after cornerback Nate Hall came down with the game sealing interception to give Northwestern a 39-31 win over No. 16 Michigan State in triple overtime.
Once the Wildcats converted on the two-point conversion in triple OT, it was up to Spartan quarterback Brian Lewerke (445 yards, 4 TDs) and the Michigan State offense to force another period. As Lewerke dropped back to pass, defensive lineman Joe Gaziano came around the edge and got a hand on the ball, stripping the ball out of Lewerke's hands.
Lewerke then scrambled to pick up the ball before chucking it down field for a jump ball that Hall came down with, sealing the 3OT victory for Northwestern.
"What a heck of a ball game between two really well matched teams," head coach Pat Fitzgerald said after the game. "It was a really hard fought, defensive game … To see the way that somebody had to make a defensive stop and the way we got it done there at the end was great."
"I was coming off the edge, and he wanted to throw the ball," Gaziano said. "I saw his arm come down so I was right in position to rip the ball out. Reached out my arm out, felt the ball come out."
Although the final score may indicate a fast-paced, offensive game, regulation was all about defense.
The beginning of the first half belonged to No. 16 Michigan State, a team that came into the game with the top-ranked defense in the Big Ten. Michigan State took the ball 92 yards down the field on the first drive of the game to take the lead 7-0 with 12:25 left in the first quarter.
While Michigan State's offense isn't known as the most potent in the Big Ten, quarterback Brian Lewerke took advantage of a breakdown in the Northwestern secondary to find receiver Cody White (nine catches, 165 yards, two TDs) for a 60-yard completion that set up a first and goal on the 6-yard line.
Three plays later, Lewerke found Cody White again for the score.
When NU got the ball, Michigan State set out to stop the run, stacking the box early and often in the first half to limit running back Justin Jackson to only 41 yards running on the day.
"We tried to spread [Jackson] out as much as possible, but they stayed in there the whole game," Thorson said. "There are times where we are able to win games by running the ball a lot, and there are times where we win games throwing the ball a lot."
After trading fumbles and possessions, including two consecutive forced fumbles by Paddy Fisher, the score remained at 7-0 at the end of the first quarter.
"We gotta do a better job fighting and finishing drives," receiver Flynn Nagel said. "I think when we get across the 50 we have to do a better job."
After an MSU field goal, Northwestern responded with back-to-back scoring drives to close the half. The first, a 13-play, 81-yard touchdown drive, was capped off by a Thorson QB sneak on a 4th and goal inches from the endzone. Jackson gave Thorson the final push to cut the lead to 10-7.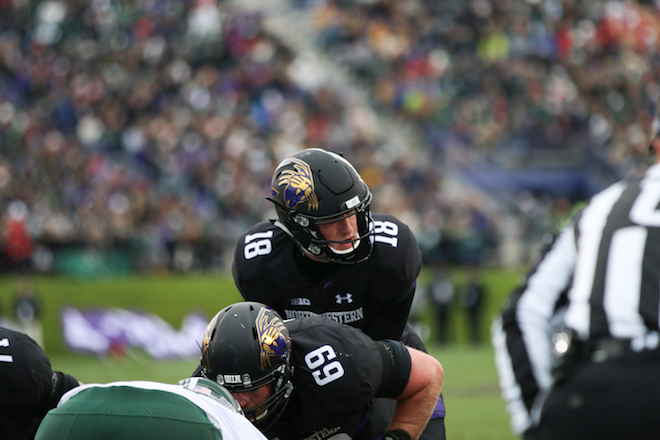 The second drive consisted of a heavy dose of Justin Jackson receptions, as Thorson continued to get the ball to the shifty back in open space. The Wildcats evened the score with a 3-yard FG by Charlie Kuhbander just before the end of the half.
After a scoreless third quarter, Thorson looked for short passes to players with open fields in from of them throughout the day, one of which set up a Cameron Green 25-yard catch and run early in the fourth quarter. After a Thorson run and defensive penalty set up a first and 10 at the MSU 12-yard line, Thorson handed the ball off to Jackson, who hesitated before unleashing an awkward yet perfectly placed pass right into the hands of Skowronek to give Northwestern a 17-10 lead with 10:49 to play.
"We've been working on that since camp. Ben always just says just throw it up," Jackson said. "I tried to do that but it didn't go great."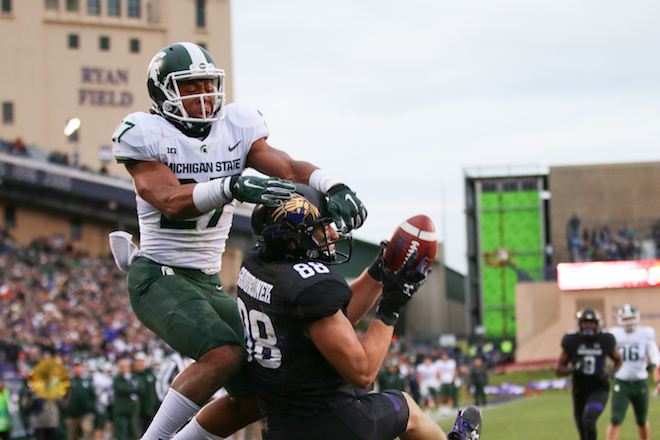 "Looked like a really bad throw," Fitzgerald said, "I'm not gonna coach him on that, all that matters is we caught it."
Michigan State took the ball back on its final drive with 3:14 remaining and converted a 4th and 4 with less than a minute left in regulation to set up a Lewerke touchdown to Felton Davis with 25 seconds remaining. The score was tied 17-17, and Northwestern was headed to OT for the second straight week.
"I just wanna win, I don't care what it takes," Coach Fitzgerald said. "You knew it was gonna be a battle."
Both Northwestern (11-yard TD pass Thorson to Nagel Flynn) and Michigan State (6-yard TD pass Lewerke to Davis) made quick work of the opposing team's defenses in the first OT, as both teams scored with relative ease.
The same was true in 2OT, as both teams scored almost painlessly with a Jackson 3-yard run and an 11-yard Cody White catch, respectively to set up the third and final OT.
In 3OT, teams must go for two after they scored a touchdown. Northwestern started with the ball, three plays later Flynn Nagel caught a Thorson pass and ran for 22 yards to the end zone. A Cameron Green catch for a 2-point conversion made it 39-31, a score that would stand thanks to that Nate Hall interception and Gaziano strip sack.
"Nobody was more excited about that win than Justin Jackson," Fitzgerald said of the senior. "He's just a special Wildcat."
Northwestern travels to Nebraska to take on another B1G foe next week in hopes of riding the momentum of back-to-back overtime victories. A win next week would wrap up bowl eligibility for a third straight year.