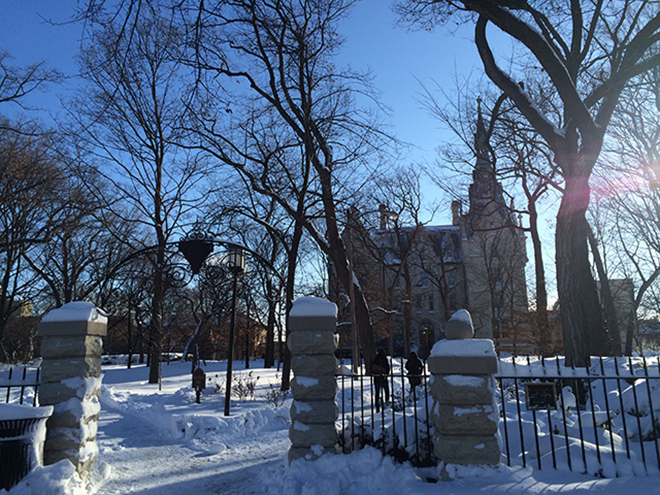 It's 2015 – Canvas is here, and so is nearly 20 inches of snow. On Sunday night, Northwestern University mobilized its emergency communications capabilities to get the message to students' phones and email inboxes: despite blizzard conditions and snow totals that make this one of Chicago's top five winter storms, classes will be held on Monday, February 2. Oh and, stay safe out there in negative wind chills, Wildcats! (We're actually pretty used to that.) Sadly, that's where the university's smart use of technology ends.
At the risk of being that kid in sixth grade pointing out uncollected homework to the teacher, I am proposing that Northwestern and other universities integrate their distance learning capabilities into emergency plans. When sidewalks and side streets are impassable and when buildings are prone to frozen pipes and loss of heat, virtual classrooms should open online.
Northwestern is one of many institutions that know how to do this: several professors have taught thousands of students in Massively Open Online Courses (MOOCs), and many classrooms are outfitted for high-quality video-conferencing. Perhaps there is no better evidence of the university's ability to utilize global communications technologies than its operation of a campus 7,000 miles away in Qatar.
This wouldn't just save students from walking through knee-deep snow for 10-15 minutes from nearby dorm rooms. It would be a major help to students commuting from Chicago and Evanston via CTA trains and buses. Any emergency response must acknowledge that even if most of Northwestern's student population lives near campus, many students, professors and university staff are not so lucky. Some students, including myself, are commuting between class and work and might not be able to allow for extra time to get to class, as administrators' emergency notification suggested.
Winter weather is dangerous, especially when vehicles can easily become stuck in deep, wet snow. Northwestern could avoid straining already-crowded public transit systems and allow time for crews to clear slick roads by providing students and professors a middle-ground option. When canceling classes is not ideal but dangerous conditions persist, students deserve an online alternative.
Why can't we meet students where they are, either on a couch in an apartment one block away from campus or a Starbucks in Lincoln Park? We certainly have the technology.