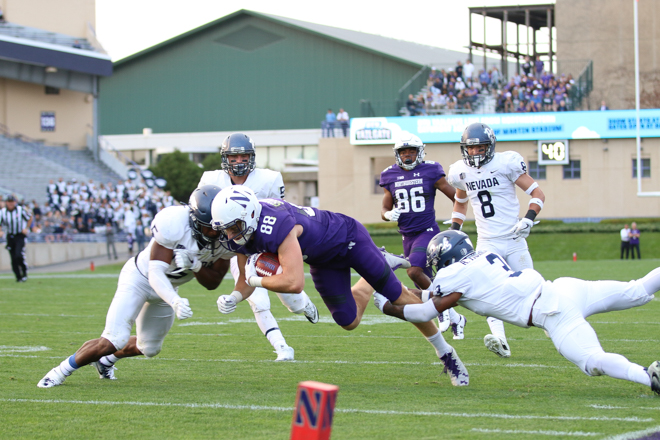 After falling behind early, Northwestern stayed alive in the second half against Nevada and won 31-20 in the 2017 season opener.
The 'Cats trailed 17-7 going into the third quarter, but within minutes got themselves within field goal range. Freshman kicker Charlie Kuhbander punched it in from 23 yards, and the following Northwestern drive ended with a 19 yard touchdown pass from Clayton Thorson to Riley Lees to tie the game. It stayed even at 17 until the Wolfpack made a 33 yard field goal with 10 minutes to go, putting Nevada up 20-17.
Two rushing touchdowns from Thorson sealed the deal for the Wildcats, both of which the quarterback ran in from just a few yards behind the goal line. Seeing as he's a third year starter, nobody was really worried about Thorson's ability to maintain his composure on the field, but this game showed fans a more professional-grade player than they've seen in previous seasons. He completed 28 of 38 passes for 352 yards with one touchdown and one interception. Early in the game, Thorson expertly maneuvered around blitz defensive scheme to find Macan Wilson for the first touchdown of the year.
Thorson. Wilson. Precision.@NUFBFamily is on the board against Nevada! pic.twitter.com/VvzQeJZb0X

— Northwestern On BTN (@NUOnBTN) September 2, 2017
Justin Jackson was another bright spot for NU. After leading the Big Ten in rushing last year, he was making similar cuts and consistently finding holes in the defensive line. He got tripped up a few times because of missed blocks by the offensive line, but The Ball Carrier led the team in rushing, tallying 115 yards and averaging 3.6 yards a carry.
After the graduation of star receiver Austin Carr, other Wildcats had to step up to make the big catches that normally were reserved for him. Bennett Skowronek, a sophomore receiver, did just that and caught eight passes for 132 yards. Wilson only had three catches, but gained 77 yards, and Thorson pitched the ball to Jackson a number of times to total 42 receiving yards.
Despite the final score, this game was not an easy win for NU. The 'Cats struggled to convert on third downs throughout the first half, and nobody is totally convinced that Northwestern has escaped its curse on kickers. Kuhbander missed his first field goal attempt from the 21 yard line, but did manage to score all the extra points.
The biggest concern going forward is rooted in this team's defensive depth. Injuries can plague any team, but Northwestern nearly found itself without a cornerback today. Before the game started, head coach Pat Fitzgerald confirmed that starting corner Keith Watkins II would miss his second consecutive season, this season due to a lower body injury after last year's ACL tear. Backup Marcus McShepard sustained an injury in the game and did not return to the field, and third stringer Brian Bullock later received brief medical attention, but returned. Alongside injuries for sophomores Roderick Campbell, Alonzo Mayo and Trae Williams, Fitz will quickly need to prepare freshmen for playing time.
Elements of a solid defense were hit and miss. Kyle Queiro had a clutch interception at the start of the fourth quarter, just minutes before Thorson's first rushing touchdown, but Northwestern also allowed Nevada to average 5.1 yards per play. The 'Cats held the Wolf Pack to 5-14 on third down conversions and 0-2 on fourth down conversions, but seemed to miss simple tackles during each series, and the defensive line seriously struggled to put pressure on the quarterback, something that could haunt the 'Cats against better opponents.
All in all, it was the first game of the season, and seeing as eight freshmen saw their first minutes of playing time, there were bound to be some hiccups. Redshirt freshman Gunnar Vogel split playing right tackle with starter Rashawn Slater, and Sam Miller had two tackles.
If Thorson continues on the path we saw him take today, he could become a dual threat quarterback who dominates the Big Ten. Jackson will likely see more carries and short passes. Alongside Skowronek, junior Flynn Nagel and senior Garrett Dickerson both had promising performances receiving, too. The 'Cats will definitely have to address their holes on defense and hope Kuhbander can continue to deliver when it comes to kicking, but going from down two scores at halftime to a win by two scores shows a new resiliency for Northwestern football.