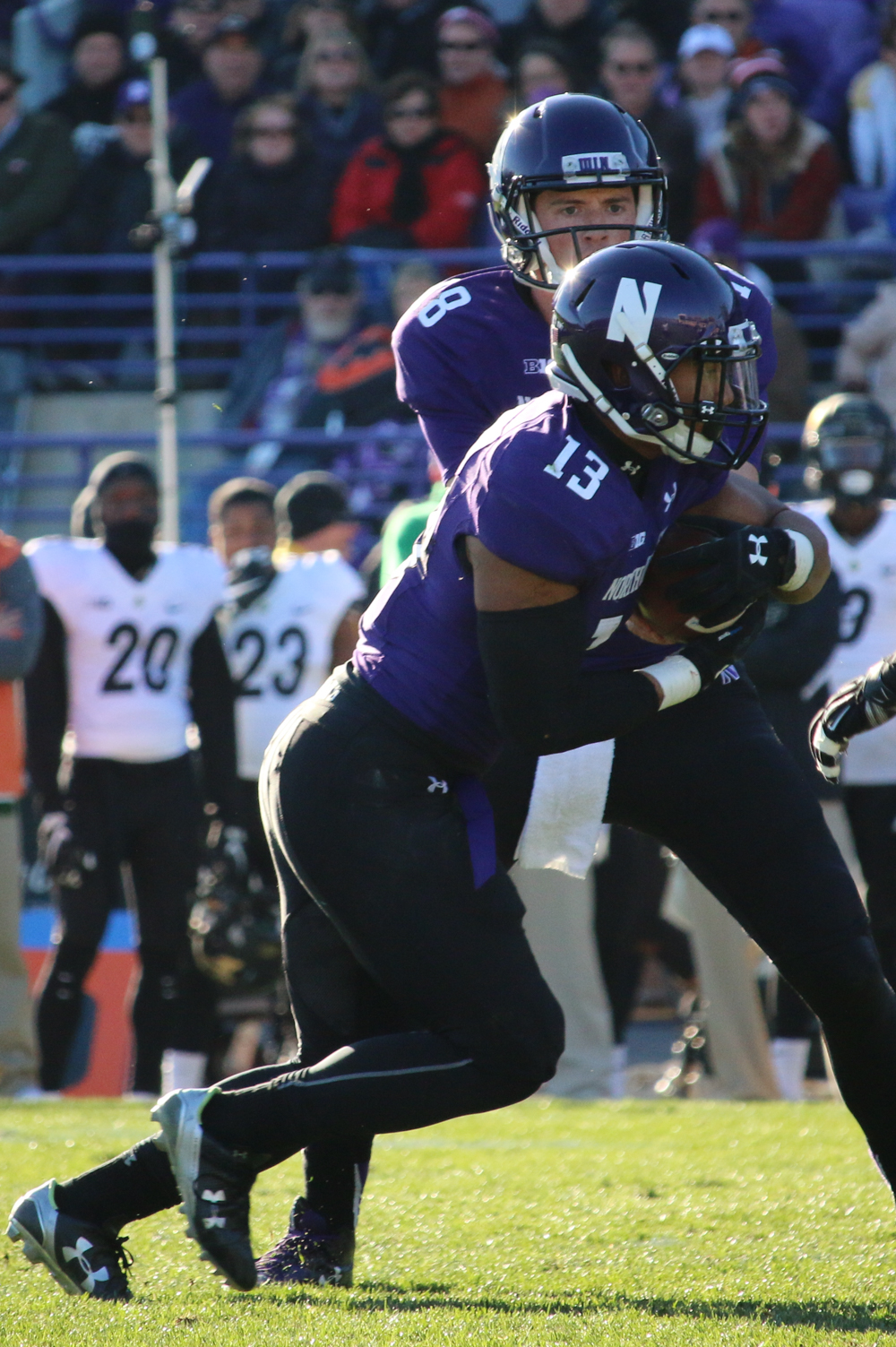 Fans arriving even five minutes late missed most of the action at Ryan Field on Saturday. Both offenses exploded early, but the home team scored late to lead Northwestern (8-2, 4-2 Big Ten) over Purdue (2-8, 1-5 Big Ten) by a final score of 21-14.


Northwestern opened the scoring just 2:41 into the game, racing 75 yards down the field on only 7 plays. Northwestern's running game excellence was in full effect early, as as both Clayton Thorson and Justin Jackson broke off carries of at least 12 yards, and Warren Long punctuated the drive with a 32 yard dash. Jack Mitchell made the PAT, and the Wildcats opened up a 7-0 lead not even three minutes into the game.


But Purdue was not fazed. On their first play from scrimmage, the Boilermakers found the end zone. Quarterback David Blough fooled Northwestern corner Nick VanHoose with a pump fake, and then hit Dominique Young streaking down the right sideline for a 68-yard score. A Paul Griggs conversion tied the game at 7, just ten seconds after Northwestern had taken the lead.


The tempo slowed from there, however, as neither team was able to sustain drives for the rest of the first quarter. In the second quarter, on second down from the Purdue 27, Blough's pass was tipped and redirected right into the hands of safety Traveon Henry on the Purdue 41, reinvigorating the Northwestern offense. It only took 2:33 for the 'Cats to score; after Jackson was denied twice on the goal line, Northwestern returned to Warren Long, who charged across the goal line for his second score of the game to put the Wildcats up 14-7 with 7:34 to go in the half.
On Northwestern's next possession, Jackson coughed up the ball. Purdue's Robert Gregory picked it up, but the Boilermakers couldn't capitalize, and Purdue headed into halftime trailing 14-7.




Starting with the ball in the second half, Purdue raced down the field, needing not even three minutes to tie the game. Nortwestern scored 2:41 into the first half, and Purdue needed just 16 seconds more in the second half. Travelling 71 yards on only 7 plays, Purdue leveled the score on a two-yard plunge by Markell Jones.


Later in the frame, Northwestern dodged a bullet when struggling Purdue placekicker Paul Griggs missed a 43-yard field goal, keeping the score tied at 14. On the ensuing possession, Thorson had a pass picked off by Frankie Williams.
After impressing last week in the win over Penn State, senior Zack Oliver replaced Thorson at quarterback with 2:40 left in the third quarter against Purdue. But it wasn't all smooth sailing for the senior this week. On the very first play of the fourth quarter, Oliver's pass was picked off by Brandon Roberts. But once again, the Purdue offense failed to translate turnovers to points, punting the ball away on the ensuing possession.


The teams traded punts, and Northwestern got the ball back with 10 minutes to play. With Thorson down the field, the Wildcats displayed the confidence that they had been missing since the first quarter. The Wildcats waltzed down the field, moving 58 yards in 5:22 on 12 plays. Thorson rushed for 16 yards on back-to-back plays, setting up a two-yard run by Jackson to put the Wildcats back on top for good with 4:37 left.


Once again, the Northwestern defense stood strong, forcing Purdue to punt for the seventh time. The offense killed the remaining 3:39, and Northwestern walked away from Ryan Field for the last time this season with a 21-14 win.


"I'm really proud of our 24 great seniors," said head coach Pat Fitzgerald. "They've been through a lot, and, to lead us to where we're at today, and finish their last home game at Ryan Field with a win, it will be a memory when we get together 20, 25 years from now that I don't think they will soon forget."



"There's a bunch of mixed emotions," said Henry, one of those 24 active seniors. "It's kind of bittersweet, because it's been a very quick four years, but it's been a very fortunate four years. A lot of growth, a lot of learning, and it's pretty cool to see it all culminate at this point. To be here is such a blessing. I'm just real grateful for it."


After back-to-back blowout losses to Michigan and Iowa, Northwestern has won three straight and appears to be on the right track. None of the three wins have been horribly convincing, however: each has come by an average of less than four points.


But star linebacker Anthony Walker wasn't too concerned about his team's future.


"I think there's just a positive mindset going around the locker room right now," said Walker. "Everybody's focused on gettng better each day, each week, taking it one game at a time. We're not looking at the big picture; we're trying to go 1-0 each week. I think that focus is allowing everybody to play fast, play smart, and be able to go out and execute the gameplan."


Justin Jackson had his second big game in two weeks. The ballcarrier picked up 116 yards against Purdue, giving him over 2,000 rushing yards for his young career and vaulting him past Kain Colter for eighth place in rushing yards in school history.


But once again, it was the Wildcat defense which saved the day. Purdue averages 25.7 points per game, and Northwestern allowed them to score 14. Purdue averages 135 rushing yards per game, and Northwestern limited them to 73.


"On defense, we use the analogy, not to be disrespectful, of being a fireman," said Fitzgerald. "A bell rings when you're a fireman, it means it's time to go put the fire out. You turn the ball over, that means there's a fire out on the field, and our guys have got to go put it out. And our defense did that 100 percent today, which was the difference in the game."



It wasn't pretty, and it was always in doubt, but the Wildcats managed to claw out the victory. Up next is a matchup with Big Ten power Wisconsin next Saturday in Madison. But, for now, Fitzgerald and his team, and especially the seniors, will relish this win, no matter how it was secured.


"I wanted [the seniors] to enjoy the moment," said Fitzgerald. "Once we finally got that [last] first down and I knew that we were going to win the game, I thought about not only our young men, but their families. I get the opportunity to coach the best and brightest young men because of the way they were brought up at home. To see that group come together the way that they have, to battle through challenges the way that they have, is what makes my role here at Northwestern so special."