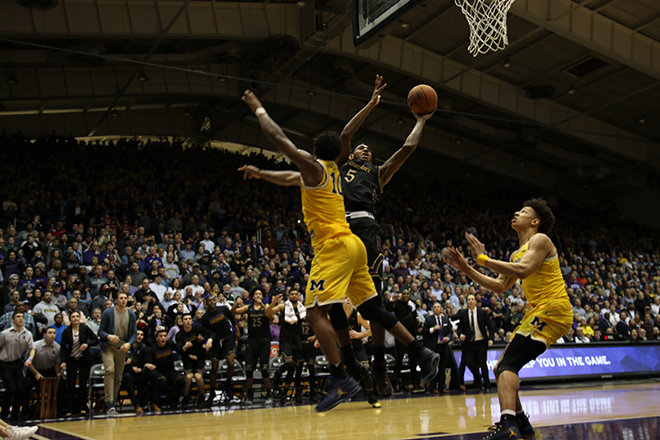 Wednesday night's game against Michigan will go down as the most important win in Northwestern men's basketball history. In the final 1.7 seconds of play, the Wildcats broke the 65-point tie game with a full-court inbound pass from senior Nathan Taphorn that found sophomore Dererk Pardon in the paint for an acrobatic layup. With this win over the Wolverines, the Wildcats improved to 21-9 on the season, setting a school record for single-season wins and added a probable at-large bid-clinching win to the top of their NCAA Tournament résumé.
An incredible start to what could be a very memorable March for Northwestern. (via @BigTenNetwork) https://t.co/qY82QtxJwV

— NCAA March Madness (@marchmadness) March 2, 2017
The first 20 minutes of play consisted of back-and-forth momentum shifts. NU started with a 6-0 run, making all their field goals in the first two minutes of play, but four turnovers led to a 7-0 run for the Wolverines. A three-pointer by Scottie Lindsey, followed by a bucket by Barret Benson in the paint and a Taphorn three, put the 'Cats up 27-16 with 3:14 left in the first half, but Michigan narrowed the 11 point lead to 27-24 with just under two minutes in the first half. Northwestern stayed ahead, but entered the locker room at halftime up just two points.
It was anybody's ballgame in the second half of play. The Wildcats stayed on top until Michigan point guard Derrick Walton Jr. hit a three to put the Wolverines up 48-47. Gavin Skelly responded with a layup, and on the next possession Taphorn drained another three.
Both teams were kept on their toes for the final three minutes of play, with no team able to pull away. A 60-point tie transitioned to both teams even at 65, as senior Sanjay Lumpkin scored his first basket of the game in the paint, and Michigan's Zak Irvin drilled a layup on the other side of the court to keep the Wolverines in it.
With seven seconds left, Irvin shot a three from the deep left wing, but missed. The ball was knocked out of bounds by Michigan with less than two seconds were left on the clock. After a timeout from each team, Taphorn's full-court baseball throw to Pardon sealed the victory for NU.
"We knew it was going to be inside of two seconds, and a couple of the assistants said 'let's not risk a turnover, let's just get it in and go to overtime and play five minutes' but my instinct said no, we've gotta go for it," head coach Chris Collins said. "Coach James grabbed the clipboard and drew up a great play."
The team had never practiced this play. It didn't have a name. Collins said that the second timeout, called by Michigan, gave them another opportunity to go over where everyone was supposed to be, but he had to trust his players to finish strong.
For the coaching staff, the biggest concern of the play was Taphorn overthrowing the ball, sending it out of bounds or allowing it to get in the hands of a Michigan player.
"I was worried for a second, but once I saw Dererk turn and slip that screen, I kinda knew it was in," Taphorn said.
For the majority of the season, Collins said he tried to shield the athletes from external pressures, more specifically those pressures related to earning Northwestern's first ever NCAA Tournament bid. He told them to ignore the noise of what others were saying and just focus on the game, but his philosophy changed after last weekend's loss at Indiana.
"I challenged them and told them there was pressure for the first time," he said. "Anything good in life involves handling pressure and succeeding under pressure, so we're not going to avoid it anymore … There is pressure on us. We gotta go out and win if we want to do something great."
The 'Cats will be tested one more time during the regular season, when they take on Purdue at home on Sunday. The Boilermakers handled Northwestern earlier this season, beating NU 80-59 in West Lafayette, but Collins is confident that after this win, his team will be on the upswing.
All Northwestern coaches, players and fans are cognizant of Sunday's matchup, but Wednesday night's victory is still being celebrated. For a school that has never seen its name on a March Madness bracket, the implications of the win over Michigan are as sweet as it gets.
"This is the game I committed here for," Vic Law said. "When I committed, everybody said 'why are you choosing Northwestern? They have no culture. There's no basketball presence there.' I don't think any Northwestern team has played in a game as big as this. That really meant everything."