Alec D'Alelio grew up surrounded by music in his family, but never had dreams of becoming a musician. His dad shredded guitar in a '70s rock band and his grandfather wielded the accordion, but D'Alelio was stuck tooting the trumpet in his fifth-grade band. Soon he traded the trumpet for the drums and then a guitar, which was his calling. He'd play guitar all day until his fingers bled and recorded covers of songs on YouTube, teaching himself production skills along the way. Now in his senior year at Northwestern, D'Alelio produces introspective, genre-fluid music as Oddentity and is about to release the Purple Line EP, his five-track debut album.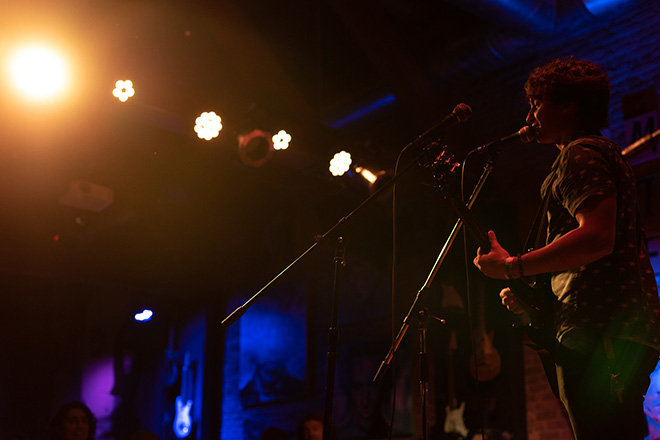 North by Northwestern: The Purple Line EP drops on Friday. How are you feeling about it right now?
D'Alelio: I feel grounded. It makes me feel really happy because it's been a lot of hard work over the past six months. The process of producing the project and coming into my own as an artist really helped me through a time where I was trying to figure out what I was really passionate about and what I wanted to do. Every step of the process has been really affirming for me. This past week I've been showing the project to friends and family, and hearing that they get my vision and they understand how much I've been able to grow has been super affirming.
NBN: I imagine it can be scary to share an album that you've been working on for so long. How does it feel to get feedback on it?
D'Alelio: At first it made me a bit nervous because I was being really personal on some of the tracks, but it quickly became a feeling of empowerment. I was able to put some real experiences and emotions into this form that people can digest and take something from. It's been more affirming and empowering since I sent it to one friend a few months ago and they said, "Thank you for sending this. It helped me get through something I was going through." It was that moment that made me realize this is a cool thing I'm doing.
NBN: You're taking five classes, participating in student groups and producing music. How do you balance it all?
D'Alelio: I started the project around February after studying abroad, coming off a breakup and I was having a hard time connecting with my friends when I got back. I found solace in making music. It was the easiest way for me to process the way I was feeling. I did all my academics, of course, but making music was therapeutic. It became a routine without me even realizing it because it was what I wanted to be doing.
NBN: I picked up some Saba, Chance the Rapper, Noname, Ratatat and R.LUM.R vibes in your music. Who are your biggest musical inspirations?
D'Alelio: Most of the songs I've written start with guitar and from there I figure out the concept I want to go with. With that in mind, my biggest inspiration has been Tom Misch. The whole Chicago hip-hop scene has been very inspiring for me, too. This past summer, I met a lot of those artists and saw how they work and talk about their art. That influenced the way I went about the project. So much of the best music coming out of Chicago right now is rooted in spoken word and storytelling. I was definitely inspired by the lyricism of artists like Saba and Noname, but because their music is largely inspired by the African-American inner-city experience, I have been careful to be aware of my roots and the experience that I'm coming from in my music. As a white, cisgender, male student at a suburban university, I try not to let myself forget how much my privilege factors into my ability to take on projects like this.
NBN: You describe your music as genre-fluid because it doesn't stick to one type of sound. What does genre fluidity mean to you?
D'Alelio: Genres and labels are so tough because it obviously helps people discover your music, but it puts constraints on musicians. I think part of genre fluidity is not being encumbered by industry pressures and being independent. In my case, it comes from the fact that I'm still figuring out what kind of music I want to make. My sound comes out pretty eclectic because I grew up listening to a lot of classic rock. In middle school, I got really into Australian jazz and then new metal. Then I got super into hip-hop and now it's reggaeton and afrobeat. I like music that makes me feel like I'm connecting with a person through the music and the genre is not always important to me.
NBN: Where does your name Oddentity come from?
D'Alelio: I had a phase in high school where I would go down these rabbit holes of music. One day I was searching for the most underrated psychedelic rock albums of the '90s and I stumbled upon this band called Ozric Tentacles. I was intrigued by their name and scrolled through their discography. All of their songs have outrageous names and one of them was called "Oddentity," so I took it. I recycled it, I should say. I like that it's a play on "identity." For me, being an artist is one of the identities that's most salient to me, but it's always in flux. I don't want to prescribe to one artistic identity because I want to explore different types of sounds. Even without digging into it, I think it's clever.
NBN: How did the EP get its title?
D'Alelio: I was living in Evanston and working in Chicago over the summer and I was making beats all the time. Every day to and from work I would listen to my beats from the previous night and try to decide what the song would be about or whether to trash it. I was riding the Purple Line from work one day and I thought, "I've been spending so much time riding up and down the Purple Line writing songs, why don't I just write a song about that?" After that, I realized that's the project.
NBN: What are your goals for the release of the EP?
D'Alelio: My biggest goal in life is to create things that people are able to draw some value from. Success for me is knowing that people are able to relate to the music and maybe it helps them get through some of their own internal conflicts.
You can listen to the Purple Line EP and more of Oddentity's music on SoundCloud, YouTube, Instagram and other major streaming platforms.
This interview has been edited and condensed for clarity.
Editor's note: An update has been made to this story to give a longer version of Alelio's answer to the fourth question. NBN regrets any confusion.