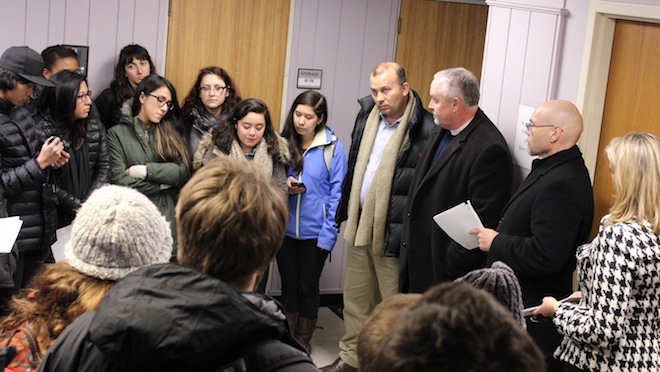 About 50 Northwestern students stood in solidarity with the university's dining hall workers in a demonstration Monday afternoon. The students marched together from Tech to Sargent Hall, where members of Movimiento Estudiantil Chican@ de Aztlán de Northwestern (MEChA) and Northwestern University Asian Pacific American Coalition (NU APAC) presented Sodexo management with a petition, which they said had gained more than 1,200 signatures in less than a week.
The groups demanded "a guaranteed 40-hour work week, benefits for part-time workers, personal days, funding for job training and increased wages, including a greater increase for late night shifts," posted on a stated online petition and Facebook page for the rally.
MEChA and APAC joined together to "condemn the systematic mistreatment of campus dining workers from interactions with Sodexo supervisors to administrative disregard," according to the statement. This event is a response to Northwestern's dining hall staff organizing to fight for better conditions. "All workers are entitled to dignity, respect and a just wage," the statement concludes.
When the group of students marched to the Sodexo management offices located on the side of Sargent dining hall, they were prepared to knock of the door of the offices to be let in. But Northwestern faculty and the Sodexo team had anticipated their arrival, and welcomed the students with promises that they were listening.
The students read the petition listing their demands and told personal testimonials about the relationship that they see exists between the dining hall workers and the students on campus. "This is an issue of humanity," said one student, "Our workers are not robots."
One student reflected on how the dining hall staff in Plex asks her how her weekends went, how her classes are going, and how she is doing. "They remind me of my family," she said.
"We appreciate the fact that you care about our dining staff," said Associate Vice President of Student Affairs, Julie Payne-Kirchmeier, in response to the requests. "This means that you have become a part of the Northwestern University family in an intentional way."
The group of student protesters left the office spaces after stating that there will be more movements of support in the future. "We heard you," said Harriette Newsom, Sodexo Human Resources manager. "We respect you and we love the fact that you love our workers."
The student-run demonstration is only the beginning of the student body effort to support the staff at Northwestern, according to organizers.