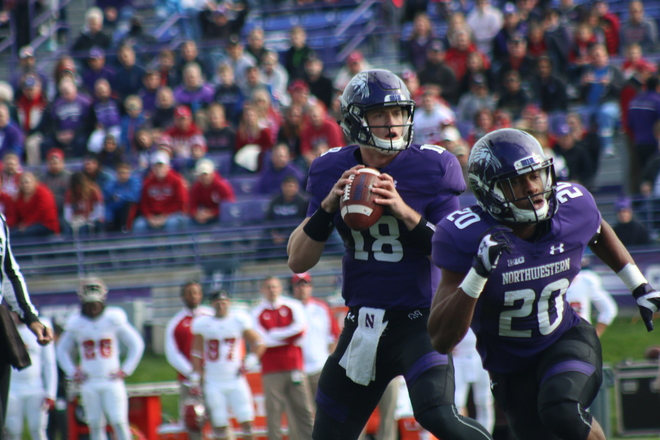 Northwestern (4-3, 3-1 BIG) dominated Indiana (3-4, 1-3 B1G) on Homecoming with a 24-14 win Saturday.
After a 54-40 win at Michigan State last weekend, the Wildcats were optimistic about capturing another Big Ten victory during Homecoming weekend. The 'Cats had won two Big Ten games in a row on the road, but many were skeptical if NU could continue its conference success at home.
The 'Cats quickly proved they could. Clayton Thorson wasted no time, moving the offense down the field and getting NU on the scoreboard within minutes. A 17-yard pass to Solomon Vault was barely defended, and Vault caught the ball in the end zone to put NU ahead early.
After forcing an Indiana three-and-out, Thorson was able to set up another scoring opportunity in just five plays. He found Austin Carr with a 34-yard TD pass, and even when Carr tripped, he was able to get past the IU defense for a score. It was Carr's ninth TD of the season, marking the sixth consecutive game where he's scored a TD for the 'Cats. NU was up 14-0 within minutes, completely opposite of the slow start they'd had against the Spartans just a week before.
After a 32-yard TD pass from Thorson to Macan Wilson, cornerback Montre Hartage made an impressive interception off a long IU pass early in the second quarter.
Whoa. Did Montre Hartage just ... yes, yes he did. @NUFBFamily More video >> https://t.co/Afb2pFbefbhttps://t.co/bp58L91ggF

— Northwestern On BTN (@NUOnBTN) October 22, 2016
Later in the second quarter, holder Matt Micucci and the field goal team got in position, but for some reason the 'Cats tried a play fake where Micucci acted as QB and threw to the only part of the end zone where no receivers were located. Needless to say, the fake was unsuccessful.
Matt Micucci, not a quarterback

— NBN Sports (@nbn_sports) October 22, 2016
NU closed out the second quarter with a 19-yard field goal, extending its lead to 24-3. The offense was able to rack up 371 total yards, and Thorson completed 18 of his 31 attempts. Carr had six catches for 112 yards and Justin Jackson rushed for 75 yards.
The second half didn't go quite as well. The 'Cats didn't score at all during the third quarter, and Indiana hit a 30-yard field goal and got a TD off a trick play to make the score 24-12.
"I thought we started the game the right way … but obviously lost momentum in the second half," head coach Pat Fitzgerald said. "That was a physical battle and we found a way to get it done."
But when the offense started to struggle, the defense took over. Anthony Walker had a huge tackle for loss leading to a failed fourth down conversion, Ifeadi Odenigbo and Joe Gaziano had drive-ending sacks and safety Kyle Queiro snagged a ridiculous one-handed interception - after tweeting "thanks for the int."
Holy cow!@NUFBFamily's Kyle Queiro just out-did @JourdanJD's INT.

More video » https://t.co/Afb2pFbefbhttps://t.co/igOEAFZnss

— Northwestern On BTN (@NUOnBTN) October 22, 2016
It marked the third game in a row where a NU defensive back correctly predicted on social media that he would come up with an interception. First it was Godwin Igwebuike on Instagram before the Duke game, then Jared McGee before Michigan State and now, Quiero, before the 'Cats took on the Hoosiers.
"Going into Friday night I just kind of felt it, to be honest, there's no other way to explain it," Queiro said. "... I was just grateful, especially to God, because I just felt that it was going to happen."
Fitzgerald says he doesn't think that the social media posts are responsible for the interceptions, and he credited the work the players from the secondary unit are putting in outside of structured practice time. He said he was "pleasantly surprised" after seeing the secondary watching film on a Thursday night, doing extra to prepare and seeing it pay off.
The Wildcats will face the biggest test of their season next weekend, heading to Columbus to take on No. 2 Ohio State. NU's offense has proved itself in Big Ten play the past three weeks, but the Buckeyes' defense will be the ultimate test of its true efficiency. For right now, the 'Cats will revel in another conference win before preparing to try and stop one of the best teams in the country.