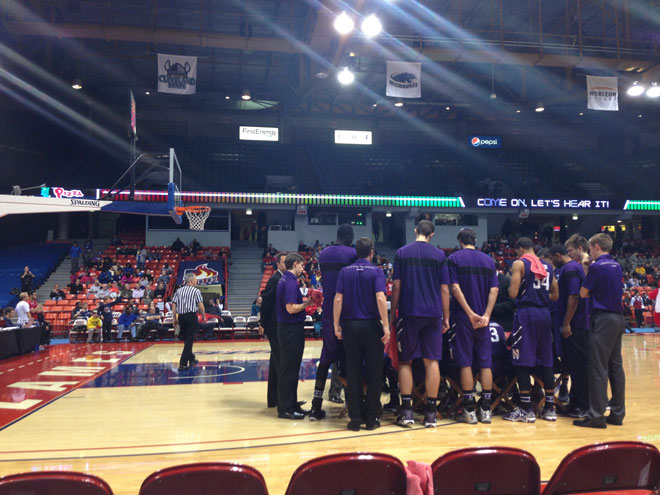 To put it kindly, Northwestern's offense has been inconsistent so far this season, ranging from awesome to anemic.
On Wednesday night, the Wildcats (2-2) were at the top of the spectrum. They came out firing and didn't let up en route to a 93-58 blowout of Illinois-Chicago (1-3) at UIC Pavilion.
Sophomore guard Dave Sobolewski scored a career-high 25 points in the win, and senior guard Drew Crawford added 18. After a disappointing loss to Illinois State, the 'Cats responded with their largest margin of victory in a true road game since 1944.
"I was really proud of our guys, the way we responded to Sunday, that was a disappointing night for us," said head coach Chris Collins after the game. "The thing that I loved about my group was that the reaction to Sunday was not being down or being said. It was anger."
They came out looking furious. A team that is normally slow to get up and down the court was running UIC ragged. The 'Cats moved the ball quickly and efficiently, and whoever was open would knock down the shot.
Early on, it was Sobolewski. He found open spots all around the perimeter and was draining everything. At the end of the first half, he had 17 points.
"Dave got himself going early," Collins said. "He led us out there. What I liked about him was he had a good pace to his game."
Over the first couple minutes of the second half, the Wildcats lost a little bit of energy, and the Flames were playing harder. Despite his team being up by over 20 points, Collins was fired up. He was getting in his players' faces and begging them to match UIC's energy.
They did. Whether it was redshirt freshman forward Sanjay Lumpkin going for every rebound or senior center Nikola Cerina forcing and running down a loose ball, Northwestern fought until the final buzzer.
When it did, it was a satisfying victory. The visitors didn't look like a group with just a .500 record. They looked like a group that's starting to buy into Collins' system.
"This was a great win for us," Lumpkin said. "We all came together."
Northwestern will return to the comfort of Welsh-Ryan Arena to battle IUPUI on Friday.