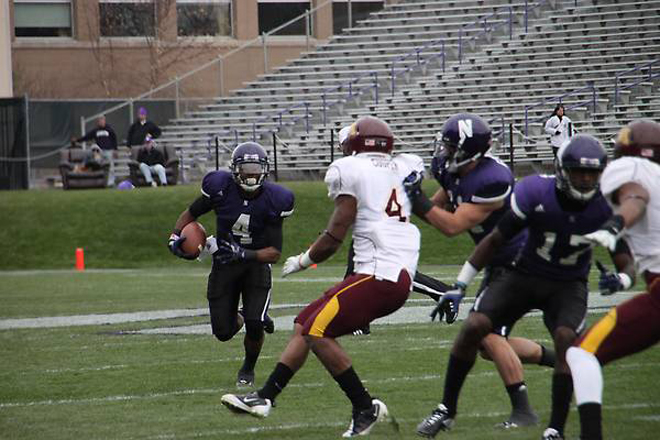 The Minnesota Golden Gophers (4-2, 0-2), might be exactly what the doctor ordered for Northwestern at home Saturday.
The Wildcats (4-2, 0-2) are attempting to recover from one of their most disappointing losses in recent memory, a 35-6 defeat at Wisconsin. Whatever their game plan was, it certainly didn't work. Trevor Siemian's performance, 13-34 with no touchdowns, seemed like an aberration after how successfully he had played against the Buckeyes the week prior. Since senior quarterback Kain Colter was sidelined for a large chunk of that game with an injury, Siemian had to carry the team on his own, which is something he hasn't been asked to do since he became a Wildcat. He rarely looked comfortable at all in the pocket and was sacked five times.
Yet Coach Pat Fitzgerald doesn't think all the blame should be placed on their offensive line.
"I understand that sacks always get put on the O-line, but [we need to] get rid of the ball on time and run good routes," he said. "There were times when we were trying to scramble, and all we've got to do is throw the ball away and it's not a sack."
The Wildcat defense was picked apart in that game as well; they surrendered 35 points and 527 total yards of offense.
Scouting the Minnesota offense
Last weekend was the second straight game in which the NU defense was dominated by their opponent, but don't expect that streak to continue. The Gophers have the second worst total offense in the conference and are ranked 108th overall with just 332 yards per game. They do have one player to watch out for, though: freshman quarterback Mitch Leidner. Against San Jose State in Week 4, Leidner rushed for four touchdowns and racked up 151 yards on the ground. Leidner has proven that he has the ability to break out for a big game.
Scouting the Minnesota defense
The defense is what will keep Minnesota in the game, and it's formidable enough to get the attention of Coach Fitz.
"Those guys are going to attack up front, their linebackers play fast. [Defensive coordinator Tracy] Claeys has been very successful over all of his years. He's done a great job," he said. Claeys is acting as Minnesota's head coach in the absence of Jerry Kill. "I'm very impressed with their athleticism, their speed and their toughness."
The unit is led by senior defensive tackle Ra'Shede Hageman, who is tied for fourth in the Big Ten with 6.5 tackles for a loss, and junior linebacker Damien Wilson, who leads the team with 41 tackles. As Fitz said, the defense will be able to run all over the field and keep up with the weapons that the Wildcats have on the offensive side of the ball.
Outlook
So what do the 'Cats need to do to avoid their third straight loss? It's very simple. They must execute through the air and prevent big plays on defense. The 'Cats will hope that Siemian's performance last week was a fluke and that he will play like he did against the likes of Ohio State, California and Syracuse. This will be even more important if Colter's lingering injury keeps him out Saturday.
But it's the defensive point that needs further emphasis. Against Wisconsin, the 'Cats were torched for two plays over 60 yards. Both resulted in touchdowns. On the first play – a 63-yard play-action heave from Joel Stave to Jared Abbrederis – the secondary got burned. Junior safety Ibraheim Campbell was beat on the play, and the 'Cats had no chance to stop Abbrederis as the ball fell into his lap and he ran in for the touchdown. They can't have many more defensive lapses moving forward in Big Ten play if they want to compete against the likes of Michigan State and Nebraska.
The second time they were gashed, it indicated that the 'Cats still have some issues defending the run, which will mean that defending Leidner could become quite a challenge. On this specific play, Melvin Gordon simply received a handoff to his left and went untouched for 71 yards to the house. Moreover, Saturday was the second week in a row that the 'Cats surrendered more than 240 yards on the ground.
Minnesota shouldn't prove to be nearly as much of a test as did Ohio State and Wisconsin (who are arguably the two best teams in the conference), but Saturday's game will be a great opportunity for the 'Cats to fix some of their major weaknesses on both sides of the ball, to prove to the rest of the Big Ten they are still a force to be reckoned with. Who knows? This game could be the start of a magical run that ultimately leads to the Big Ten championship game.