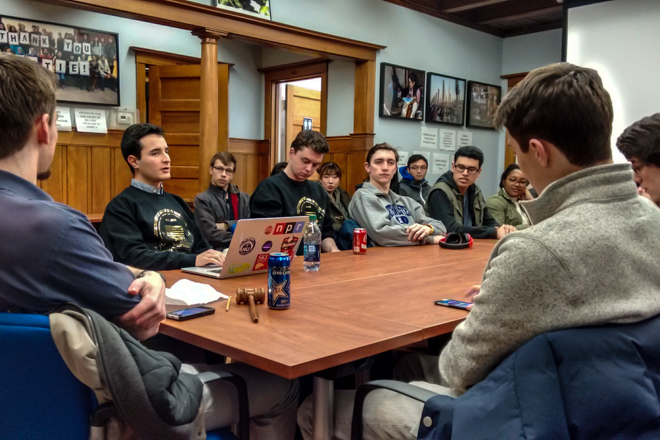 At 7:30 p.m. on Monday, members of Northwestern University's Political Union student group gathered in the Buffett Institute to debate a campus-wide topic of contention: Greek life.
Amidst a crowd of 40 students, moderator Aaron Gordon prefaced the resolution by stating that in light of recent events, the intention of this debate was not to have a discussion about the ongoing sexual assault allegations against SAE or try to speak on behalf of the survivors, but rather to focus on Northwestern's Greek life as a whole and its role on campus.
With that being said, the opening speakers – Edmund Bannister (against) and David Gernon (in favor) – each took four minutes to convince the audience that their stance was more favorable.
Gernon began by questioning if the collective benefits of the Greek life system here at Northwestern are worth the costs they incur. According to Gernon, at its core, Greek life houses are antiquated establishments of exclusivity that don't fit with Northwestern's modern, inclusive image in 2017.
"We come to college with an angle for helping young people gain knowledge and skills to prosper and lead productive lives," Gernon said. "I think it stands to reason to question whether or not Greek life furthers that goal."
Bannister contested this by discussing his own positive personal experience of being involved in a fraternity, and by elaborating upon the experiences that his fraternity has given him along with the chance to develop meaningful, lifelong relationships.
"Fraternities are not only about parties, and people who are in them appreciate that fact better than anyone else," Bannister said.
Instead, he suggested that fraternities are places of comfort, charity and growth for those who choose to call them home.
"The question we have to think about is how can we make Greek life safer in general, but I don't think that banishing party life on campus to a place off campus is a solution to that problem," he said.
The debate was then opened up to audience participation, which allowed participating students to shed some light on the many complexities of the topic for either side.
Several students stressed the importance of not generalizing Greek life at Northwestern to be the same as Greek life at other universities.
According to freshman Jesse Rudnick, while there is a national reputation and stereotypes to consider, at Northwestern, Greek life has been known as a place to find a family, more than a place to find a social life.
"There also is accountability through having sober brothers/sisters that is a way to keep partying in check," Rudnick said.
In conjunction with this sentiment, a group of student debaters posited that frats provide an accountability mechanism that is not present in a lot of the anonymous social interactions that happen off campus and elsewhere.
Weinberg freshman Alex Smith believes that repealing the one sanctioned outlet for parties on campus without proposing some sort of alternative will cause students will go off campus where there is less control over the situation.
"It will be difficult to find an equivalent alternative that does not have similar problems. I would agree with the reform [but] not repeal part of this discussion," Smith said. "It would be easier to find ways to make Greek life safer, instead of repealing it altogether."
Other debaters argued that the idea that Greek life provides a safe outlet for partying on campus is questionable in itself, bringing up the fact that Greek life has other problems that are unique to the establishment besides partying – like the exclusion of people of color and sexual assault.
According to sophomore Jose Trejos, there are no viable benefits to having a Greek system on campus.
"Every single year you hear news stories of people being turned away because they are minorities, or stories of people being hospitalized due to alcohol poisoning from frat parties," Trejos said. "Using a cost benefit analysis on this system, you can see that frats add no real benefits when taking into account all the costs."
The final vote came in at 15 for, 11 against, and 8 abstained regarding the resolution: Northwestern should disband all Greek life.
"Choosing this resolution was very topical; this wasn't specifically inspired by recent events, but it was one of the topics that we had been interested in for a while. I thought we would get the best turnout by having this debate today, as it is a discussion that will continue outside the walls of tonight's debate," Gordon said.