If there is one thing that every Northwestern student craves after a grueling winter quarter, it is a chance to recharge over spring break, preferably in a place where Canada Goose down can be set aside for a more natural heating source rarely seen in Evanston – the sun.
Four undergraduate students have spent the past year developing NU Spring Escape, a spring break trip to Puerto Vallarta, Mexico that not only promises warm weather, secluded beaches and unlimited booze, but also a chance to be a part of what its website claims is "the next big Northwestern spring break tradition."
NU Spring Escape CEO Weinberg and School of Communication senior Oskar Melking came up with the concept over winter break his junior year, when he saw his peers going off on Northwestern Ski Trip.
"I was thinking, there's no reason this couldn't be done for another break because a lot of people go on spring break trips," Melking says. "So I thought, why not do a big Northwestern thing together?"
Weinberg senior Joji Syed, junior Joel Schocker and McCormick junior Shikhar Mohan joined Melking after he pitched his idea to Northwestern Student Holdings, a student-run portfolio company.
"We did a lot of research, sent out surveys and found that there's a huge demand for doing a huge Northwestern-wide trip for spring break," Melking says.
Syed, the COO, said that creating the business plan was one of the more time-consuming aspects of the project. Besides choosing the location and duration of the trip, it took the team six or seven months to decide that they would use a travel provider to plan the trip.
"When you don't really know the demand for the trip, you need to put down a lot of money just to secure all the spots," said Melking. "Which is tough, especially for us since we don't have that initial capital. [Travel providers] handle all the logistics behind the trip, whereas we are the face of the trip for Northwestern and promote the trip here on campus and make it a Northwestern experience."
The team set up packages with between five and ten travel providers and surveyed students to see which trip package they would prefer. They ultimately decided to work with Xtreme Trips, a student travel company that has been organizing student trips for over 12 years and, according to the company website, considers safety as its top priority. There will be at least 15 full-time Xtreme Trips staff members on the trip, including a full-time medic on duty.
The trip package, which starts at $1,399 for five nights, covers round-trip flights from Chicago to Puerto Vallarta and condos at the Vamar Vallarta hotel, which is entirely reserved for college students traveling with Xtreme Trips. Three meals a day and unlimited beverages (even alcoholic ones) are included.
Melking says that in order to provide a "Northwestern experience" they negotiated with Xtreme Trips to secure the "NU Village," a part of the hotel--the beach side--with condos reserved exclusively for Northwestern students.
Weinberg junior Aditya Raikar, who spent spring break in Cancun last year, is excited to go to Puerto Vallarta with NU Spring Escape this year.
"It is uncharted territory, so some problems might go up – wrong travel provider, wrong clubs, hotel – but that happens with first time trips," Raikar says. "I'm pretty pumped. I'm in need of some warm weather here."
Melking says that the plan for NU Spring Escape is to become a Northwestern tradition that will endure if he comes back in five or 10 years.
"A lot of the things we do on campus – you don't necessarily see the effect of," Syed says. "But with a trip like this, a week after March you're going to know whether it was a hit or a miss. It's a very cool feeling to know that you planned something, took an idea, developed it, and made something out of it, all in the span of a year."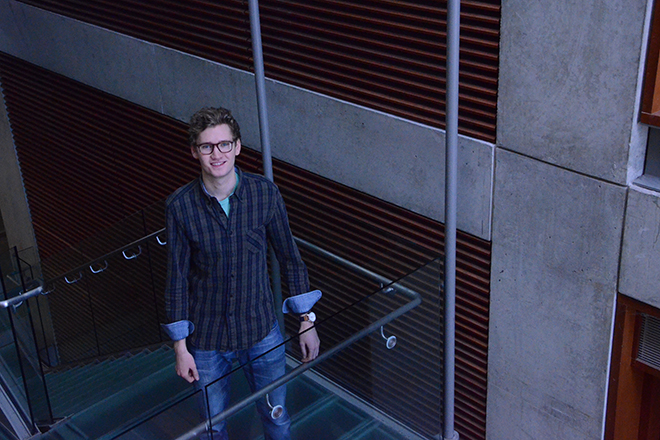 While this Wildcat getaway has caught the attention of many students, Oskar Melking's entrepreneurial skills didn't start with NU Spring Escape. Melking has a long history of startups, beginning with a business in selling candles.
When he was 14, Melking wanted to raise money for a PlayStation Portable (PSP). In Sweden, where he grew up, Melking said it is fairly common for kids to make money via "the candle bus." In this system, men in their mid-twenties buy candles and sell them to neighborhood children who then resell them at a profit. Melking avoided the middlemen and bought candles himself.
"I started selling to sports clubs," Melking said. "I did special packages where they gave me stickers and I'd make these packages with the colors of the clubs and whatnot. They would buy them and give them to their fans and board members."
Though Melking stopped his candle business as soon as he raised the PSP money, it spurred his interest in starting his own company.
The summer prior to his high school junior year, tired of waking up for their jobs cleaning beaches, Melking and his friend, Dennis Ekströ, decided to create an anti-stress drink called Dfuser that would help them fall asleep.
"We were so tired in the morning. It's not like we needed coffee or anything, we just couldn't fall asleep," Melking said. "We thought about it, talked about it, contacted different breweries, herbal suppliers and beverage developers, and figured out we could do it pretty easily. People would be surprised, it's not as tricky as you would expect."
Dfuser tinkered off during his gap year before college, so Melking joined two guys in developing Bevolution, an anti-hangover drink.
Melking stayed with Bevolution until his sophomore year at Northwestern, when the company got a trademark lawsuit. On campus, he joined Northwestern Student Holdings, a student-run holdings company, where he launched RezEssentials, a mini fridge delivery service for on campus residents.
Besides NU Spring Escape, which is set to debut this spring break, Melking's latest project is Barlift. The social deals application, which already has 1,500 student downloads, sends out spontaneous push notifications for local bar and club deals. It also tells users which friends of theirs are taking advantage of those deals. Melking said that they are still working on improving the app.
Mohan, who is also working on BarLift, said that Oskar's entrepreneurial strengths lie in his approachability and sensibility.
"He is very focused and passionate about what he is working on," Mohan said. "When it comes down to business, he is very focused on what he does and goes to great lengths to ensure his success."
According to Melking, others have an incentive to make entrepreneurship look harder than it actually is, especially if they are working on them or trying to sell a product.
"Working on [Dfuser] made me realize that it's really not that hard. A lot of things are really not that hard to do," Melking said. "To do what I did, you don't really have to be super smart, you just have to realize that you can do it if you try."