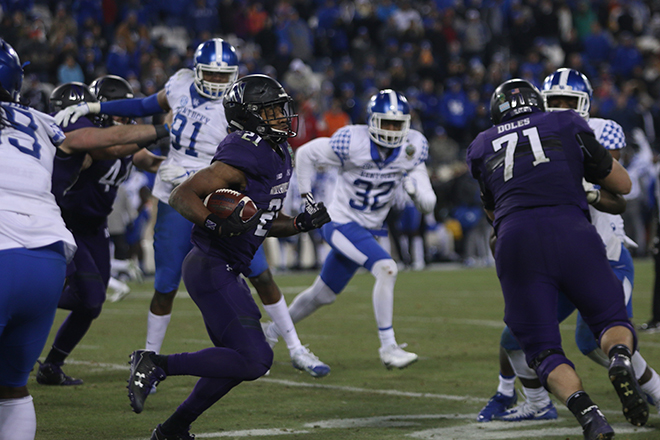 Northwestern's appearance on Friday in the Franklin American Mortgage Company Music City Bowl is one that's hard to put into words. NU (10-3, 7-2 B1G) came out on top against Kentucky (7-6, 4-4 SEC) 24-23, but a combination of injuries and ejections made the victory look completely different than what most expected to see in Nashville.
The first quarter of play was characteristic for the 2017 Northwestern squad. Kentucky scored a touchdown within the first three minutes of play, but three-and-outs followed for both sides. With 3:14 left in the first quarter, Charlie Kuhbander made a 33-yard field goal to put put NU on the scoreboard, and the first quarter ended the same way it had in 11 of the 12 previous games: with Northwestern tied or trailing their opponent.
Despite having slow starts, Northwestern improved to 9-3 on the regular season largely because of the offensive rhythm established between two of the program's standouts: junior quarterback Clayton Thorson and senior running back Justin Jackson. Early in the second quarter, that flow got disrupted.
On the first play of the quarter, Thorson handed the ball off to Jeremy Larkin, who passed back to Thorson. Larkin's pass found the quarterback on the far left side of the field, and after making the catch and being tackled around the five yard line, he reacted instantaneously by grabbing his right knee. Thorson was carted off the field and did not return to the game. X-rays were negative, but as of the post-game press conference, an MRI had still not been done to determine the extent of the injury. Head coach Pat Fitzgerald said there was "nothing overwhelmingly alarming" about what they saw in the locker room, suggesting it could just be a hyperextension, but the X-ray didn't rule out ACL or MCL tears.
Enter Matt Alviti.
The fifth year senior has been the backup QB for his entire career, but he was ready to deliver when it mattered. His numbers were by no means impressive, but the 4-of-11 completion rate on the stat sheet doesn't accurately convey Alviti's contributions to Northwestern's bowl game win. He was only sacked once, threw for 50 yards, rushed for 56 and orchestrated effective play calling on the field. Prior to Alviti taking the field, Northwestern was down 7-3. As soon as he entered, he passed to Justin Jackson for a touchdown that gave NU the lead, and another successful drive in the second quarter put Northwestern up 17-7 going into the half.
Fitzgerald said Alviti was ready to step up because he consistently gave his all to the team. Even when he wasn't QB1, Alviti always practiced like he was expected to start the game.
"The thing I'll remember most is when all our players, my brothers came up to me and said 'You got this. We believe in you.' The support I got from the coaches and players," Alviti said.
It wasn't just Northwestern's lineup that was shaken up in Nashville. On top of Thorson's exit from the game due to injury, Benny Snell (Kentucky's star running back and a key offensive force) was ejected for contact with an official in the first half. Before halftime, UK quarterback Stephen Johnson also went to the locker room due to a shoulder injury. He returned later.
Aside from Alviti and UK's replacements, a number of other non-starters saw significant playing time throughout the game. Jeremy Larkin, who will take over as first-string running back next year, put up 185 all-purpose yards. Due to a knee injury sustained in practice, linebacker Nate Hall didn't see playing time, which gave senior Warren Long the opportunity to "play his rear end off" in the words of Fitz. Northwestern's best linebacker, Paddy Fisher, was also ejected on a questionable targeting call, making more room on the defensive line for young talent like Nate Fox's to shine. Bennett Skowronek was also ruled out after a rough hit.
"We played 25 freshmen or redshirt freshmen this year," Fitzgerald said. "As talented and ridiculous as these seniors are, we're a young football team. We saw that on display today. It's exciting for the future, to say the least."
Despite the crucial role that so-called "backups" played in securing the victory over Kentucky, plays by seniors Justin Jackson and Kyle Queiro were what won the game for Northwestern. Jackson was named the game MVP after rushing for 157 yards and two touchdowns in his final game in purple. Kentucky scored a touchdown at the beginning of the third quarter, then held Northwestern to a field goal, giving NU only a three point lead going into the final 15 minutes of the game.
Through the fourth quarter, it became either side's game. On a Kentucky drive that looked like it could end in a score, Queiro had a pick six that put NU up 24-14, but UK was able to make a 48-yard field goal to get Kentucky within 7. With just over four minutes left, Northwestern was unable to stall the game or score (and elected to try to put the game on ice by going for it on fourth down on its own 39-yard-line ...this was ill-advised). The next Kentucky drive led to a touchdown, but when they decided to go for two to win the game, the pass was broken up by the NU defense in the far right endzone, sealing Northwestern's 24-23 win.
"We knew, even after the pick six, that it was going to come down to us [the defense] somehow some way," Queiro said. "We had our hearts racing. It came down to the last play, and were fortunate to come out on top. I think we deserved it."
After a 2-3 start to the season, Northwestern ends 2017 with 10 wins and its second consecutive bowl game win (the fourth bowl victory for the program). Jackson officially has the 10th most rushing yards in college football history and this team ended the regular season at No. 20 in the AP Top 25. While Jackson is leaving and Thorson's injury is a big question mark looking forward, the performances seen by younger players across units in this game are a good sign for Northwestern in 2018.
And in case you were wondering, Jackson said he is celebrating this win and his career the same way many NU fans are – at a bar in Nashville.