NUDM announced a fundraising total of $1,253,596 for 2017. The money, which was raised throughout the year, as well as during a 30K in 10 hours push while in the tent, will benefit Gigi's Playhouse and the Evanston Community Foundation, which celebrated its 20th year with NUDM.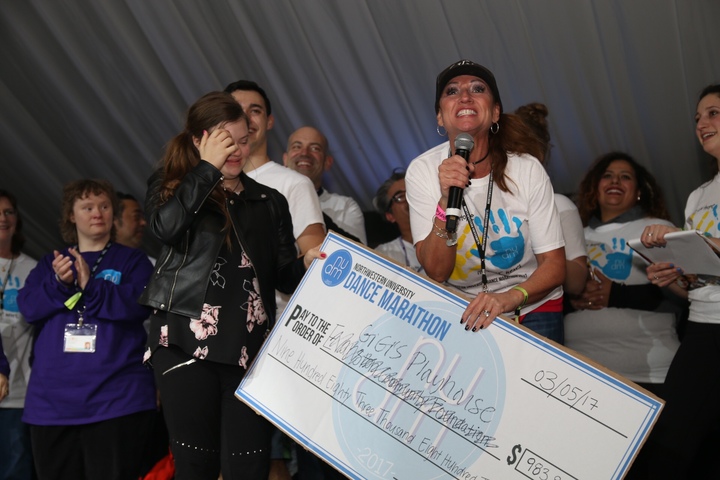 The main beneficiary for 2017, Gigi's Playhouse, offers free programing to children and adults with Down syndrome through their achievement centers across the country. Gigi's mother, Nancy Gianni, who founded the organization says the money raised by DM will go to a new mobile playhouse program, among other things. This will allow families in "poverty sticken, rural areas, any areas that can't sustain a brick and mortar location" to gain access to the free programs, according to Gianni. Money will also be put towards speech programs and Gigi Fit, a fitness program to help those with Down sydrome to develop muscles and stay in shape. Gigi's received a check for $983,833, while ECF, the secondary beneficiary, received $109,314.
This year's total inches ahead of last years of $1,201,216 that benefited Blessings in a Backpack, as well as ECF. The DM co-chairs, Ian Pappas and Jenny Halpern, stated that the checks given this year were the two largest in DM's history. Despite that, the record for the largest total is still held by NUDM 2014, which raised more than $1.3 million for Team Joseph – an organization that fights Duchenne muscular dystrophy in young boys.