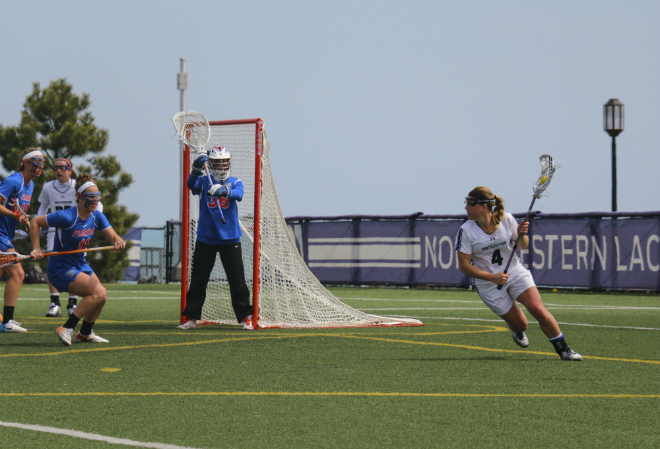 An already emotional senior day against the No. 4 Florida Gators was made even more dramatic when redshirt junior Kara Mupo crashed towards the crease with only a few seconds left.
After closing a six-goal deficit down to one, Mupo had one last shot to tie it up and send the game to overtime. She dodged a defender and shot a bullet past the keeper into the net.
"A moment like that, there's not much going through your head besides 'You just gotta do it,'" Mupo said. "'Go to goal, take a chance, you've got nothing to lose.'"
But she stepped on the crease, negating her goal and giving Florida the ball.
Without their high-scorer, sophomore Kaleigh Craig, who is out with a lower body injury, the 'Cats had a tough time getting the offense rolling. The Gators jumped out to a quick lead, and were able to ride that to a 13-12 victory.
"I'm proud of the way they battled back," head coach Kelly Amonte Hiller said. "But we've got to figure that out right from the beginning and be ready to play especially against an opponent like Florida."
Despite being down 11-5 in the second half, Northwestern continued to fight. Mupo, who finished with four goals, including two in the last five minutes of the game, picked up the slack from Craig's absence.
They'll play their final regular season game April 26 at Wrigley Field against USC before the start of the ALC Tournament, which will be held here in Evanston.
"I don't think this team is too far away," Hiller said. "There's just a few tweaks here and there. We've got to hold it together in the end and bring it in the beginning."
Studs:
Attendance/Energy: The fans came out in force today, filling the stands at Lakeside Field to the brim. Over 1,000 people, ranging from pre-school lacrosse enthusiasts to Northwestern football players came out on this sunny April day to watch the Wildcats. Throughout the whole game, the fans were into it, chanting "defense," and "let's go 'Cats." That energy sparked the late run by the Wildcats in the waning minutes of the game.
Draws: As usual, senior Alyssa Leonard dominated the draw control, especially down the stretch. During the late comeback, she won nearly every single one, and Northwestern won the overall draw controls 17-10. Leonard gave a tremendous effort in her final regular season game at Lakeside Field, finishing with two goals and 12 draw controls.
Holding Shannon Gilroy in check: The nation's top scorer, Florida midfielder Shannon Gilroy averages more than four goals per game. The 'Cats were able to limit her production to just two goals and an assist. While they weren't able to completely shut her down, the Wildcats held her in check more than most teams have been able to this year.
Duds:
Turnovers: Even though Leonard won so many draw controls, the 'Cats weren't able to retain possession because of turnovers. Finishing with 13 on the game, they negated several draw controls, one of which directly resulted in a goal from a failed clear. Florida is a young, top-tier team. Their skill and tenacity was on display on Lakeside Field Saturday.
Defense on Kat DeRonda: Until today, senior Kat DeRonda had been on a tear, scoring ten goals in her last three games. Today, the Gators keyed in on her and were able to limit her to just one goal. She continually was shut down when trying to cut towards the net by double teams, forcing her to either back off or lose the ball.
Kaleigh Craig: The Wildcats desperately missed their top scorer, who is out with a lower-body injury. In her 13 games, she scored a team-high 27 goals and added four assists. Craig's injury was on many people's minds, especially at the beginning of the game, when Northwestern needed the offensive spark that she almost always provides.