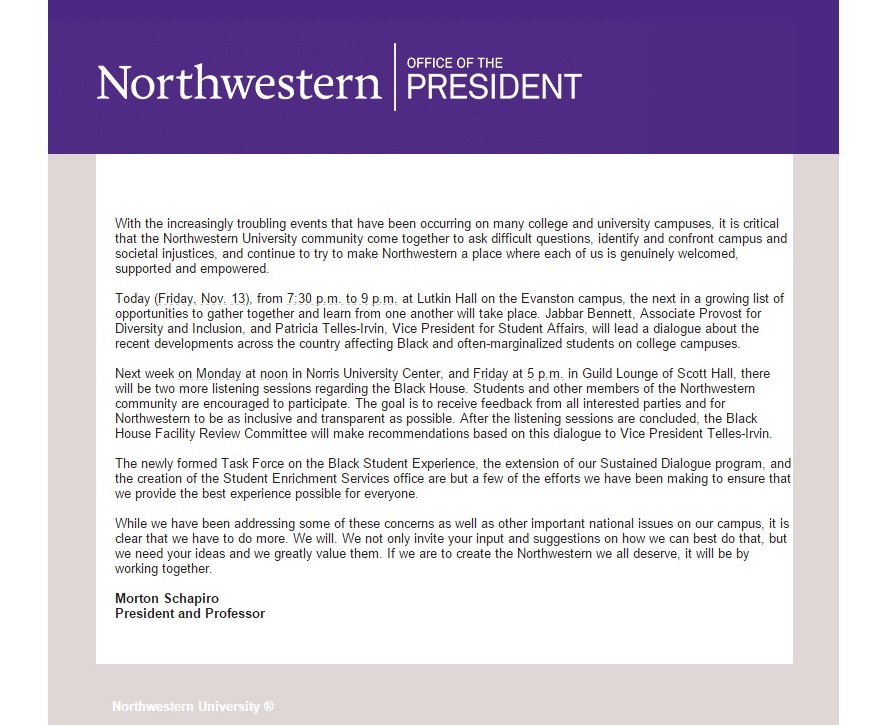 On January 15, The Washington Post ran an article by our own President Morty Schapiro. In his article, Morty discusses the comfort of Black students and the importance of safe spaces. Upon reading this article, several thoughts flooded my mind. While I approved of his defense of safe spaces and understanding of the necessity of the Black House, I can't help but wonder if this presented an opportunity for him to receive some good press. Why does Morty write this as if he's always understood the struggle? Until very recently, he hasn't.
On August 21, 2015, Multicultural Student Affairs sent an email announcing the expansion of Campus Inclusion and Community (CIC) offices into the Black House, the university's center for Black student life. The fierce resistance from the Black community and its alliances halted the renovations temporarily on August 24. However, Morty did not make a personal effort to acknowledge the voices of opposition until he attended the third Black House listening session months later on November 16. He even admitted that "It wasn't until I attended a listening session that I fully understood why...the pushback from students, and especially alumni, was immediate and powerful." Why did it take months for Morty's physical presence to appear in this matter?
When the succession of racist events at Missouri resulted in the football boycott, President Tim Wolfe's removal and threats against Black students' lives, Morty deemed a 2 a.m. email appropriate acknowledgement of these events. Led by NU Black Lives Matter, students protested at the Black House the next day in solidarity with Concerned Student 1950 at Missouri, also challenging Morty to hear their demands for better attention towards the experiences of Northwestern students of color. The protests disrupted a ceremony over a new athletic facility in the Henry Crown Sports Pavilion. Protesters asked "Where you at, Morty?" demanding him to listen and respond to their concerns in an hour that students were actually awake. His response was a lengthy email on December 2, that detailed the efforts of the university to combat racism, listing statistics about the increasingly diverse student body and the creations of programs and offices geared towards the student experience.
However, while Morty has been a bit late to the game, he has made promising steps to listen to the needs of all his students, his attendance at a Black House listening session being one of them. After months, the administration finally listened to their students and the Black House renovations were permanently canceled November 16, directly after the Black House listening session. I wonder if Morty's attendance correlates with the cancellation? In his Washington Post article, Morty shows an understanding of white privilege and the importance of safe spaces for all groups, including black students. He defends the criticism of safe spaces and acknowledges that Black students have a right to them as "students don't fully embrace uncomfortable learning unless they are themselves comfortable. Safe spaces provide that comfort."
Morty is by no means a perfect president. His lack of action and care in the recent past towards Black student issues spurred a protest that shut down a lavish ceremony, a project somehow more worthy of his attention. However, he has moved forward since then, and has made efforts to listen to the black community. While he has some way to go, his recent actions show he's made progress in taking steps to understand all of his students. However, if Morty begins to demonstrate the same apathy towards the Black community as before, he can once again expect pressure from those student groups that they deserve a Northwestern experience geared towards their needs.