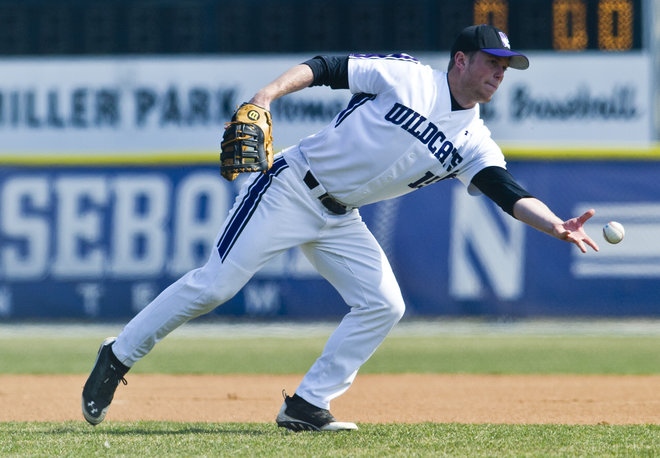 In the past, Northwestern baseball has not done much to excite, but there is a slightly different feeling around the 'Cats this year. With a new head coach, renovated facilities and an improved roster, an unfamiliar air of optimism surrounds the Wildcats as they head into the 2016 season.
After finishing 18-36 last year, NU hasn't finished above .500 since 2003, a season that ended just days before the release of Pixar's Finding Nemo. In fact, the Wildcats have only had three winning seasons since 1988.
But the 'Cats have taken strides to improve the whole program - starting with their home field.
Over the past two years, Rocky Miller Park, located behind Welsh-Ryan Arena, has undergone a series of renovations – including turf installations, dugout enhancements and press box restorations. Also, with seven freshmen listed on the roster, the 'Cats have a plethora of young talent that should give them serious roster depth in the future.
NU even introduced a crisp new home uniform for this season, a scheme closely resembling the famed Houston Astros' throwback jerseys of the 1970s and 1980s.
Hey @astros, ya dig? #B1GCatspic.twitter.com/K8SqSq2hUa

— NU Baseball (@NUCatsBaseball) February 18, 2016
The biggest offseason move, however, occurred within the Wildcat coaching staff.
After a 31-year tenure, Paul Stevens, NU's winningest head coach in program history, announced his retirement upon the conclusion of the 2015 season. With huge shoes to fill at NU's helm, it took the 'Cats no time to announce former Illinois assistant Spencer Allen as their new head coach.
"I've got a ton of respect for coach Stevens and what he's done," Allen said. "I'm honored to be able to replace him and I'm hoping I'll be able to do half as good a job as he did and continue to push the program forward."
Senior pitcher Jake Stolley was impressed by Allen's enthusiasm, organization and fresh, youthful mindset.
"He came in with a lot of energy," Stolley explained. "He had a philosophy: trust, passion, development – those are his big three words."
According to senior first baseman Zach Jones, these changes have had an immediate positive imact on the team's morale and outlook on the 2016 season.
"We've got a great group of freshmen that came along with the coaching staff and new facilities," Jones said. "It's kind of a whole new atmosphere around the whole program, which is making it not only more exciting for us but also the community."
Jones, whose stellar 2015 season earned him a spot on the College Sports Madness All-Big Ten Second Team, finished atop almost all of Northwestern's offensive statistical categories last season, leading NU with 70 hits, 32 RBIs and 20 doubles. Along with Jones, junior outfielder Joe Hosscheit, sophomore third basemen Connor Lind, junior outfielder/pitcher Matt Hopfner and sophomore catcher Jack Claeys, there is no shortage of talent in the Wildcat lineup.
In the bullpen, Stolley is poised for another dominant year. Junior Joe Schindler, senior Reed Mason and junior Josh Davis, a transfer from Akron, will all bolster the 'Cats' pitching rotation.
With the pieces finally set in place, Allen has told his team that the time is now to make some noise in the Big Ten.
"We've talked with our guys, the current players here, and we told them, you guys are our guys," Allen said. "Whether you're a senior or you're a freshman, we're not looking down the road, we're looking to develop each day and we want to win this year."
NU hasn't qualified for the Big Ten Tournament since 2010. But an ambitious Allen has his eyes set on postseason play, an objective that he truly believes his team can accomplish.
"We want to make the Big Ten Tournament," he said. "We want to have an opportunity to go out and compete each weekend and see what can happen."
While it will not be easy, if there is anyone who has the track record to right the ship and bring the 'Cats into conference contention, it's Spencer Allen.
In 2015, Allen and Illinois finished with an astounding record of 50-10-1, and a near perfect mark in the Big Ten (21-1). Allen's winning experience, his positivity and his energy are exactly what the 'Cats need to move forward.
"It'll be fun," Allen said. "We're excited and just want to see what competition can bring out."