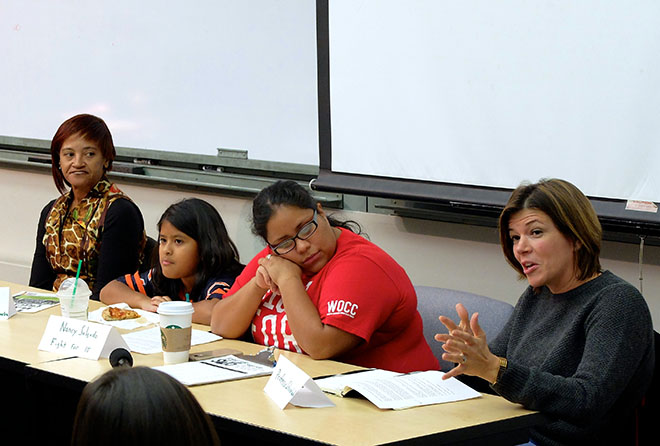 A panel of two low-wage workers and a Northwestern University professor discussed efforts to raise the minimum wage in Chicago on Wednesday night.
"It would change my life immensely," said Gloria Davis, a panel member who worked as a temp at a meatpacking plant for $8.25 per hour.
The panel discussion, titled "Fighting to Survive: Perspectives on Low Wages," also included Nancy Salgado, a single mother of two who has worked at McDonald's for 12 years, and Diane Schanzenbach, an associate professor in the School of Education and Social Policy. Each spoke about the effects of current wage levels from their personal and professional experiences to an audience of over 40.
Both Davis and Salgado revealed their firsthand experiences working low-wage jobs.
"It was not nice. What can I say?" Davis said, describing her time at the meatpacking plant. "It was not one of my best of times. It was my worst of times, actually."
For Salgado, working a low-wage job adds to the difficulty of making ends meet. "I'm still struggling every day just to not know what I'm going to do," she said. "I just want to be able to be fine and smile for my daughter."
In addition to working these jobs, both women have become involved in initiatives to raise wages for Chicago workers. Davis currently does work for the Chicago Coalition for the Homeless and has testified before the Illinois House of Representatives and Senate. Salgado is part of the organization Fight for 15, whose mission is to raise the wages of fast food and retail workers to $15 per hour.
"We can't live on minimum wage," Salgado said of fast food workers. She also stressed the importance of McDonald's workers, saying, "We're the backbones of this company."
The cause found support from many of the students present.
"It has a lot to do with dignity and justice," said Weinberg freshman Andrew Ten Eyck of the issue of minimum wage. "It's an undignified living."
"It's good to actually hear people's stories," said Matthew Walsh, a Weinberg senior and one of the students who helped organize the event.
However, some raised concerns about the economic effects of such a raise. While speaking to the audience, Schanzenbach warned that minimum wage increases of the level being proposed have not been studied by economists, and that while Chicago's economy could probably absorb such a measure, southern Illinois could experience some difficulties adjusting. She later added, though, "All any of us is doing at that point is guessing."
Schanzenbach was joined in her concern by SESP sophomore Annabel Liou, who is studying economics and social policy.
Liou said that, when it comes to increasing wages, "I can't say yes or no," because of all the possible economic impacts that it could have. "My conscience is definitely telling me to raise the minimum wage," Liou added.
All the panel members stressed that the proposed increase was one of necessity rather than greed. According to Salgado, a family consisting of a parent and his or her child should receive a wage of $20.84 per hour, making, in her opinion, $15 per hour a modest request.
"All we really want is having the dignity of seeing the fruits of our labor," Davis said.
The discussion, which took place in University Hall, lasted about a half hour and was followed by questions from the audience. The event was co-sponsored by the Chicago Coalition for the Homeless, Fight for 15, Northwestern University Community for Human Rights, Sheil Catholic Center, the Center for Civic Engagement and ZOOZ.