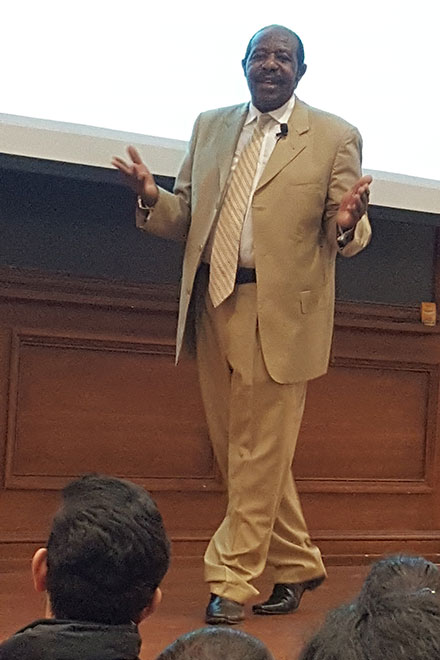 "Words can be the best or worst weapons on earth." These words contain just one of the many messages Paul Rusesabagina, a Rwandan humanitarian, imparted to the full house in Harris Hall Room 107 Thursday night.
Rusesabagina's keynote was the first of a series of speeches and workshops that will take place throughout the weekend as Northwestern University's Community for Human Rights (NUCHR) hosts its 15th annual conference titled "Do You Remember? Deconstructing Memory within Human Rights."
During the Rwandan Genocide of 1994, Rusesabagina saved the lives of 1,268 refugees staying at the Hôtel des Mille Collines, of which he was the manager. His story was eventually told in the 2004 movie Hotel Rwanda.
The ethnic battle between the Hutu and Tutsi groups in Rwanda is one that many are unaware of. As a result, Rusesabagina began his talk with a brief background of how the disagreements developed into a genocide.
Rusesabagina then delved into his personal experiences. He told how "people were being butchered" and how his neighbors who weren't killing or being killed came to his house. He then recounted the numerous occasions in which authorities came to his house or hotel, at times holding a gun to his head, and how he was able to talk to them and negotiate his way out of certain death.
He said that throughout his life, he has learned "dialogue is always the best solution."
In his dialogue Thursday, Rusesabagina did not shy away from the terror and controversy of the genocide. NUCHR member Matt Casler, a SESP sophomore, said he appreciated Rusesabagina's "immediate callout" of the international organizations who just watched everything happen.
After recounting stories in which he negotiated deals with leaders of the genocide, Rusesabagina said, "no one can be 100 percent bad" and "no one can be 100% good."
Before a brief Q&A highlighting current reconciliation efforts in Rwanda and discrepancies between the movie and Rusesabagina's experiences, Rusesabagina concluded by saying, "I am speaking to you as humanitarians. … You have a mission to shape the future."
Event Organizer Callie Leone was almost lost for words after.
"It's hard to even say anything about it," Leone, a Weinberg senior, said. "Here's a man who survived a genocide – it's amazing that your public speaking skills can save that many people."