Northwestern women's lacrosse has started the season strong with two victories, including a 14-13 win over No. 8 Notre Dame, and a tight road loss to Colorado. However, with nine more games against ranked opponents this season, the ninth-ranked 'Cats face a tough road ahead of them. We took a closer look at some of the bigger games to come.
Non-Conference Games to Watch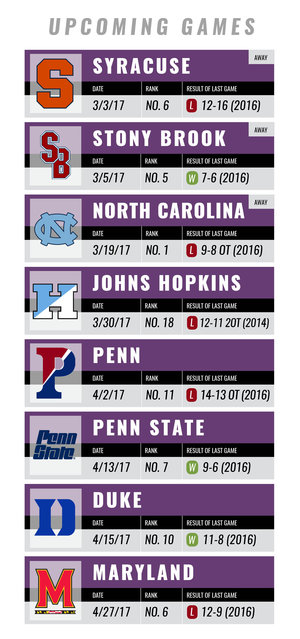 Had this been written two weeks ago, NU's win against Notre Dame would certainly be on the list – but there are many more games worth noting. After traveling to play No. 4 USC on Saturday, the Wildcats face a formidable first weekend of March when they head to upstate New York to play No. 6 Syracuse and No. 5 Stony Brook over a three-day span. It hardly gets easier from there: two weeks later, they go to Chapel Hill to face off against consensus No. 1 North Carolina, who took down NU 9-8 in overtime last season. UNC went on to win the national championship and looks poised to repeat at this point in the season, so this matchup looks to be the toughest the 'Cats will face.
The fun doesn't stop there: Northwestern also has dates with No. 18 Johns Hopkins, No. 11 Penn and No. 10 Duke (all at home) before the season ends. Last year, Northwestern struggled against ranked opponents, going 5-11 against ranked teams. While they're off to a good start with their win against Notre Dame, they certainly hope to improve on last year's mark against the nation's best teams.
Big Ten games to watch
The 'Cats' B1G schedule is hardly any easier than their non-conference slate. Although it is only five games long, it includes tough matchups against No. 7 Penn State in early April and a season finale against No. 2 Maryland (both at home), who lost to UNC in the championship last year after winning it all the previous two years. Their other three games are against Michigan, Rutgers and Ohio State, who just missed making the top 20 rankings this week.
Overall, the Wildcats' schedule is impressively tough; more than half of their games come against ranked teams, and they play all but two of the other teams currently ranked in the top ten. While the schedule is nothing to laugh at, their early performance suggests that Northwestern can hang with the best of the best.